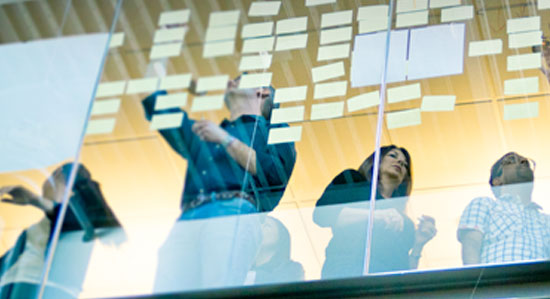 Push us. Amaze us. Inspire us.
Careers in Marketing
Are you a marketing whiz? Dare to communicate around the world as you put strategy into action through integrated marketing plans in digital, print, email, webinars, trade shows and more.
Technical Product Manager
Job ID R1904735
Date posted 04/23/2019
Business Summary:
Together our $1.5 billion Cloud Management Business Unit (CMBU) is leading transition to software defined data centers (SDDC) across public and private clouds. CMBU is at the heart of the IT transformation led by cloud, SaaS, virtualization, devops and containers. These trends represent a huge opportunity for you to help define our strategic and GTM approach through astute product marketing. You will be working on the rapidly transforming Infra and App Operations space, defining the management and operations of SDDC and Apps and the way enterprises run and manage their cloud infrastructure. Amidst the rapid growth of our offerings, you'll expand vRealize Suite's market leading position, further establishing VMware as a leader in cloud management segment.
For our vRealize Operations Manager (On-premise and SaaS), you will define the go-to-market strategy, product requirements, work very closely with engineering, user experience research and product marketing on product development, roadmap and launches while continuously validating the use cases with customers to execute on the requirements. You will partner closely with VMware's customers, partners, our sales force, product marketing, and other cross-functional organizations.
Job Role and Responsibilities:
Define and lead core part of product capabilities for vRealize Operations Manager. Also, define requirements for integrations with the vRealize Cloud Management Platform and rest of SDDC stack
Develop end to end use cases from App, OS and Infra perspective, understand customer needs and requirements and represent them in MRDs & PRDs.
Identify a variety of customer needs across the product stack, drive feature prioritization and work closely with engineering to deliver successful products.
Work closely with broader R&D teams and collaborate. Act as customer advocate, provide voice of the customer during internal discussions
Drive the industry conversation about the product domain. Set the agenda for the public debate in a way that showcases VMware advantages
Required Skills:
You will be a tenacious, ambitious, self-starter with a real passion for the cloud operations market, who can also serve as a strong advocate for our customers
Proven, tenured experience in technical marketing or product management in the enterprise software market segment.
Hands on and "in the weeds" type, with an understanding of how things work and constantly suggesting improvements
Proven track record of growing new products into successful businesses, especially for enterprise products
Strong technical background in datacenter, enterprise platforms, the datacenter, and applications software space, especially understanding of virtualization, automation and management
Leverage your technical skills to close the communication gap between engineering and the rest of the world
Aptitude to quickly come up to speed on groundbreaking technology concepts and architecture
Ability to deal with and execute under ambiguity
Preferred Skills:
Excellent written and verbal communications skills
Strong analytical skills and a natural predisposition toward data-driven decision-making. You should nevertheless be able to make reasoned decisions in the face of uncertainty or imperfect data.
Experience with commercial and enterprise customers, presenting to C-level executives and passion to evangelize a disruptive new technology
Experience with software development methodology like Agile and associated productivity tools, such as JIRA
Ability to travel 20% of the time
MBA and BA/BS in Computer Science (or equivalents) preferred
Relevant Jobs
Sorry, there are currently no new opportunities near your current location. Try a new search.