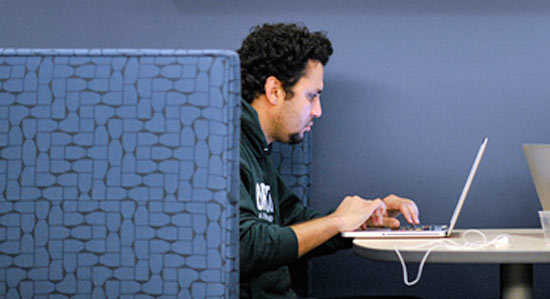 Push Us. Amaze Us. Inspire Us.
Careers in Engineering
We are intellectual mavericks, pioneers, game-changers, and doers of the extraordinary, on a mission to create cloud, mobility, security, and virtualization solutions that will reach millions of users around the world. At VMware, our people are empowered to succeed and are valued for their innovative contributions as we revolutionize the IT industry.
Are you ready to join us?
SOFTWARE ENGINEER IN ENGINEERING SERVICES TEAM
Yerevan, Armenia
Apply Now
Job ID R1811148
Software Engineer in Engineering Services team
VMware Inc., a pioneer in virtualization software, is seeking an Operations Engineer with large scale distributed systems expertise for the VMware Cloud Management's Engineering Services team.
The Cloud Management group charter is to create platform, products and cloud services that deliver availability, performance, capacity and cost management of hybrid environments running anything from traditional to cloud-native workloads. The Cloud Management platform is the underlying infrastructure that provides stats collection, event handling and health management of objects. The Cloud Management SaaS and on-prem solutions rely on the Cloud Management platform to allow customers to do intelligent operations management, increase velocity by optimizing applications, decrease downtime, and radically reduce time to resolve issues. They are rapidly redefining metrics monitoring for the next generation of hybrid architectures by using a massively scalable approach that provides real-time processing of high-frequency system measurements.
This is an exciting area to work with multiple products and services in the pipeline in fast-paced work culture. You will play a key role in building and operating the real-time data collection/processing and visualization system. Does working on cutting-edge enterprise products and services that solve large, real-world distributed systems problems and delivering them on a daring schedule motivate you? Then this job is for You!
Wavefront is a next-generation SaaS solution for unified cloud monitoring in real-time. Wavefront is rapidly redefining real-time monitoring with a massively scalable approach pioneered at Google and refined at Twitter that involves real-time processing of high-frequency system measurements. Using Wavefront, engineers from IT, Technical Operations, application development, and security/compliance teams can ask almost any question of their systems and receive answers in real-time. The Wavefront platform allows customers to optimize, decrease downtime, and radically reduce time to resolve issues.
We are an equal opportunity employer and value diversity. Wavefront is committed to Equal Employment Opportunity throughout our recruiting and hiring process and is dedicated to increasing diversity in our workplace.
Role:
As part of the VMware Cloud Management Engineering Services team, you will work on full-time basis with the team of Engineers, developing required tools for validating products and services both from end-to-end and scale/performance perspectives. You will work as well on developing a pipeline facilitating the overall software development processes enabling true continuous integration and continuous development. As a member of our team you will work closely with developers and PMs to deliver quality releases.
Responsibilities will include but not limited to:
Automation: Develop and deploy software that will help to drive improvements towards the observability, reliability, scalability and resiliency of products and cloud services.
Advocate and implement reliable and resilient design patterns
As a passionate quality guard, your role will be to guarantee the positive outcome of automation via minimizing the risk of regressions
Work closely with developers to resolve issues and reproduce software defects against possible regressions caused by products development
Define customer use-cases and validate the best user experience for them
Design, build and maintain the continuous integration / continuous development infrastructure to deliver enterprise products and cloud services
Work closely with different VMware R&D and Engineering Services teams including offshore ones
Take initiative to improve products, services and processes, come up with solutions for improvements towards global company goals
Requirements:
Degree in Computer Science or related subject
Experience in Java and/or python programming languages (other programming languages are OK, but should be comfortable to switch to Java)
Operational experience with Git/P4, Jenkins, Ant/Maven and other industry standard tools/technologies used in software development
Experience with Java application servers and JVM configuration is highly desirable
Ability to analyze and optimize performance of large scale distributed systems is a preference
Knowledge to build and administer VMs and Containers using tools such as Docker or Kubernetes is a plus
Knowledge of cloud architecture reliability, resiliency, scaling and management principles and experience working with AWS, GCE or Azure cloud infrastructures is highly appreciated
Familiarity with logging and infrastructure/application monitoring technologies is beneficial
Hands-on experience in VMware products installation and configuration is desirable
Strong written and verbal communication skills in English are mandatory
VMware offers:
Attractive compensation package - competitive salary, flexible bonus scheme and additional long-term incentives.
Individual career path - management and technical career growth, enhanced by learning and development program, regular performance assessment, opportunity to work with international teams of IT professionals.
Healthy work environment - company sponsored medical insurance program, food and beverage program, sport activities, open communication.
Work-life balance – 20 calendar days paid vacation, 5 days company paid sick leave, regular team buildings and celebrations.
All VMware people and all applicants for employment will be treated fairly and given equal opportunity in all aspects of employment including compensation and benefits, irrespective of their race, color, nationality, religion, sex, sexual orientation, marital status, age, disability or ethnic origin.
Your saved jobs
You have not saved any jobs.
Recently viewed opportunities
You have not viewed any jobs.