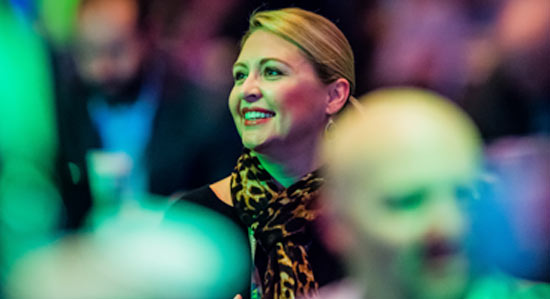 Push us. Amaze us. Inspire us.
Careers in Sales
Innovation is the essence of our brand. Our top-performing sales professionals help our customers—across all industries—revolutionize their businesses to thrive in the digital era by leveraging the power of software. We create exceptional end-user experiences and build customer trust.
Are you ready to work with some of the best and most innovative products on the market?
Partner Development Manager - VMware Cloud on AWS
Sydney, Australia
Apply Now
Job ID R1811588-1
The Partner Development Manager - VMware Cloud on AWS will be part of a dynamic team, for sales and operations affiliated to the ANZ partner organisation. Your role will be to recruit and activate new and dormant partners. You will have specialized product knowledge and experience and will be working closely with partner business managers and partner development managers who will be responsible for the relationships with the partners you will work with. Actively track joint sales pipeline and achieve quarterly and annual revenue targets. Have strong negotiation skills including needs analysis, business justification and closing methodologies.
This is a highly complex role and you will have significant exposure across senior leadership at VMware and your assigned partner territory. This role represents a rare opportunity to play a major part in the success of VMware. We are therefore seeking a truly excellent person with critical thinking, ability to problem solve and have a strong business insight. Professional culture that embraces change, diversity of thinking and innovation. You will be instrumental in delivering key messaging to revolutionising the gap between hardware and software, to create a "better together" partnership. In addition, applicants should articulate with confidence about the next generation and innovation to drive business forward for cloud, compliance and security in the digital economy.
At VMware, we are committed to helping our people grow professionally. This role is designed for a unique and forward-thinking individual that wants to make a difference.
If you want to apply for this position that might be right for you, we support you to apply and continue to be a part of our EPIC2 community.
Responsibilities
Responsibilities will broadly include:
Pipeline management/partner revenue: Drive joint VMware/partner pipeline from demand generation to close, utilizing virtual partner and field sales teams. Effectively communicate, report, track and lead sales pipeline to senior management.
Practice development: Drive development of partner services offerings, go to market and solutions to support VMware revenue growth and increase partner profitability. Increase partners' VMware sales and delivery workforce through sales, presales & technical certifications.
Partner enablement: Close alignment with sales and technical teams to define and execute enablement plans. Establish partner training and use territory specialists to drive enablement activities, ensuring partners have the necessary support from VMware to be successful.
Partner management: Initiate strategic relationships with key partners to drive the adoption of VMware Cloud on AWS and to increase the revenue driven through each partner. Meet partner plan targets.
Partner business planning: Generate and drive sales and marketing plans (Partner Joint Business Plans) with all assigned partners—including services practice initiation, enablement, business development, and pipeline generation—and agree on goals and objectives in line with corporate strategy.
This role will also require you to manage the AWS Alliance Partnership for VMware
Key Metrics for this role is:
Recruit new partners
Activating a VMware Cloud on AWS Practice with named key reseller and SISO partners
Partner certifications/training
Partner generated bookings
Partner led deployments/consumption
Scaling Partner reach, frequency, and yield
Effectiveness of Marketing Development Fund spend
Requirements
Public Cloud knowledge: Ability to communicate VMware Cloud on AWS high level solution approaches during discussions around partner solutions and Go To Market scenarios.
Pipeline management: Tried proficiency with tools and consistent processes for analysing, assessing, and forecasting a joint pipeline with partners. Validated ability to develop and execute strategies to increase pipeline volume and velocity jointly with partners.
Partner focus: Validated dedication and interest in both internal and external partner needs. Strong problem-solving and troubleshooting skills to provide creative solutions for partner issues and to drive joint VMware and partner business opportunities.
Solution selling: Strong experience in communicating value proposition in terms of partners' and customers' business needs. Ability to use different methods (interviews, questionnaires, etc.) to uncover partner and customer solution needs. Knowledge of crafting end-to-end solutions encompassing products, services, processes, etc. based on customers' requirements.
Ability to manage the key vendor alliance relationships
Drive for results: Highly motivated, driven, and has strong business ethics. Consistent track record of achieving business objectives in a highly competitive partner channel environment including meeting or exceeding revenue goals and working with complex national and global partners and alliances.
Partner management: Minimum 5-8+ years' experience in channel sales. Experience working with solution providers, OEM partners, VAR channels, and distribution in a matrix sales organization leading multi-functional teams.
Business industry acumen: Strong sales and business insight, expertise in recognizing and acting on go-to-market approaches, marketing programs, joint value propositions, and business cases around strategic partnerships.
Executive engagement: Build precise, comprehensive executive engagement plans that ensure successful execution of joint plans and strategies.
Teamwork/virtual team management: Strong ability to build and utilise key partner relationships, field sales, inside sales, and marketing teams. Ability to engage, excite, influence, and lead both partner resources and direct and indirect VMware resources.
Ability to travel nationally and internationally when required.
Your saved jobs
You have not saved any jobs.
Recently viewed opportunities
You have not viewed any jobs.