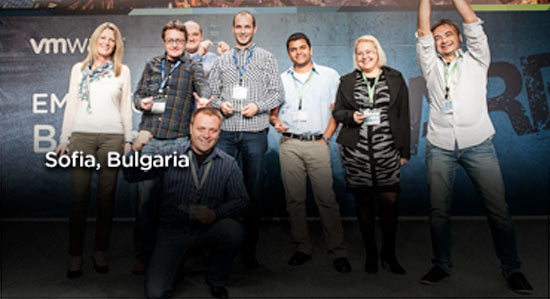 Push us. Amaze us. Inspire us.
Careers in Bulgaria
Our Bulgaria office, located in the heart of the capital Sofia, was established in 2007 and is the largest Research and Development center for VMware in Europe, the Middle East and Africa. Building on the success of our R&D facility, in the past few years VMware Bulgaria has grown to become a multifunctional hub with product, revenue generating professional services and business operations teams. Here, we focus on VMware's future technological innovations in the areas of Software-Defined Data Center, cloud management and automation. We provide a welcoming environment for our employees, with a modern building that includes recreational and fitness areas, chill-out zones, a spacious cafeteria with a stunning city view, car and bike parking lots, and much more.
As part of our team, you'll work on both local and global projects with other talented and passionate Product Managers, Technical Operations. Professional Services Center of Excellence and other experts. Our employees enjoy ample growth opportunities, and all of the benefits of being part of the global leader in cloud infrastructure, business mobility, and virtualization software.
Talent Acquisition Specialist
Sofia, Bulgaria
Apply Now
Job ID R189232-1
Talent Acquisition Sourcing Specialist (contract role)
VMware is looking for a Sourcing Specialist to join our expanding recruiting team. We have set up an in-house team who proactively support the recruiting function. For us, talent readiness is a top priority, so we are searching for someone who understands the challenges we face daily in hiring the top talent within our industry.
Key Roles and Responsibilities:
Flexible resource capable of various types of pipelining, research and candidate generation (At the discretion of assigned Staffing Manager)

Req Alignment
Community Req Alignment
Research Alignment
Strategic Pipelining

Focused entirely on passive and/or external candidate generation
Accountable for delivery of high volumes of candidates (predicated on specialization within T.A. and narrow but extensive focus on generation vs. account management)
Responsible for creating detailed sourcing plans that include candidate or outcome delivery commitments/estimates (focused on time and quantity) for each project or req alignment
Responsible for ensuring accurate capture of sourcing metrics and the analysis and utilization of that data to produce improved ROI for candidate engagement activities
Performance of 'on demand' talent pool research and data analysis designed to meet requested business requirements
Performance of 'future readiness' talent pool research and data analysis at an established regular cadence designed to build market knowledge and ensure robust pipelines of talent to address VMware's future needs
Cultivate individuals and pools of talent in efforts to build pipelines for future needs
Responsible for compact, focused candidate screens and subsequent delivery of relevant candidate information for consumption by SPs/Recruiters and HMs
Responsible for creation and sustaining strong partnerships with Staffing Partners, Recruiters and Staffing Partners within the business where they're engaged, has a clear understanding of the relevant organizational structure they're supporting and talent generation implications. 
Key Competencies:
Operational Excellence
Drive Operational Excellence via consistent and appropriate use of Workday Recruiting for candidate and data entry, creation and utilization of sourcing plans and detailed analysis designed to improve ROI of candidate generation activities over time.
Global Mindset
Utilize available tools and trainings (Sourcing Specialist Cross Training, Mentoring) to flexibly deliver world class candidate generation and research across different businesses, roles and geographies.
Driven to Deliver
Ability to consistently exceed expectations around quantity of candidates, quality of candidates, impact of pipelines and research and to analyze and improve outcomes and process.
Curiosity
Intense intellectual curiosity that motivates to learn more about talent pools, talent trends, immediate and emerging needs and business objectives. Inquisitive about candidate discovery, engagement and assessment tools, emergent trends, technologies and processes.
Critical Thinking
Connecting dots.  Skillfully gathering data, analyzing, synthesizing, and/or evaluating information and in turn utilizing that analysis to make decisions or recommendations regarding talent pools, campaigns and projects. 
Adaptability
Be a change agent. Model a positive and willing attitude by effectively responding to diverse challenges and demands. Different hiring scenarios will require different sourcing solutions and it will be important to identify and embrace the customer's (Staffing Managers) needs to deliver the best possible solution in each situation.
Personal Credibility
Building rapport with Talent Acquisition stakeholders based upon aligning against current and future talent and research needs and delivering against those commitments.
Collaboration
Think broadly.  Be a model for proactively working across boundaries; identify silos and solutions to break down barriers.
Communication
Proactively communicate up, down, across and outbound.  Awareness of all key stakeholders and communication needs.  Ensure TA shows up as one team in all communications. Identify and utilize verbiage designed to deliver optimum results from candidates.
Business Acumen
Have a deep understanding of the client's business, including strategic direction, priorities and goals and translating that to the relevant candidates and candidate pools.
Skilled Influencer
Ability to connect with candidates, establish trust and utilize strong relationships to deliver optimum outcomes to all stakeholders including candidates, T.A. and hiring teams.
Relationship Management
Identify, Initiate and cultivate mutually beneficial key working relationships within T.A. and with talent.
Your saved jobs
You have not saved any jobs.
Recently viewed opportunities
You have not viewed any jobs.