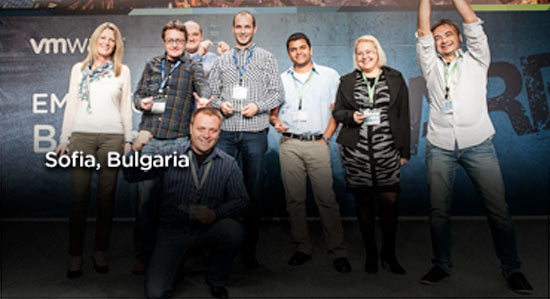 Push us. Amaze us. Inspire us.
Careers in Bulgaria
Our Bulgaria office, located in the heart of the capital Sofia, was established in 2007 and is the largest Research and Development center for VMware in Europe, the Middle East and Africa. Building on the success of our R&D facility, in the past few years VMware Bulgaria has grown to become a multifunctional hub with product, revenue generating professional services and business operations teams. Here, we focus on VMware's future technological innovations in the areas of Software-Defined Data Center, cloud management and automation. We provide a welcoming environment for our employees, with a modern building that includes recreational and fitness areas, chill-out zones, a spacious cafeteria with a stunning city view, car and bike parking lots, and much more.
As part of our team, you'll work on both local and global projects with other talented and passionate Product Managers, Technical Operations. Professional Services Center of Excellence and other experts. Our employees enjoy ample growth opportunities, and all of the benefits of being part of the global leader in cloud infrastructure, business mobility, and virtualization software.
Staff UI Software Engineer - vCAV(vCloud Availability team)
Sofia, Bulgaria
Apply Now
Job ID R174093
You'll be able to work on a large scale project aiming at design and full transition of vCloud Director's legacy web UI to Angular2 + Java backend:
- Work in an innovative environment; ability to patent your ideas
- Ability to grow and share your knowledge by doing pair programming
- Be part of the team developing the world changing concept of virtualization
- Willingness to work without close supervision and with proactive goal-oriented attitude
- Work by following latest development methodologies like XP (extreme programming) and Scrum
- Use and develop your skills in cutting-edge web technologies like AngularJS, HTML5, CSS3, LESS
Responsibilities:
- Design and implement the UI of the next generation architecture of VMware's cloud products to enable the global ecosystem of VMware Service Provider Partners.
- Be part of a software development team working in collaboration with management, quality assurance, user experience and technical publications teams
- You will define/analyze the product requirements, write/read functional and design specifications, write/support the code
- You will perform code reviews to the rest of the team members and will receive code reviews of your code as well
- You will be part of VMware's high-standard internal processes during the whole development cycle – idea, patent, requirements, specifications, designs, implementation, bug fixing, QA, support, etc.
Requirements:
The applicants should have strong knowledge in the following areas:
- General programming knowledge - data structures, algorithms, design patterns, memory management, etc.
- Experience with design and implementation of complex user interfaces – custom controls, live updates, in-place editing, virtual data abstractions, MVC, performance optimizations for millions of objects, etc.
- Excellent communication skills and fluent English (speaking/reading/writing)
A strong plus would be:
- Experience with HTML5, JavaScript, AngularJS, CSS, LESS is a strong advantage
- Experience with Flex development
- Experience with Cloud infrastructure or software defined networking technologies
- Excellent analytical and problem solving skills
Nice to have:
- Willingness to innovate, learn and share knowledge, invent and patent new algorithms and technologies
- Experience with enterprise architectures – remote method invocations, extensive XML usage, stateless designs, load balancing, SSL security, etc.
- Experience with multi-tiered architectures (Service-Application-Presentation)
- Willingness to use different programming languages to address the specific product needs (JS, Java, Python, Ruby, Bash/Batch, etc.)
VMware offers:
- Attractive compensation package - competitive salary, flexible bonus scheme, company sponsored mobile phone plan and additional long term incentives
- Individual career path - management and technical career growth, enhanced by learning and development program, regular performance assessment, teams of world-wide IT professionals
- Healthy work environment - company sponsored medical program, food and beverage program, sport activities, open communication
- Work-life balance – 25 days paid vacation, team buildings and celebrations All applications will be treated with strict confidentiality
As part of the VMware global standards for integrity you will be required to go through a pre-employment screening process before you join.
All applications will be treated with strict confidentiality.
Your saved jobs
You have not saved any jobs.
Recently viewed opportunities
You have not viewed any jobs.