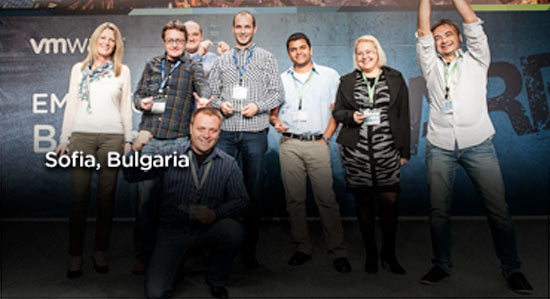 Push us. Amaze us. Inspire us.
Careers in Bulgaria
Our Bulgaria office, located in the heart of the capital Sofia, was established in 2007 and is the largest Research and Development center for VMware in Europe, the Middle East and Africa. Building on the success of our R&D facility, in the past few years VMware Bulgaria has grown to become a multifunctional hub with product, revenue generating professional services and business operations teams. Here, we focus on VMware's future technological innovations in the areas of Software-Defined Data Center, cloud management and automation. We provide a welcoming environment for our employees, with a modern building that includes recreational and fitness areas, chill-out zones, a spacious cafeteria with a stunning city view, car and bike parking lots, and much more.
As part of our team, you'll work on both local and global projects with other talented and passionate Product Managers, Technical Operations. Professional Services Center of Excellence and other experts. Our employees enjoy ample growth opportunities, and all of the benefits of being part of the global leader in cloud infrastructure, business mobility, and virtualization software.
Research Lead, Advanced Development Center
Job ID R1810909
Date posted 11/22/2018
The VMware Advanced Development Center in Bulgaria is seeking an experienced senior technologist or scientist to shape the next generation of prototypes and research with the local and remote members of the Office of the CTO group. Defining and working on the portfolio of our upcoming innovations gives a rare opportunity to understand the technologies in fields ranging from AI, the Internet of Things to Blockchain and beyond, and how they integrate with the rest of the VMware product lines.
This is an incredible opportunity for an experienced individual to participate in defining new products using innovative technologies, for a large application domain, working in cross-team and cross-geo environment.
Are you passionate dive into something new? You will be conducting basic and applied research on meaningful and challenging open problems in computer science. You will define and drive research projects, either on their own or in collaboration with peer researchers and/or technologists. You will drive our network and engagement with the academic and broader research community, and there will be strong interface with VMware's product teams and customers.
We have:
A close-knit, but growing, team of senior engineers who are all eager to solve big challenges. We have the luxury to use the latest state of the art technologies and software stacks.
We use various methodologies development to meet business objectives, building our software incrementally, publish our results continuously, and refactoring systems as needed. We strive to maintain a good work-life balance on our team, and to promote an atmosphere of learning from each other. If our business and culture sound like they might be a fit, we'd love to hear from you.
You have:
The ability to define and pursue original research agendas with significant impact on VMware; you have a clear, bold and compelling vision of the next breakthrough you want to work on at VMware and how to get started towards it. This should include willingness to inspire and enlist others in your quest.
You should have a Ph.D. (or expect to complete one) in computer science, electrical engineering, statistics, mathematics, or equivalent field. In certain cases, long meaningful experience in innovation will count towards this requirement
An established research track record demonstrated by publications in peer-reviewed venues such as top journals and conferences
A consistent record for building prototypes, open source code, etc. Researchers with algorithms and/or theory expertise should have a track record of collaborating effectively with systems builders.
You possess excellent written and verbal communication skills with the ability to collaborate effectively with both researchers and product teams within VMware and outside parties
You might also have:
Degree research or domain expertise in the areas of Machine Learning, Security, IoT and Cloud Computing.
Proven ability to generate new ideas and innovate.
VMware is an Equal Opportunity Employer and Prohibits Discrimination and Harassment of Any Kind: VMware is committed to the principle of equal employment opportunity for all employees and to providing employees with a work environment free of discrimination and harassment. All job applications will be treated with strict confidentiality
Relevant Jobs
Sorry, there are currently no new opportunities near your current location. Try a new search.