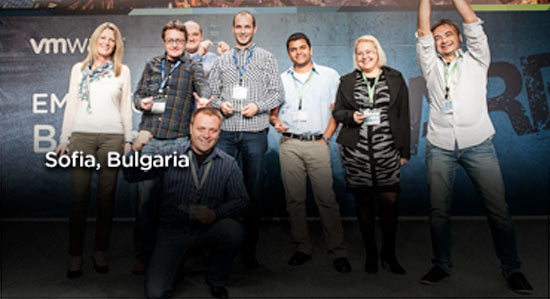 Push us. Amaze us. Inspire us.
Careers in Bulgaria
Our Bulgaria office, located in the heart of the capital Sofia, was established in 2007 and is the largest Research and Development center for VMware in Europe, the Middle East and Africa. Building on the success of our R&D facility, in the past few years VMware Bulgaria has grown to become a multifunctional hub with product, revenue generating professional services and business operations teams. Here, we focus on VMware's future technological innovations in the areas of Software-Defined Data Center, cloud management and automation. We provide a welcoming environment for our employees, with a modern building that includes recreational and fitness areas, chill-out zones, a spacious cafeteria with a stunning city view, car and bike parking lots, and much more.
As part of our team, you'll work on both local and global projects with other talented and passionate Product Managers, Technical Operations. Professional Services Center of Excellence and other experts. Our employees enjoy ample growth opportunities, and all of the benefits of being part of the global leader in cloud infrastructure, business mobility, and virtualization software.
Sr MTS Cloud Engineer
Job ID R1906271
Date posted 06/10/2019
Title: Cloud Software Engineer, VMware Cloud on AWS
Are you passionate about hands on design and development of backend services? Are you inspired by innovation? It's this combination of gusto and analytical skills we need. If you have experience in driving a project/product to completion & further supporting it in production for multiple releases, then you are invited to apply.
This is an opportunity for working on the new Software Defined Data Center as a Service (SDDCaaS) offering. Our vision is to expand our well-established Availability capabilities in On-Prem Data Center to the Cloud. You'll be part of a bright engineering team that is working on a state of the art Cloud features like Multi-AZ, Elastic Clusters, Globally Available Services, etc.
VMware SDDCaaS enables customers to rapidly spin up cloud-hosted, enterprise-grade and secure data centers that are operationally consistent with vSphere-based private clouds. With the same architecture on-premises and in the cloud, IT teams can now realize the value of the hybrid cloud.
Responsibilities:
You master the entire life-cycle including research, design, application and deployment architecture, development, testing (dev owns quality), continuous deployment and continuous delivery up until to production.
You will develop complex, highly available, distributed, cloud-based solutions, and maintain its high level of quality software.
Monitor resource allocation, consumption, and performance.
Engage in service software performance analysis and system tuning.
Challenge you to walk in a different path and to deliver quickly while maintaining a high quality
Minimum Qualifications:
Deep understanding of object oriented principles, data structures, algorithms, design patterns, memory management, etc.
Proven background in fundamentals of computer science and development process.
Experience in one or more of: Java, C++, Python, Go.
Experience with web services (rest, soap, Wsdl, etc.)
Excellent communication skills and fluent English (speaking/reading/writing).
BS or MS degree in Computer Science or related technical field, or equivalent practical experience.
Preferred qualifications:
Experience with SaaS development and CI/CD tools.
Experience in crafting, analyzing and operating large-scale distributed systems.
Experience with container orchestrators (Kubernetes, Docker Native Orchestration, Mesos, Docker Swarm)
Relevant Jobs
Sorry, there are currently no new opportunities near your current location. Try a new search.