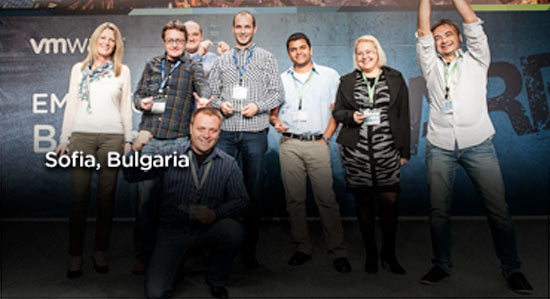 Push us. Amaze us. Inspire us.
Careers in Bulgaria
Our Bulgaria office, located in the heart of the capital Sofia, was established in 2007 and is the largest Research and Development center for VMware in Europe, the Middle East and Africa. Building on the success of our R&D facility, in the past few years VMware Bulgaria has grown to become a multifunctional hub with product, revenue generating professional services and business operations teams. Here, we focus on VMware's future technological innovations in the areas of Software-Defined Data Center, cloud management and automation. We provide a welcoming environment for our employees, with a modern building that includes recreational and fitness areas, chill-out zones, a spacious cafeteria with a stunning city view, car and bike parking lots, and much more.
As part of our team, you'll work on both local and global projects with other talented and passionate Product Managers, Technical Operations. Professional Services Center of Excellence and other experts. Our employees enjoy ample growth opportunities, and all of the benefits of being part of the global leader in cloud infrastructure, business mobility, and virtualization software.
Site Reliability Engineer
Sofia, Bulgaria
Apply Now
Job ID R1810356
As a Site Reliability Engineer in the Cloud Management team, you will build and operate cloud management solutions for Vmware services being offered across multiple public and private clouds.
Our team focuses on common service components across the stack. We develop and operate solutions to support public cloud management, CI/CD container orchestration, security and monitoring, closing the potential gaps between software and service requirements.
Are you an innovator and problem solver that love working with new technologies? Do you want to be a part of a team that runs one of the largest AWS environments out there? Are you passionate about solving cloud management challenges across public, private and hybrid cloud? Are you the type of person that can exercise independent decision-making within broadly defined parameters?
If you answered yes to any of the above and are comfortable giving feedback and contributing to the development of new ideas and services, we are the team for you.
We are a team of Site Reliability Engineers with a constant eye on improving automation, scale, reliability, security, and visibility of overall production health.
We work with various Software Engineering teams building high performance and reliable cloud systems. You will tackle a verity of business, infrastructure security and application problems in a complex ecosystem. You will collaborate with many SaaS teams across all disciplines. These teams will look to you for support and guidance on how to build and operate complex services. Our team is directly responsible for solutions around cloud management, security, reliability and visibility into cloud systems.
As the SaaS business runs on a 24 by 7 basis, the role requires rotational on-call availability (weekdays at work, evenings and weekend for service/system related incidents).
Success in this role requires very strong technical skills, a broad background and understanding of every layer of the software development and cloud ecosystem and excellent understanding of the cloud and container management stacks. You should be comfortable working independently and as part of a specialized team.
Minimum Qualifications
3+ years in various DevOps/SRE roles
3+ years of experience working with AWS
Experience administering Linux systems in a production environment
Experience in building and running large-scale systems and application architectures
Deep understanding of system performance and monitoring
Understanding of containers and container orchestration
Experience in one or more of the following languages: Python, Java, Go and/or NodeJS
Excellent project management skills and the ability to work in a fast-paced and hectic work environment
Demonstrate skills in priority setting, analysis, communication, time management, scheduling, and multitasking.
Proven verbal and written communication skills
BS or MS degree in Computer Science, or a related field
Preferred Qualifications
Experience with modern container orchestration systems: Kubernetes, Mesos, DC/OS, Swarm
Experience with infrastructure configuration and automations processes and tools: Terraform, Puppet, Ansible, Chef, Fabric
Experience with security in the cloud: Intrusion, penetration, and vulnerability scanning
Experience with monitoring solutions: ELK, Splunk, SUMO, Nagios, Prometheus
Experience with various data technologies including relational and non-relational databases and message queues
Good working knowledge of build automation and continuous integration/delivery ecosystem: Git, Gerrit, Maven/Gradle, Jenkins, Docker, Nexus, Artifactory. Selenium
Your saved jobs
You have not saved any jobs.
Recently viewed opportunities
You have not viewed any jobs.