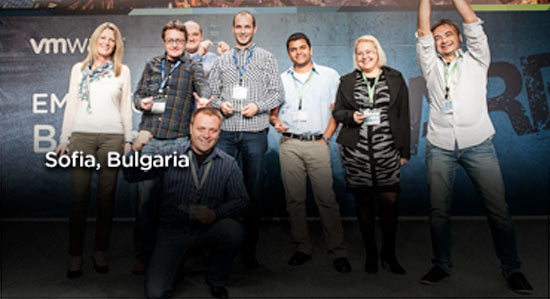 Push us. Amaze us. Inspire us.
Careers in Bulgaria
Our Bulgaria office, located in the heart of the capital Sofia, was established in 2007 and is the largest Research and Development center for VMware in Europe, the Middle East and Africa. Building on the success of our R&D facility, in the past few years VMware Bulgaria has grown to become a multifunctional hub with product, revenue generating professional services and business operations teams. Here, we focus on VMware's future technological innovations in the areas of Software-Defined Data Center, cloud management and automation. We provide a welcoming environment for our employees, with a modern building that includes recreational and fitness areas, chill-out zones, a spacious cafeteria with a stunning city view, car and bike parking lots, and much more.
As part of our team, you'll work on both local and global projects with other talented and passionate Product Managers, Technical Operations. Professional Services Center of Excellence and other experts. Our employees enjoy ample growth opportunities, and all of the benefits of being part of the global leader in cloud infrastructure, business mobility, and virtualization software.
Senior Software Engineer - SaaS
Job ID R1812409
Date posted 12/05/2018
Become a key contributor to the CloudServicesPlatform at VMware.
VMware Cloud Services Platform (CSP) is looking for talented professional who shares our passion for technology, innovation, learning and excellence to help us build and operate world-class SaaS platform.
The Cloud Services Platform (CSP) R&D group charter is to implement the cloud runtime platform that enables VMware to deliver Software-as-a-Service, and service providers to customize, extend and monetize cloud services. This is an exciting area which crosses multiple domains of expertise.
Our group, which operates similarly to a startup within the larger organization, is breaking new ground within the cloud arena and uses modern technologies such as Java, Python, Docker, Kubernetes, Amazon Web Services, micro-services architectures and more. As a member of our team you will master the entire application life-cycle. This includes areas like microservices architecture, continuous deliver, automation testing(dev owns quality) and live monitoring of the system.
Responsibilities:
As our future colleague in the CSP team you will be responsible for the entire life-cycle of the core SaaS service platform within VMware:
Design, implement and operate the next generation VMware's SaaS
Demonstrate a full competency and comprehensive knowledge of one or more technical fields
Design solutions to large complex features/problems involving other more junior team member
Take decisions impacting larger organization
Perform analysis and design of one or more difficult projects, having significant latitude in performing technical work
Develop innovative ideas and solutions for projects
Identify issues and critically evaluates implications of ideas or solutions
Perform analysis of a complex workload and initiates solutions
Have in-depth and/or breadth knowledge of components of a project and involved with design and implementation
Have distinguishing technical expertise
Demonstrate influence within your area of expertise
Provide direction and mentorship to other team members
Lead group in improving experimental methodology, and researches industry standards and works to implement them
Promote collaboration and learning culture
Generate ideas to reduce cost, improve quality and / or gain process efficiencies
On-Call Availability in case of emergency (sporadically)
Requirement:
Excellent analytical and problem solving skills
Experience as software developer in Java, Python or Go
Good understanding of basic computer network concepts
General programming knowledge - data structures, algorithms, design patterns, memory management, etc
Practical experience with working in Linux based environments
Experience with programming against relational and/or non-relational databased
Solid grasp of software development lifecycle best-practices, methods, and conventions, including but not limited to Unit and Integration Testing, Source Code Management, Continuous Integration, Domain Driven Design, and Dependency Management
Willingness to work without close supervision and with dedicated daring attitude
Lifetime learner
Excellent communication skills and fluent English (speaking/reading/writing)
Have a minimum of 5 years of related experience
Qualification:
You have extensive development experience with good taste in design and can provide architectural and modeling vision and hands-on technical leadership to a team. Past experience in large scale application design and development is critical. Designing for richness, flexibility, preciseness, performance, reliability and scalability is critical.
If working on large real-world problems, anticipating future customer requirements and delivering them on an aggressive schedule motivates you, then this job is for you.
VMware offers:
Opportunity to be part of the management and decision-making team of the subsidiary and improve skills and knowledge by working in an enterprise multinational, multicultural environment of overseas and distributed teams
Attractive compensation package - competitive salary, flexible bonus scheme, company sponsored mobile phone plan and additional long term incentives
Individual career path and personal growth, enhanced by learning and development program, regular performance assessment, teams of worldwide IT professionals
Relevant Jobs
Sorry, there are currently no new opportunities near your current location. Try a new search.