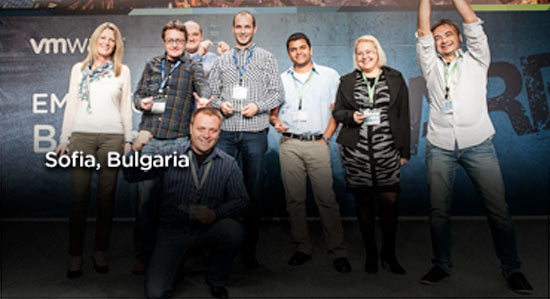 Push us. Amaze us. Inspire us.
Careers in Bulgaria
Our Bulgaria office, located in the heart of the capital Sofia, was established in 2007 and is the largest Research and Development center for VMware in Europe, the Middle East and Africa. Building on the success of our R&D facility, in the past few years VMware Bulgaria has grown to become a multifunctional hub with product, revenue generating professional services and business operations teams. Here, we focus on VMware's future technological innovations in the areas of Software-Defined Data Center, cloud management and automation. We provide a welcoming environment for our employees, with a modern building that includes recreational and fitness areas, chill-out zones, a spacious cafeteria with a stunning city view, car and bike parking lots, and much more.
As part of our team, you'll work on both local and global projects with other talented and passionate Product Managers, Technical Operations. Professional Services Center of Excellence and other experts. Our employees enjoy ample growth opportunities, and all of the benefits of being part of the global leader in cloud infrastructure, business mobility, and virtualization software.
Senior Site Reliability Engineer - SRE
Sofia, Bulgaria
Apply Now
Job ID R183380
Become a key contributor to the Cloud Services Platform at VMware.
The Cloud Services Platform (CSP) R&D group charter is to implement cloud runtime for VMware & ISVs to deliver Software-as-a-Service & Service Providers to Customize, Extend and Monetize Cloud Services. This is an exciting area to work in with multiple domain expertise and a dynamic work culture. If understanding what value can cloud bring to our customers and what SaaS is all about, motivates you, and you are thrilled with delivering daily then this job is for you.
As part of CSP, we will be working as a small and elite team in a startup like group within VMware. As a member of the team you will be working on projects which are in collaboration with leading cloud providers. Development of software and entire application life-cycle will be key responsibility of the team as long with the continuous integration.
=== RESPONSIBILITIES: ===
As our future colleague in the CSP team you will be responsible for operation of the entire life-cycle of the core SaaS service platform within VMware:
-  Working closely with internal software engineering teams to improve availability of services
-  Handling upgrades of infrastructure and services through automation
-  Identifying, gathering and automating responses to key performance metrics, logs, and alerts
-  Developing software runbooks
-  Conduct periodic on call duties as needed on a regular scheme basis
-  Developing and optimizing CI/CD pipeline
-  Use Container platforms such as Kubernetes for large scale deployment of micro-services
- Maintain infrastructure as a code management process
=== MINIMUM QUALIFICATIONS: ===
-  BS in Computer Science or related technical field, or equivalent practical experience.
-  Experience in one or more of the following: Java (preferred), Python or Go.
-  Fluent in English
=== PREFERRED QUALIFICATIONS: ===
-  Ability to debug and optimize code and automate routine tasks.
-  Experience in monitoring of cloud based systems
-  Interest in designing, analyzing and solving large-scale distributed systems.
-  Experience with micro-services development.
-  Systematic problem-solving approach, coupled with strong communication skills and a sense of ownership and drive.
-  Knowledge of containerization and cloud services frameworks.
-  Excellent skills in process, documentation, and change management.
=== VMWARE OFFERS: ===
-  Opportunity to be part of the top management and decision-making team of the subsidiary and improve skills and knowledge by working in an enterprise multinational, multicultural environment of overseas and distributed teams
-   Attractive compensation package - competitive salary, flexible bonus scheme, company sponsored mobile phone plan and additional long term incentives
-  Individual career path and personal growth, enhanced by learning and development program, regular performance assessment, teams of worldwide IT professionals
Your saved jobs
You have not saved any jobs.
Recently viewed opportunities
You have not viewed any jobs.