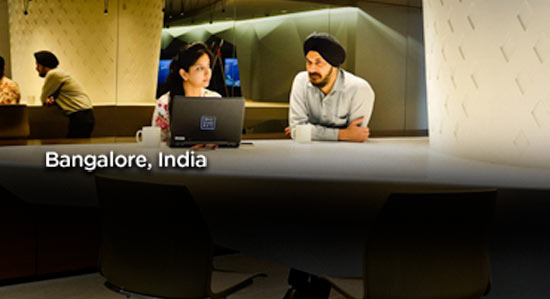 Push us. Amaze us. Inspire us.
Careers in India
When you walk through the doors of one of our state-of-the-art office sites in India, you'll find modern, comfortable, positive spaces that invite our employees to share ideas, spread creativity, innovation, and find balance in their daily lives. We are proud of our presence in the community, proud of VMware's future in India, and proud of our commitment to initiatives that celebrate diversity in the workplace and India's technology industry.
VMware India continues to play a strategic role in VMware's global growth strategy for the mobile cloud era and our operations are currently second in size only to those at VMware's Palo Alto headquarters in the United States.
Senior Product Designer
Job ID R185645
Date posted 06/25/2018
A Product Designer is responsible for the end to end experience of a product, a project, or a feature. This starts with the initial research that comes with understanding the customer, business and technology space to specifying end to end workflows, interactions and experience. A product designer collaborates with cross-functional product teams across the globe, to create experiences for challenging problems around cloud computing.
A Product Designer is expected to:
* Work with their product management and engineering teams as well as other designs to help define product goals, requirements and represent user's point of view throughout the product planning process.
* Design the workflows, wireframes, prototypes, sketches, and final delivery mockups, to illustrate design solutions.
* Work with the engineering team to deliver those workflows the same way they were envisioned. Remember that a design is not "done" until it is actually delivered to customers.
* Work with the design, product management, and engineering leadership to improve the design and product development process.
* Verify and improve on designs through reviews, validations and formal usability testing with end users.
* Ability to rapidly prototype and deliver multiple iterations and versions of a design to quickly advance VMware's product portfolio. Speed and agility are extremely important.
* Have the ability to make sensible design decisions even when not all data is available and be able to figure out and correct possible mistakes that ship or are discovered before shipping a product or a feature.
What we look for:
* Expert skills defining and analyzing user flows and workflows.
* Expert skills in interaction design with a grasp of UCD process.
* Story telling - ability to tell simple user stories illustrating solutions.
* Excellent oral and written communication, presentation, and analytical skills.
* Agile, adaptable, and capable of delivering new products and features.
* Possess a very high level of comfort in working with developers in the presentation layer (for example, HTML, CSS).
* Good aesthetic sense and attention to details.
* Strong prototyping skills.
* Experience with conducting user research is a plus.
* Online portfolio.
Design at VMware:
We're a dedicated team that moves fast, upholds design quality, values consistency and simplicity, and focuses on customers and their needs. We work together and value "we" over "me". We believe in inclusion both within our team and in the way we build products and make that clear in the way we hire, design, and execute. We value growth and encourage, not just respect, our differences. We're the organization to "get it done" together. We're not afraid to make new mistakes, learn from them, and grow together as a team and an organization.
We love what we do and build products that are used by hundreds of thousands of productive individuals and organizations around the world.
This position is eligible for the GrowDesign referral campaign
Relevant Jobs
Sorry, there are currently no new opportunities near your current location. Try a new search.