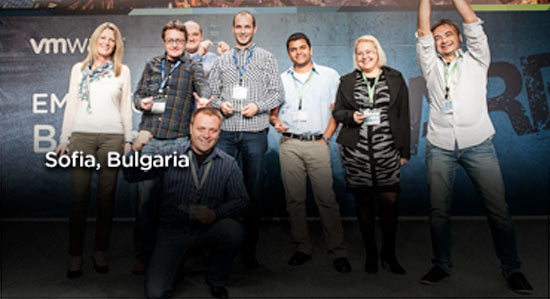 Push us. Amaze us. Inspire us.
Careers in Bulgaria
Our Bulgaria office, located in the heart of the capital Sofia, was established in 2007 and is the largest Research and Development center for VMware in Europe, the Middle East and Africa. Building on the success of our R&D facility, in the past few years VMware Bulgaria has grown to become a multifunctional hub with product, revenue generating professional services and business operations teams. Here, we focus on VMware's future technological innovations in the areas of Software-Defined Data Center, cloud management and automation. We provide a welcoming environment for our employees, with a modern building that includes recreational and fitness areas, chill-out zones, a spacious cafeteria with a stunning city view, car and bike parking lots, and much more.
As part of our team, you'll work on both local and global projects with other talented and passionate Product Managers, Technical Operations. Professional Services Center of Excellence and other experts. Our employees enjoy ample growth opportunities, and all of the benefits of being part of the global leader in cloud infrastructure, business mobility, and virtualization software.
Senior Open Source Engineer, Build Systems
Job ID R1906128
Date posted 05/14/2019
At VMware, we are committed to helping our people grow professionally. Our talented employees exemplify our shared values and continue to drive our company to new heights.
You will be part of the Cloud Productivity and Engineering team, a team that develops, deploys and supports the software development tools to improve the productivity of engineering teams throughout VMware. We develop software to solve complexity and scale issues not addressed by standard open source or off-the-shelf solutions. Engineers on our team are expected to develop, test and deploy code to production as well as help analyze, resolve and root cause issues in our production system. The focus of this role is to contribute to and ultimately grow into more influential positions in open source JDK and associated projects relevant to VMware. This role will interface closely with senior architects inside VMware as well as communities of contributors for these projects outside of VMware.
A successful candidate will be proficient in core software engineering skills, including debugging, analysis, problem resolution, writing maintainable software, and translating requirements into implementation. Open source software development is a highly collaborative effort; strong communication skills are required for effective code review, written technical discussions, and engagement with a geographically diverse set of contributors.
We are looking for a motivated developer who can quickly engage and create meaningful contributions to upstream OpenJDK projects. A successful candidate will be able to show expertise in open source development and contribution as well as relevant technical skills in one or more prominent projects. They can communicate clearly the role of these projects in the context of related projects.
Our team is geographically distributed with members in Palo Alto, Boston, Sofia (Bulgaria), Bangalore (India)
Skills and Requirements:
Demonstrated expertise in Java, JDK, JVM related development, debugging across different OS (Linux, Windows, MacOS) is required

Strong programming skills in one or more programming language: C, C++, Java, Go, Python

5+ years of experience in OpenSource development preferrably in the areas of JVMs such as hotspot or openjdk virtual machine implementation, JIT compilation, garbage collection, interpretation, etc.

Good at collaboration, across time zones and geographies

Interest in learning, understanding other points of view, growing existing ideas and combining them with new ones

At least one, ideally a number of demonstrable, meaningful contributions to existing open source project(s), preferrably in the OpenJDK project

Independently evaluate, analyze, and resolve typical software problems

Good algorithmic and problem solving skills
Highly Desired:
Build/release security concepts: integrity, provenance, signing

BS or better in computer science or related field
VMware offers:
Attractive compensation package - competitive salary, flexible bonus scheme, company sponsored mobile phone plan and additional long term incentives
Individual career path - management and technical career growth, enhanced by learning and development program, regular performance assessment, teams of world-wide IT professionals
Healthy work environment - company sponsored medical program, food and beverage program, sport activities, open communication
Work-life balance – 25 days paid vacation, regular team buildings and celebrations

As part of the VMware global standards for integrity you will be required to go through a pre-employment screening process before you join.

All job applications will be treated with strict confidentiality
Relevant Jobs
Sorry, there are currently no new opportunities near your current location. Try a new search.