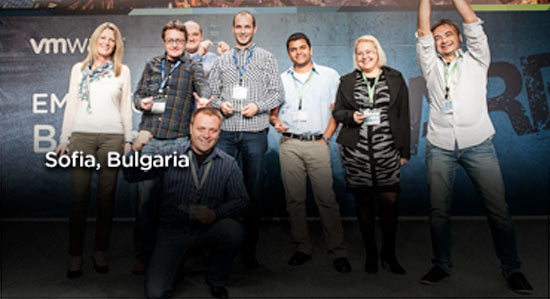 Push us. Amaze us. Inspire us.
Careers in Bulgaria
Our Bulgaria office, located in the heart of the capital Sofia, was established in 2007 and is the largest Research and Development center for VMware in Europe, the Middle East and Africa. Building on the success of our R&D facility, in the past few years VMware Bulgaria has grown to become a multifunctional hub with product, revenue generating professional services and business operations teams. Here, we focus on VMware's future technological innovations in the areas of Software-Defined Data Center, cloud management and automation. We provide a welcoming environment for our employees, with a modern building that includes recreational and fitness areas, chill-out zones, a spacious cafeteria with a stunning city view, car and bike parking lots, and much more.
As part of our team, you'll work on both local and global projects with other talented and passionate Product Managers, Technical Operations. Professional Services Center of Excellence and other experts. Our employees enjoy ample growth opportunities, and all of the benefits of being part of the global leader in cloud infrastructure, business mobility, and virtualization software.
Senior Software Engineer, Blockchain
Job ID R1906043
Date posted 05/09/2019
Blockchain is an emerging technology that promises to change the world we live in. With VMware's vast experience in building highly trusteddistributed systems wehave been doing advanced research in this space for several years. We are now building out a team of highly skilled engineers to build on this research for VMware.
Responsibilities:
Contribute to the implementation of a blockchain environment including but not limited to the consensus layer, distributed ledger, and smart contracts layer. This could include dealing with the data layer, the security layer, or a distributed network layer.

Contribute to SBFT algorithm and implementation, consensus extensions, storage extensions, privacy, dynamic reconfig, key referesh, improved cryptography, cryptographic plugins and libraries, deep algorithm and implementation validation of Concord, malicious node testing, malicious node detection, DAML, performance optimizations, PRD features for ASX and other customers

Collaborate effectively with other engineers to solve complex problems.
Assist with debugging and verification of defects in your own and others' work
Competencies:
10+ Industry experience 

Degree in CS or related field
Deep understanding of multi-threaded programming and concurrency, experience designing, implementing and debugging distributed systems

Knowledge of cryptography, Merkel tree, hash functions (SHA1 etc.), blockchain technology, familiarity with Ethereum, Bitcoin, Hyperledger etc is a Plus

Experience in one of the following disciplines:
- Databases
- Security (cryptography preferred)
- Peer-to-peer networks or distributed systems
- Experience in mainstream programming languages such as Java/C/C++
- Exposure to multiple programming languages is desired, as the ability to pick up and use the language that suits a body of work is  expected
VMware offers:
Attractive compensation package - competitive salary, flexible bonus scheme, company sponsored mobile phone plan and additional long term incentives
Individual career path - management and technical career growth, enhanced by learning and development program, regular performance assessment, teams of world-wide IT professionals
Healthy work environment - company sponsored medical program, food and beverage program, sport activities, open communication
Work-life balance – 25 days paid vacation, regular team buildings and celebrations

As part of the VMware global standards for integrity you will be required to go through a pre-employment screening process before you join.

All job applications will be treated with strict confidentiality
Relevant Jobs
Sorry, there are currently no new opportunities near your current location. Try a new search.