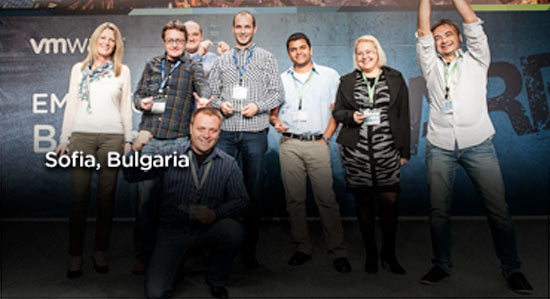 Push us. Amaze us. Inspire us.
Careers in Bulgaria
Our Bulgaria office, located in the heart of the capital Sofia, was established in 2007 and is the largest Research and Development center for VMware in Europe, the Middle East and Africa. Building on the success of our R&D facility, in the past few years VMware Bulgaria has grown to become a multifunctional hub with product, revenue generating professional services and business operations teams. Here, we focus on VMware's future technological innovations in the areas of Software-Defined Data Center, cloud management and automation. We provide a welcoming environment for our employees, with a modern building that includes recreational and fitness areas, chill-out zones, a spacious cafeteria with a stunning city view, car and bike parking lots, and much more.
As part of our team, you'll work on both local and global projects with other talented and passionate Product Managers, Technical Operations. Professional Services Center of Excellence and other experts. Our employees enjoy ample growth opportunities, and all of the benefits of being part of the global leader in cloud infrastructure, business mobility, and virtualization software.
Senior iOS Developer
Job ID R1907400
Date posted 06/12/2019
We are seeking a senior iOS Developer to join the Boxer team. Boxer is an enterprise email client that hundreds of thousands of people depend on daily, installed on millions of mobile devices around the world.
We are constantly looking to improve the email experience. In each release, we aim to make Boxer more useful for our users and add features to match new iOS capabilities.
We are passionate about delivering high quality and highly secure product. You will work on a product that users see throughout their day, as they read and respond to email. You will work with a highly motivated and dynamic team of 6-10 people and report into a Manager/Senior Manager. You will have the opportunity to participate in all phases of the software development process.
Personal growth is important to our team. We help and encourage our team to be constantly learning and staying up to date with the latest iOS features, frameworks, and libraries.
Position Responsibilities
You will take ownership of product quality, user experience, and security - every member of the team is responsible for delivering a best-in-class product that users love.
Design, build, and test product features and components, while working with our security and UX teams to ensure that Boxer is both secure and delightful to use.
You are expected to help maintain and improve our automated test suite and CI pipeline.
You will participate in code reviews and design reviews for building a robust and scalable product that does not require rework.
Play an active role in debugging and addressing critical product issues. Our product is critical to our customers, and every developer will cooperate with our support team to make sure our customer needs are met.
In this role, you will be involved in coordinating work across teams and architects. This involves UI/UX, Security and Architecture teams. You will establish networks outside own area of expertise.
You may be involved in actively mentoring junior team members and play an active role in addressing or helping the team with critical issues/escalation. You will be working with highly skilled senior engineers and architects who will always be there for guiding or mentoring whenever required.
You will proactively work on identifying issues and exercise judgment in selecting methods, techniques and evaluation criteria for obtaining results. Perform analysis of complex tasks or situations that required in-depth evaluation of variable factors.
Personal growth is important to our team. We want our team to be constantly learning and staying up to date with the latest iOS technologies, libraries, and frameworks. You will receive educational budget and time to continue to get better at your craft.
Position Requirements
Bachelor's, master's or PhD from an accredited university in Computer Science or related field. Typically, 7+ years of experience with a bachelor's degree, this is relaxed for someone with higher academic qualification.
Excellent knowledge of iOS technologies. experience using Objective C, Swift, Cocoa Touch and other iOS frameworks.
Highly proficient in object-oriented methodologies, design patterns, data structures, algorithms and quality coding skills, excellent debugging skills.
Experience working with versioning and productivity tools (Git, Stash, JIRA etc.).
Good to Have
Experience in building and debugging network driven apps is highly valued. Knowledge of Exchange ActiveSync is a plus. 
An understanding of DevOps principles, tools and techniques will be helpful
Excellent command over the English language - verbal and written interpersonal skills.
Work experience in an energizing environment, following agile practices. Successfully handled multiple, high priority projects and tasks
Other Competencies
Ability to work independently and in a team environment, including quickly getting up to speed with new technologies. Be able to address issues fast and authoritatively.
Proficient organizational skills with the ability to lead challenging demands.
Having a creative mindset and decision-making skills is essential.
Relevant Jobs
Sorry, there are currently no new opportunities near your current location. Try a new search.