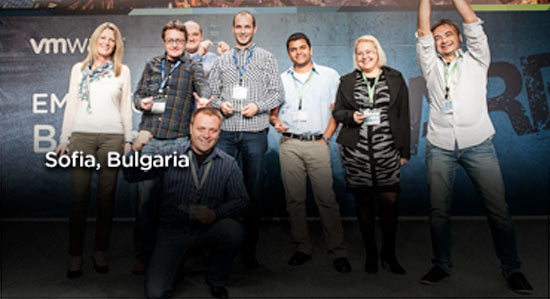 Push us. Amaze us. Inspire us.
Careers in Bulgaria
Our Bulgaria office, located in the heart of the capital Sofia, was established in 2007 and is the largest Research and Development center for VMware in Europe, the Middle East and Africa. Building on the success of our R&D facility, in the past few years VMware Bulgaria has grown to become a multifunctional hub with product, revenue generating professional services and business operations teams. Here, we focus on VMware's future technological innovations in the areas of Software-Defined Data Center, cloud management and automation. We provide a welcoming environment for our employees, with a modern building that includes recreational and fitness areas, chill-out zones, a spacious cafeteria with a stunning city view, car and bike parking lots, and much more.
As part of our team, you'll work on both local and global projects with other talented and passionate Product Managers, Technical Operations. Professional Services Center of Excellence and other experts. Our employees enjoy ample growth opportunities, and all of the benefits of being part of the global leader in cloud infrastructure, business mobility, and virtualization software.
Junior C++ Software Engineer
Job ID R1904654
Date posted 04/17/2019
VMware recognizes that today's students are tomorrow's trailblazers and we value the opportunity to benefit from your fresh perspective. If you thrive in an open, innovative, technology-driven culture, VMware could be the place for you! You will be exposed to a wide range of software platform technologies that are utilized by customers all over the world.

If you are excited about C++ development, you can explore the opportunity for a Junior C++ Software Developer within our vCenter team. The team is responsible for 3 big C++ functional code blocks (more than 100 000 lines of code):
Vmacore library, that is boost like library and it supports 4 different OS (MAC, Linux, Windows, ESX)
VMware home grown reverse proxy
VMware C++ RPC runtime library and API lifecycle
The team is an active member of ISOCPP (https://isocpp.org/wiki/faq/wg21) and the goal is to move some C++ implementation from vmacore library to the standard library. At the moment we are taking part of the coroutines https://lewissbaker.github.io/2017/09/25/coroutine-theory. We also have our own Fair Thread Pool. We want to replace the home grown Reverse Proxy with Envoy (https://www.envoyproxy.io/). We want to enhance Envoy with VMware specific implementation and to make it L7 proxy for the VMware specific IDLs. VMware is now aaS company, this requires to develop our API lifecycle to allow daily updates.
As part of the team you will be able build solid knowledge on the following:
C++ development
Networks (API lifecycle and RPCs)
OS specifics (memory consumption, core dumps, deadlocks etc.)
L4 and L7 Reverse Proxies and what are the new trends.
Our requirements:
Pursuing

a

Bachelor's or Master's in Computer Science or equivalent - preferably last year at university

Coursework (in some) of the following: Algorithms, Data Structures, Storage and\or Operating Systems, Computer Architecture, Machine Learning, Compilers, Networking

Knowledge in C++ software development

Knowledge in Python, Shell, or other scripting languages is a plus

Experience in school and/or industry projects involving significant design and development would be an advantage
Relevant Jobs
Sorry, there are currently no new opportunities near your current location. Try a new search.