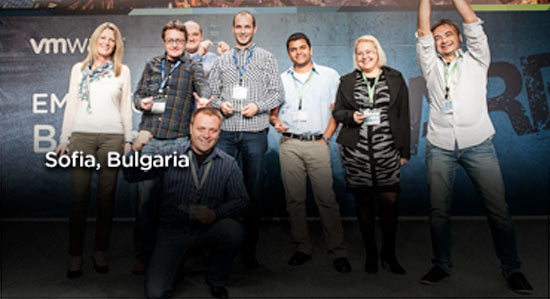 Push us. Amaze us. Inspire us.
Careers in Bulgaria
Our Bulgaria office, located in the heart of the capital Sofia, was established in 2007 and is the largest Research and Development center for VMware in Europe, the Middle East and Africa. Building on the success of our R&D facility, in the past few years VMware Bulgaria has grown to become a multifunctional hub with product, revenue generating professional services and business operations teams. Here, we focus on VMware's future technological innovations in the areas of Software-Defined Data Center, cloud management and automation. We provide a welcoming environment for our employees, with a modern building that includes recreational and fitness areas, chill-out zones, a spacious cafeteria with a stunning city view, car and bike parking lots, and much more.
As part of our team, you'll work on both local and global projects with other talented and passionate Product Managers, Technical Operations. Professional Services Center of Excellence and other experts. Our employees enjoy ample growth opportunities, and all of the benefits of being part of the global leader in cloud infrastructure, business mobility, and virtualization software.
Java Software Engineer
Job ID R1810953
Date posted 10/25/2018
The Skyline engineering group is looking for talented software engineers to grow our platform engineering team. This work will play a key part in transforming our customers' user experience by using data to build a more personalized approach to providing prescriptive best practices, resolving technical issues and predicting imminent issues before they occur. If you like working with big data or creating robust services around that data, this job may be for you!
Our software includes on-premise data collection along with a backend data services layer, built using a combination of Java and Python and designed to be highly modular with non-disruptive updates. Members of the platform engineering team should be familiar with the collection of data at scale, graph data structures, creation/interaction with RESTful API services and the considerations and trade offs that need to be made for high volume/high frequency data and transportation systems. Engineers should have experience with developing enterprise software that could handle sensitive information and all the legal, security and risk considerations that are applicable. Well-qualified candidates should also understand the concepts of continuous deployment pipelines built with robust, automated testing and orchestration. 
Responsibilities 
Create the next generation of VMware data collection and analytics, focusing on getting the right kinds of data collected and the right kinds of services built to use that data in a meaningful way
Creation of software within a transparent, agile model, with a strong understanding of the levels of communication and rigor required to build software iteratively
Develop flexible software that can be shared across multiple components, both through contribution to common libraries and in building RESTful services to be consumed by other areas of the platform
Solve data collection and transportation issues commonly encountered in large scale enterprise deployments 
Ownership of quality, scalability and stability of created code
Perform and receive code reviews within the team to consistently increase our collective skills and codebase
Consistently think about new ways to make better software, bringing in new ideas from outside and applying them to the problems we are solving
Engineering pager duty rotation as development contact for our internal support teams (not direct customer support)
Requirements 
Knowledge of containers, micro-services and cloud native application development a plus
Demonstrates a full competency and comprehensive knowledge of one or more technical fields

Designs solutions to large complex features/problems involving other more junior team members

Decisions may impact larger organization

Performs analysis and design of one or more difficult projects, having significant latitude in performing technical work
Develops innovative ideas and solutions for projects
Identifies issues and critically evaluates implications of ideas or solutions
Performs analysis of a complex workload and initiates solutions
In-depth and/or breadth knowledge of components of a project and involved with design and implementation
Has distinguishing technical expertise
Demonstrates influence within their area of expertise
Provides direction and guidance to other team members                                                       
Leads group in improving experimental methodology, and researches industry standards and works to implement them
Encourages and leads teamwork
Generates ideas to reduce cost, improve quality and / or gain process efficiencies
A minimum of 5 years of related experience
Relevant Jobs
Sorry, there are currently no new opportunities near your current location. Try a new search.