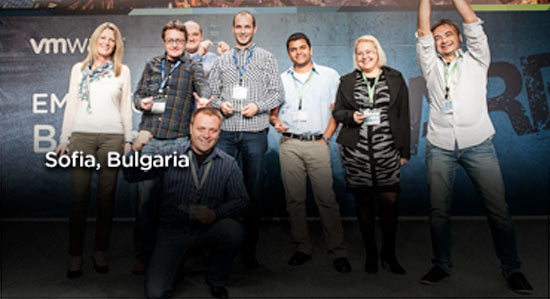 Push us. Amaze us. Inspire us.
Careers in Bulgaria
Our Bulgaria office, located in the heart of the capital Sofia, was established in 2007 and is the largest Research and Development center for VMware in Europe, the Middle East and Africa. Building on the success of our R&D facility, in the past few years VMware Bulgaria has grown to become a multifunctional hub with product, revenue generating professional services and business operations teams. Here, we focus on VMware's future technological innovations in the areas of Software-Defined Data Center, cloud management and automation. We provide a welcoming environment for our employees, with a modern building that includes recreational and fitness areas, chill-out zones, a spacious cafeteria with a stunning city view, car and bike parking lots, and much more.
As part of our team, you'll work on both local and global projects with other talented and passionate Product Managers, Technical Operations. Professional Services Center of Excellence and other experts. Our employees enjoy ample growth opportunities, and all of the benefits of being part of the global leader in cloud infrastructure, business mobility, and virtualization software.
Full-Stack Software Engineer Graduate - PS Tools
Sofia, Bulgaria
Apply Now
Job ID R05300
Start date: July, 2018
Location:
16A, "G.M. Dimitrov" Blvd.
1797 Sofia
Bulgaria
Are you a creator? A person who loves to build and has the passion and creativity to bring ideas to life. Do you love developing both front and back end code? Are you an ardent learner who's always looking to improve? Are you a student or recent graduate?
We have:
A close-knit team of engineers who are all eager to tackle big challenges. We have the luxury to use the latest ground breaking technologies like Java 8, Spring 5, Angular 4.
Our software enables VMware's Services & Sales teams to be their best, delivering high-quality solutions to our customers with extraordinary outcomes. We use Scrum, Kanban and test-driven development to meet business objectives, building our software incrementally, ship code continuously, and refactoring systems as needed. We strive to maintain a reasonable work-life balance on our team by setting the expectation that most work will be completed during core hours. If our business and culture sound like they might be a fit, we'd love to hear from you.
You have:
· General programming knowledge - object oriented principles, data structures, algorithms, design patterns, memory management, etc.
· Understanding in building consistent UI/UX with modern JavaScript frameworks like AngularJS 1.x, Angular 4, React
· Understanding in Java, C# or related technologies
· Understanding in relational databases (PostgreSQL, MySQL, Oracle)
You might also have:
· Understanding in common Java frameworks such as Spring (Data, MVC, REST) and Hibernate
· Understanding in writing automated end-to-end tests with Protractor, and unit tests with Karma
· Understanding of Maven or Gradle configurations for building, testing and running applications.
· Understanding of Webpack, Gulp.
· Recent graduate or currently studying and/or yet to graduate Bachelor's/ Master's degree in Computer Science and/or Software Engineering or relevant
Before you join, VMware will require you to go through a pre-employment screening process. This means that we will want to verify your details and the information you have given us to ensure your suitability for a certain role.
We are an equal opportunity employer and value diversity at our company. We do not discriminate on the basis of race, religion, colour, national origin, gender, sexual orientation, age, marital status, veteran status, or disability status.
Your saved jobs
You have not saved any jobs.
Recently viewed opportunities
You have not viewed any jobs.