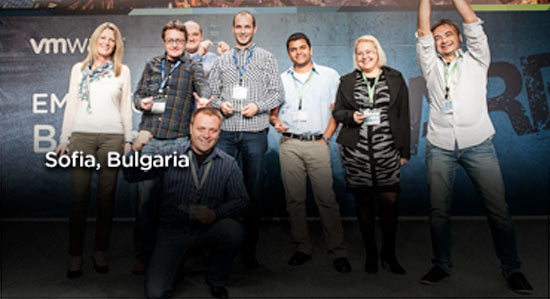 Push us. Amaze us. Inspire us.
Careers in Bulgaria
Our Bulgaria office, located in the heart of the capital Sofia, was established in 2007 and is the largest Research and Development center for VMware in Europe, the Middle East and Africa. Building on the success of our R&D facility, in the past few years VMware Bulgaria has grown to become a multifunctional hub with product, revenue generating professional services and business operations teams. Here, we focus on VMware's future technological innovations in the areas of Software-Defined Data Center, cloud management and automation. We provide a welcoming environment for our employees, with a modern building that includes recreational and fitness areas, chill-out zones, a spacious cafeteria with a stunning city view, car and bike parking lots, and much more.
As part of our team, you'll work on both local and global projects with other talented and passionate Product Managers, Technical Operations. Professional Services Center of Excellence and other experts. Our employees enjoy ample growth opportunities, and all of the benefits of being part of the global leader in cloud infrastructure, business mobility, and virtualization software.
EUS Manager CEMEA & SEMEA
Sofia, Bulgaria
Apply Now
Job ID R170934
General Description:
You as a manager will be charged with leading areas responsible for new-hire deployments, hardware refreshes, event support, executive support, providing direct support services to end users via 'Genius Bar' and legacy office visit model for desktop, laptop and mobile devices, as well as developing domain expertise across the team. You will also be responsible for managing colleague relationships and key partners across region. Furthermore work with fellow colleagues across End User Services and the wider VMware IT organisation acting as the IT representative to the geography during multi-team collaborative projects and services.
Working with the Director, End User Services, EMEA this role is a key member of the EMEA End User Services leadership team responsible for all technology delivery to the end users in Central and Southern Europe and for enabling the end user's learning and productivity at VMware. The manager is responsible for a team of 4 and will be responsible for delivering end to end IT End User Services to 8 countries, 12 sites and 1,049 colleagues across all functions in the business. The geography is culturally diverse from Germany, Switzerland, Poland, France, Italy and Spain to the Middle East and South Africa.You as a manager will be charged with building and leading a 'EPIC2 values' based team committed to a successful end user experience for VMware employees to develop, learn and sell and work on VMware products.You will also ensure the delivery of responsive and consistent end user support services, overseeing relationships and ensuring user satisfaction. You will be an innovative and strategic thinker with an open and collaborative style that fosters teamwork, sustains a learning environment for staff and develops an open, engaged culture that engenders trust from the VMware community and IT employees alike. You will be able to build and maintain strong relationships with colleagues from across the business at all levels and across many different functions.
The role will have the following key responsibilities:
OverseethedeliveryofservicesandsupporttoendusersinCentralandSouthernEurope:
Lead the delivery of End User Services to a range of diverse countries across the region. They will handle all IT service offerings by running the people, processes, and technologies making up an integrated support delivery model.
Cultivate an environment in which support staff act as trusted advisors who provide relevant and meaningful technical guidance on the best use of technology.
Drive positive change in support of continual improvement and enhanced services.
Represent End User Services at multi-functional IT and governance meetings.
Facilitate the creation of run books and technical design documents for services delivered by the team
Train and lead staff on operation procedures for new products and initiatives.
Ensure technical alignment across projects in the EUS domain.
Provide blocking issue point for technical staff as needed and mentor technical and non-technical peers.
Deliver programmes and projects with excellent execution across the geography to ensure end user satisfaction.
Develop and sustain partner relationships:
Promote a user driven culture through the development of organisation structure, processes and programmes to enable a high degree of responsiveness and alignment with strategic priorities.
Build strong partnerships with local business units and VMware leaders.
Identify, measure, analyse, and communicate service performance.
Qualifications:
10+ years related experience including proven experience developing teams and leading relationships in a large, diverse organisation.
5+ years in IT management.
Ability to translate the needs of the VMware employees and business units into the appropriate solutions.
Excellent written and verbal communication skills with the ability to influence and work closely with other Senior leaders in the organisation.
Excellent organisational change management and project management skills.
Effective delegation, mentoring, and management development.
Highly effective and results-oriented, non-bureaucratic management style.
Self-starter and highly motivated individual who demonstrates sound judgement, prioritise and effectively meet deadlines while working on multiple assignments simultaneously.
We are an equal opportunity employer and value diversity at our company. We do not discriminate on the basis of race, religion, color, national origin, gender, sexual orientation, age, marital status, veteran status, or disability status.
Your saved jobs
You have not saved any jobs.
Recently viewed opportunities
You have not viewed any jobs.