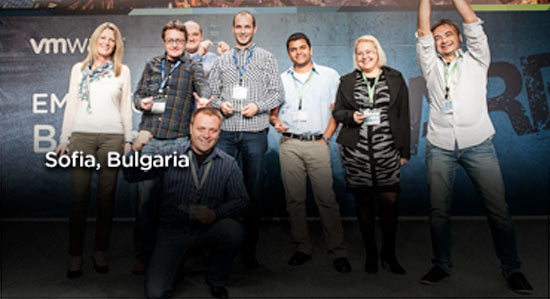 Push us. Amaze us. Inspire us.
Careers in Bulgaria
Our Bulgaria office, located in the heart of the capital Sofia, was established in 2007 and is the largest Research and Development center for VMware in Europe, the Middle East and Africa. Building on the success of our R&D facility, in the past few years VMware Bulgaria has grown to become a multifunctional hub with product, revenue generating professional services and business operations teams. Here, we focus on VMware's future technological innovations in the areas of Software-Defined Data Center, cloud management and automation. We provide a welcoming environment for our employees, with a modern building that includes recreational and fitness areas, chill-out zones, a spacious cafeteria with a stunning city view, car and bike parking lots, and much more.
As part of our team, you'll work on both local and global projects with other talented and passionate Product Managers, Technical Operations. Professional Services Center of Excellence and other experts. Our employees enjoy ample growth opportunities, and all of the benefits of being part of the global leader in cloud infrastructure, business mobility, and virtualization software.
Director, PS Center of Excellence
Job ID R1900049
Date posted 01/03/2019
Summary
VMware, the global leader in cloud infrastructure, delivers customer-proven virtualization solutions that significantly reduce IT complexity.   The Director, PS Center of Excellence (CoE) job is a highly visible management position in Global Services Organization. As a Director, PS CoE you will be responsible for creating, developing, operating, managing and leading a large team of technical and management resources who will support the Professional Services (PS) Organizations and Partners by developing customizations and integrations for product, suite and SDDC implementations. 
As a Director PS CoE you will have to creatively employ aggressive recruiting, partnering and acquisition strategies to build up and run this team so that it may support the global needs of our PS and Partner organizations.  You will build an organization that supports the sale, delivery and support of the customizations and integrations it produces, plus a set of components that can be re-used between different engagements.You will also work closely with  various departments  to ensure the success of PS CoE organization. You will manage a complex environment where your decisions will have impact on the overall success of the current activities and future development concepts of the company. You are expected to be organized, detail-oriented while having strong understanding of the bigger picture, results-driven, and provide the leadership skills to manage deliverables on aggressive schedules with a very high level of quality. As a Director, PS CoE you are in strong alignment with VMware vision and goals, you are responsible for the overall success of the PS CoE and will be responsible for all of the initiatives and projects in PS CoE.  This job possesses full P&L responsibility for the center and reports directly to the Vice President of PS Engineering and Remote Delivery, within the Professional Services organization.  Working closely with the leadership across Professional Services, R&D Business Units, and other field organizations, you will be responsible to successfully develop one of the most strategic capabilities across our Services organization to help ensure our customers world-wide are successful in adopting our technologies and gaining meaningful business value from our solutions.  
Desired Knowledge and Abilities
Education/Certification
·    MSc in Computer Science or equivalent, at least 14 years of professional experience in software development and 8+ years experience of leading diversified and high-performing teams
·    Advanced degrees and formal project management certifications are strongly preferred
·    Relevant Technology Certifications are a plus
·    MBA degree is a strong plus
Special Knowledge/Skills
·    Proven track record of managing large teams and ability to lead the teams to strategic and tactical decisions
·    Strong organizational skills with an ability to manage competing client demands 
·    Strong analytical skills regarding technical and project management issues 
·    Technical expertise in at least one technological areas for VMware
·    Very strong technical understanding of the VMware products and how they fit together
·    Thorough understanding of VMware's long-term technical strategy and knowledge of the business strategy
·    Strong knowledge of the enterprise software industry and technology 
·    Proven success leading and delivering projects in a fast-paced, growing-organization environment, as a first and second line manager
·    Ability to lead and work on multiple projects concurrently and under a fast pace environment
·    Excellent technical judgment and ability to provide direction for the development of the projects and teams
·    Ability to hire and motivate great people, to effectively manage large teams and leaders
·    Experience in dealing with customers 
·    Excellent people management skills - communication, teamwork, and leadership
·    Ability to coach and motivate individual contributors, managers, Sr. managers and Directors for their ongoing career growth and day to day activities
·    Strong cross-functional organizational skills
·    Deep knowledge in software development process and project management fundamentals is required
·    Considers cross-functional, interdepartmental and cross-geo challenges
·    Ability to create a relevant strategic vision and bring it to reality
Major Responsibilities and Duties:
·    Responsible for overall management of the PS CoE 
·    Development of key processes to ensure proper governance and oversight of the quality of engagements with stakeholders, customers and partners  
·    Designing and building operational processes for delivery of common VMware solutions and creation of solution assets based on field/customer input and developed body of knowledge
·    Drives demand generation, awareness and communication across GEOs and Partners to ensure optimal utilization of the Center. Maintaining close relationship with key stakeholders from the GEOs and top strategic customers and Partners 
·    Ensure proper training, development and continuous on-boarding of technical and management talent into the center. Keeping and maintaining a broad spectrum of skills about VMware products and technologies. Aligning the developed assets with R&D and assisting in productizing some of them
·    Responsible for developing and maintaining a comprehensive catalog of re-usable customizations and integrations 
·    P&L responsibility over the center, ensuring effective and efficient operation and productivity
·    Measured primarily on volume of business driven through the center (bookings, revenue), utilization of technical resources, sales of customization support and technical proficiency of resources
·    Guides and supervises all of the activities in PS CoE by managing effectively managers, sr. managers, directors, project managers, engineers and other roles
·    Leads setting the goals and the strategy for the organization
·    Communicates organization strategy effectively
·    Effectively assigns resources to lead projects
·    Ensures quality and efficiency of projects and processes
·    Ensures projects meet objectives, and align with goals and strategies
·    Monitors project deadlines and milestones, communicates completion obstacles
·    Works on/leads cross-functional, cross-geo projects
·    Innovates and drives innovation in PS CoE
·    Ensures continuous process improvements in PS CoE
·    Collaborates for meeting VMware's standards
·    Leads, inspires and motivates teams towards high performance and engagement
·    Manages direct reports towards high productivity and efficiency
·    Monitors career planning and development of his/her direct reports
·    Provides coaching to managers, Sr. managers, Directors, project managers, engineers and other roles
·    Makes relevant decisions for the long-term goals of the company
·    Consistently makes appropriate decisions in conflict situations
·    Proves himself/herself as a highly productive member of the management team and has significant contribution in influencing decisions overall for PS CoE 
·    Effectively hires talent of the highest caliber; develops and coaches people
·    Builds strong teams
·    Has latitude to determine course of action in achieving objectives within budget
·    Initiates changes in policies and procedures affecting the performance of the PS CoE organization; might  propose and drive improvements on a company level
·    Responsible for planning, hiring, budgeting, resources management and implementation of changed methods of work
·    Effectively manages organizational changes
·    Assists in the development and the implementation of the Sofia site goals
·    May be invited to represent the group/department as part of the Sofia site leadership team
·    Represents the company at conferences and other forums, where relevant at meetings with partner companies 
·    Leads according the Company's standards and values, and is recognized as a role model
·    Leads managers, Sr. managers, Directors, project managers, engineers and other roles to build and deliver high quality solutions that delight VMware's users
·    Effectively collaborates with all project stakeholders in PS CoE (Engineering managers, Product Management, Dev, QE, Technical Publications, Release Management, etc.) and outside PS CoE (Engagement managers, PMO, Financing, services sales, PSO delivery teams, resources managers, etc) 
·    Encourages and drives initiatives which promote innovation and technical excellence
·    Clearly communicates with upper management any risk areas; comes up with risk mitigation plans
Administrative:
·    Follows company procedures (vacations, IT/Adm requests, etc)
·    Ensures that his/her teams follow the company policies and procedures
·    Suggests changes and improvements of company policies when necessary
·    Oversees hiring of new employees for the assigned teams
Relations with other positions
·    Reports directly to a VP 
·    Receives and provides assistance from/to direct reports (Managers, Sr.Managers, Directors, technical leads, and other roles), as well as to their direct manager
·    Escalates unsolved or/and important issues to upper management (VP or Sr. VP)
·    Works closely with other departments (such as HR, Finance, etc.)
·    Works closely with cross functional teams
·    Supervises assigned teams and individuals
Mental Demands/Competencies
·    Ability to communicate effectively; interpret policy, procedures and data; maintain emotional control under stress 
·    Ability to estimate, prioritize and organize tasks effectively
·    Ability to make decisions assessing all relevant factors
·    Identify problems, suggest problem resolution and escalate problems
·    Constant demonstration of proactive attitude
·    Ability and willingness to learn and put to use new skills and knowledge brought about by rapidly changing information and/or technology
·    Possess strong work ethic, goal oriented and emphasizes on results
·    Responsive to the demands of employees and supervisors; gives and receives constructive feedback
·    Reliable
Confidential Information
·    Keeps Company and customer information confidential
Relevant Jobs
Sorry, there are currently no new opportunities near your current location. Try a new search.