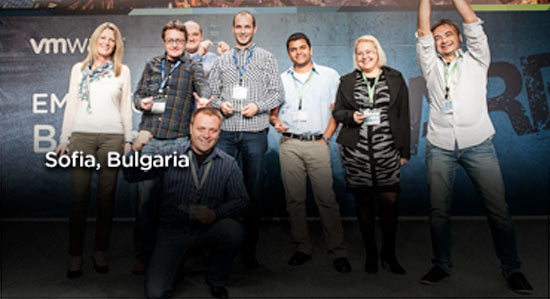 Push us. Amaze us. Inspire us.
Careers in Bulgaria
Our Bulgaria office, located in the heart of the capital Sofia, was established in 2007 and is the largest Research and Development center for VMware in Europe, the Middle East and Africa. Building on the success of our R&D facility, in the past few years VMware Bulgaria has grown to become a multifunctional hub with product, revenue generating professional services and business operations teams. Here, we focus on VMware's future technological innovations in the areas of Software-Defined Data Center, cloud management and automation. We provide a welcoming environment for our employees, with a modern building that includes recreational and fitness areas, chill-out zones, a spacious cafeteria with a stunning city view, car and bike parking lots, and much more.
As part of our team, you'll work on both local and global projects with other talented and passionate Product Managers, Technical Operations. Professional Services Center of Excellence and other experts. Our employees enjoy ample growth opportunities, and all of the benefits of being part of the global leader in cloud infrastructure, business mobility, and virtualization software.
DevOps Junior Engineer
Sofia, Bulgaria
Apply Now
Job ID 77325BR
This is a DevOps opportunity working on all new Software Defined Data Center as a Service (SDDCaaS) offering, as part of Site Reliability Engineering team. You will be working with a top notch team which has a strong track record of delivering a number of critical VMware products. VMware SDDCaaS enables customers to rapidly spin up cloud-hosted, enterprise-grade and secure data centers that are operationally consistent with vSphere-based private clouds. The solution empowers IT teams to deliver the richness of VMware's compute, storage, networking and security capabilities unified into an easy-to-use, elastic, cloud hosted service, enabling IT to protect and enable the business. IT teams manage their cloud data centers with familiar, standard on-premises VMware tools – without the hassles of managing the lifecycle of the infrastructure software. With the same architecture on-premises and in the cloud, IT teams can now realize the value of the hybrid cloud.
Like traditional operations groups, we keep important, revenue-critical systems up and running despite hurricanes, bandwidth outages, and configuration problems. Unlike traditional operations groups, we also have full access to and authority to fix, extend, and scale the code to keep it working and harden it against all the vagaries of the public cloud. We hire people from both systems and software backgrounds. Strong candidates will have experience with both.
Just as what we do is unique, where we do it is unique too! At VMware, we have the good fortune to have developed many interesting products that make SDDC: vSphere to NSX and vSAN. We own those products in production. We drive reliability and performance across large scale by mastering the full depth of the SDDC stack and working with those product teams. We literally learn something new every day - usually surprising things - that have the potential to transform the lives of our users around the world.
As a Software Engineer on the SRE DevOps team, you will have the opportunity to tackle the complex problems of scale which are unique to VMware while using your expertise in coding, algorithms, complexity analysis and large-scale system design. You will design, develop and operate the SDDC by adding incremental services, tools and methodologies to operationalize the SDDC (vSphere, NSX and vSAN) in VMware SDDC service and increase its reliability. You will closely work with developers, QEs and PMs to deliver quality releases.
Responsibilities:
Design, write and deliver software to improve the availability, scalability, latency, and efficiency of the SDDC running in the public cloud as a service.
Solve problems relating to mission critical services and build automation to prevent problem recurrence; with the goal of automating response to all non-exceptional service conditions.
Influence and create new designs, architectures, standards and methods for large-scale distributed systems.
Understand third party products and components involved in a hybrid cloud and ensure they work seamlessly with the SDDC as a service
Design and implement tools and a framework for software updates and upgrades and develop or leverage automation tools for continuous

integration/continuous

development and continuous troubleshooting.
Troubleshoot vSphere, NSX and vSAN and other components of VMware's SDDC (Software Defined Data Center) and root cause defects thru log and code analysis. Provide workarounds to product defects or provide hot fixes and follow up to closure.
Monitor resource allocation, consumption, and performance. Engage in service capacity planning and demand forecasting, software performance analysis and system tuning.
On-Call Availability in case of emergency (sporadically) 
Minimum Qualifications:
BS/Undergraduate in Computer Science or related technical field, or equivalent practical experience.
Experience in VMware products, specifically Cloud related solutions such as: vSphere, vCenter, ESXi/ESX or competing cloud solutions and products.
Experience with algorithms, data structures, complexity analysis and software design.
Experience building and operating highly available and scalable infrastructure solutions 
Excellent troubleshooting skills across all layers (hypervisor, storage, networking)
Experience in one or more of: Java, Python, Bash.
Experience with SQL
Good networking administration skills
Preferred qualifications:
Experience in monitoring of cloud based systems (is a plus)
Expertise in designing, analyzing and troubleshooting large-scale distributed systems.
Familiarity with running web services at scale; understanding of Unix systems internals and networking.
Understanding of Unix/Linux systems from kernel to shell and beyond, taking in system libraries, file systems, and client-server protocols along the way.
Networking: knowledge and understanding of network theory, such as different protocols (TCP/IP, UDP, ICMP, etc), MAC addresses, IP packets, DNS, OSI layers, and load balancing).
Systematic problem solving approach, coupled with a strong sense of ownership and drive.
Experience with source code management (e.g. Git, Perforce, Subversion) systems
Excellent communication and interpersonal skills
Overall experience in software engineering of web based applications build and deployment
Hands on experience with configuration management tools such as Puppet, or Chef (is a plus)
Hands on experience with Linux administration (is a plus)
Knowledge in C++ is a plus
VMware offers:
Attractive compensation package - competitive salary, flexible bonus scheme, company sponsored mobile phone plan and additional long term incentives
Individual career path - management and technical career growth, enhanced by learning and development program, regular performance assessment, teams of world-wide IT professionals
Healthy work environment - company sponsored medical program, food and beverage program, sport activities, open communication
Work-life balance – 25 days paid vacation, regular team buildings and celebrations
As part of the VMware global standards for integrity you will be required to go through a pre-employment screening process before you join
All job applications will be treated with strict confidentiality
Your saved jobs
You have not saved any jobs.
Recently viewed opportunities
You have not viewed any jobs.