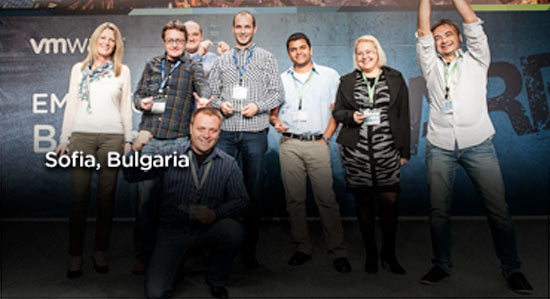 Push us. Amaze us. Inspire us.
Careers in Bulgaria
Our Bulgaria office, located in the heart of the capital Sofia, was established in 2007 and is the largest Research and Development center for VMware in Europe, the Middle East and Africa. Building on the success of our R&D facility, in the past few years VMware Bulgaria has grown to become a multifunctional hub with product, revenue generating professional services and business operations teams. Here, we focus on VMware's future technological innovations in the areas of Software-Defined Data Center, cloud management and automation. We provide a welcoming environment for our employees, with a modern building that includes recreational and fitness areas, chill-out zones, a spacious cafeteria with a stunning city view, car and bike parking lots, and much more.
As part of our team, you'll work on both local and global projects with other talented and passionate Product Managers, Technical Operations. Professional Services Center of Excellence and other experts. Our employees enjoy ample growth opportunities, and all of the benefits of being part of the global leader in cloud infrastructure, business mobility, and virtualization software.
Desktop and Mobile OS Automation Expert
Job ID R1906268
Date posted 05/16/2019
The VMware IT Colleague Experience and Technology organization is a global team that supports over 30,000 colleagues, with over 80,000 devices, spread across The Globe. We are committed to excellence and delightful customer experience in everything that we do. We engage and partner with our R&D organization to help make our Enterprise Mobility Management products more fit for purpose, bug-free and enterprise-ready.
We are looking for an Expert in Desktop and Mobile Automation with primary focus on Windows 10 OS (but not limited) who will be responsible for development of applications and scripts that would reduce the overhead in our IT teams. To be successful in this role, you are a motivated self-starter, possess strong customer service and technical analytical skills and be someone who welcomes challenges. This role is responsible for designing, validating, documenting, implementing and supporting complex desktop and mobile OS solutions while ensuring exceptional colleague experience.
Mаin Responsibilities:
∙            You will work with Azure, Amazon Web Services and serverless architecture to automate and innovate
∙            You will be using device management software (SCCM, Intune and Workspace One UEM) to automate the deployment and further manage the endpoints
∙            You will be interfacing Vmware's R&D and Product groups to ensure full user adoption and to resolve any deployment & integration challenges on mobility and desktop & laptop segments
∙            You will be working closely with Server, Network and IT Security teams to make sure the corporate fleet is compatible, connected and secure
∙            You will be providing solutions and guidance to other teams within the end user services organization to better leverage the windows 10 OS platform features
Required experience:
∙            Exceptional scripting skills in VBS, PowerShell, Python or Shell scripting
∙            Fluency in software distribution and management systems with proven MDM software experience (SCCM, AirWatch, Intune, Jamf,…)
∙            Experience with Amazon Web Services, Azure and Serverless architecture
∙            Previous experience in deployment automation projects, with focus on seamless user experience and "zero-touch" deployments
∙            Extensive experience with AD DS, Group Policies, Configuration Service Provider (CSP) and Windows infrastructure services (DNS, DHCP, etc)
∙            Hands on deployment and configuration experience with Windows 10 or MacOS
∙            Strong technical troubleshooting skills (WMI, Error log analysis, crash dumps, application dumps)
∙            You are open to new challenges and ready to explore uncharted territory
∙            You bring any problem to resolution, irrespective of the potential obstacles on the way
Skills that will be considered a plus:
∙            Microsoft 365 Certified: Modern Desktop Administrator Associate
∙            Microsoft Certified Solutions Associate (MCSA) Windows 10 or relevant experience
∙            Knowledge of SQL for query and report development
∙            Relevant industry standard certification
Relevant Jobs
Sorry, there are currently no new opportunities near your current location. Try a new search.