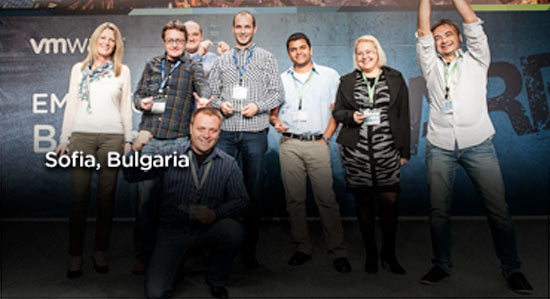 Push us. Amaze us. Inspire us.
Careers in Bulgaria
Our Bulgaria office, located in the heart of the capital Sofia, was established in 2007 and is the largest Research and Development center for VMware in Europe, the Middle East and Africa. Building on the success of our R&D facility, in the past few years VMware Bulgaria has grown to become a multifunctional hub with product, revenue generating professional services and business operations teams. Here, we focus on VMware's future technological innovations in the areas of Software-Defined Data Center, cloud management and automation. We provide a welcoming environment for our employees, with a modern building that includes recreational and fitness areas, chill-out zones, a spacious cafeteria with a stunning city view, car and bike parking lots, and much more.
As part of our team, you'll work on both local and global projects with other talented and passionate Product Managers, Technical Operations. Professional Services Center of Excellence and other experts. Our employees enjoy ample growth opportunities, and all of the benefits of being part of the global leader in cloud infrastructure, business mobility, and virtualization software.
C++ Software Engineer – vCenter Security
Sofia, Bulgaria
Apply Now
Job ID R181922
The vCenter Security team in Sofia is currently looking for a C++ Software Engineer. The team has an important role in the vCenter Server product implementation being responsible for the authorization/authentication management and the permission model implementation as well as for the auditing and monitoring functionalities. vCenter Server provides a centralized product for managing the VMware vSphere cloud computing virtualization platform, allowing the automation and delivery of a virtual infrastructure across the hybrid cloud. Security has a key role in every enterprise software product and is always top priority. VMware understands that and invests a lot to cover the current and future industry standards. The team in Sofia is currently part of a vital product changing initiative to strengthen even further the security of the vCenter and we are eager to see where we will go next. Are you?
Responsibilities:
You will be responsible for strengthening and evolving of the vCenter product to prevent any possible security breaches and attacks
You will be a part of a software development team, working in collaboration with product management, customer support organization and the release team to develop high-quality software products
You will analyze product requirements and define the needed implementation
You will create architectural and design specifications
You will write code, support it and perform quality activities to assure its correct operability
Competencies:
Ability to grasp new technologies/design ideas and build on them rapidly
Proactive and motivated - drive quality and completeness in your deliverables without always waiting to be given directions
Dependability - deliver on your milestones - others' deliverables might be depending on your work
Flexibility/Adaptability - sometimes goals change; be ready to work on new challenges and help out wherever required
Participation – we value ideas and expect even our junior most engineers to have lots of them
Teamwork – working together is key to greater success
Willingness to learn and share knowledge
Requirements:
Proficiency in C/C++
Professional experience in programming for Linux
Knowledge in Symmetric and Asymmetric cryptography, TLS/SSL protocol and Handshaking, Signing and Hashing, OAuth and OpenId, Public and Private Keys, Certificates, Certificate Authorities, Tokens, SSO
Practical knowledge in general Computer Science: data structures and algorithms
Experience building multi-platform solutions in C/C++
Excellent knowledge of multi-threaded programming, IPC, synchronization, locking etc.
Good understanding of the main operating systems concepts: processes, memory management, file systems
Experience with profiling and debugging tools
Familiar with networking, TCP/IP stack etc.
A Plus Will Be:
Experience with Perforce, Scons, make
Experience with Python
Experience with Java
Experience with SQL server and PostgreSQL
VMware offers:
Attractive compensation package - competitive salary, flexible bonus scheme, company sponsored mobile phone plan and additional long-term incentives
Individual career path - management and technical career growth, enhanced by learning and development program, regular performance assessment, opportunity to work with international teams of IT professionals
Healthy work environment - company sponsored medical insurance program, food and beverage program, sport activities, open communication
Work-life balance – 25 days paid vacation, regular team buildings and celebrations.
All applications will be treated with strict confidentiality.
As part of the VMware global standards for integrity you will be required to go through a pre-employment screening process before you join.
Your saved jobs
You have not saved any jobs.
Recently viewed opportunities
You have not viewed any jobs.