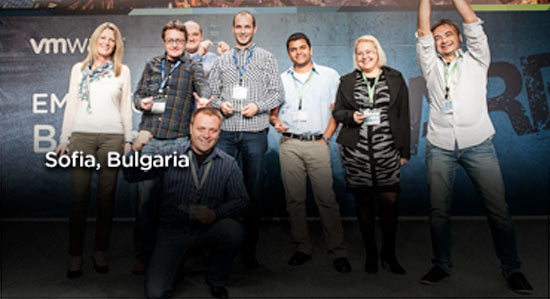 Push us. Amaze us. Inspire us.
Careers in Bulgaria
Our Bulgaria office, located in the heart of the capital Sofia, was established in 2007 and is the largest Research and Development center for VMware in Europe, the Middle East and Africa. Building on the success of our R&D facility, in the past few years VMware Bulgaria has grown to become a multifunctional hub with product, revenue generating professional services and business operations teams. Here, we focus on VMware's future technological innovations in the areas of Software-Defined Data Center, cloud management and automation. We provide a welcoming environment for our employees, with a modern building that includes recreational and fitness areas, chill-out zones, a spacious cafeteria with a stunning city view, car and bike parking lots, and much more.
As part of our team, you'll work on both local and global projects with other talented and passionate Product Managers, Technical Operations. Professional Services Center of Excellence and other experts. Our employees enjoy ample growth opportunities, and all of the benefits of being part of the global leader in cloud infrastructure, business mobility, and virtualization software.
Architect, PS COE
Sofia, Bulgaria
Apply Now
Job ID 80125BR
Do you love solving challenging problems and delivering groundbreaking solutions? Do you like helping clients to get it right whether it means guiding design, implementation or deployment? Are you ready to grow your career by using your architecture and development expertise to bridge the gap between product and business? 
Our Professional Services Center of Excellence is seeking a talented Architect who shares a real passion for technology, innovation and enthusiasm to exceed customer expectations and increase our best-in-class position. 
Our team acquires a deep understanding of the customers' business, its strategic goals and the specific requirements for managing a heterogeneous, hybrid cloud. As an architect, you'll use the technical abilities of the consulting team to lead, drive and own solutions which assists the customer in achieving their business goals and outcomes.
VMware's Professional Services Center of Excellence :
We work in enterprise markets and offer solutions scale with millions of objects. We consult the top Fortune 500 companies in the world on services such as Operational Readiness, Business Continuance, Disaster Recovery, Storage and IT services Delivery. Our Automation and Orchestration Consultants work with VMware technologies which assist with the automation, orchestration and management of virtual infrastructure and Cloud. 
We deliver solutions to help customers to fully benefit from the possibilities of a virtual infrastructure by integrating third party products and automating processes. To achieve this, the following VMware products are mainly but not solely used:
- vRealize Orchestrator
- vRealize Automation
- vRealize Operations
A typical day may include: 
- You'll collaborate with project teams on larger projects. You'll guide and advise customers and colleagues while independently conducting small to medium engagements with clients. 
- You'll analyze customer requirements. Break down high-level requirements to build out the delivery road map to design and implement pre-packaged technology solutions based on VMware Management product stack.
- You'll create customer-facing solution documentation and specifications.
- You'll write code and script to produce and refine custom solutions, focusing on test driven development and Agile methodologies as well as deploy and configure products.
- You'll research new technologies and provide technical guidance to management. 
- You'll generate estimates and plans for delivery based on requirements and assumptions.
- You'll document standard methodologies in developing and deploying VMware solutions, and feed them into our knowledge base for reuse by the team, customers and partners.
- You'll grow and maintain knowledge of the entire VMware product line.
Requirements:
- You're a skilled Senior Engineer or Architect with expertise either Java or C# and scripting skills in JavaScript, Perl, Python, PowerShell, or Bash.
- You're experienced in modern software development methodologies, with an emphasis on software architecture, and infrastructure design.
- You have strong application software development experience in Linux, Unix (e.g. Solaris) or Windows operating systems. Systems programming or OS internal level skills would be an advantage
- You have professional level English skills. You communicate clearly and write well and can explain just about anything to anyone, and you can communicate in writing and on the phone.
- Science degree (BSc, MSc) degree or equivalent technical training
Preferred:
- Familiarity with systems management concepts, processes and standards; capacity/performance management and tuning; and storage and network management
- Understanding of modern IT production datacenter and Internet hosting operations
- A good practical understanding of Web-based application development, including cgi-bin, and Apache or IIS server platforms
- Experience as a professional services consultant or software engineer, preferably with an Internet, Cloud or "Big 5" consulting organization
- German, French, Spanish, Italian or another European language is a plus
- Ability to travel throughout Europe up to 25% as needed
Your saved jobs
You have not saved any jobs.
Recently viewed opportunities
You have not viewed any jobs.