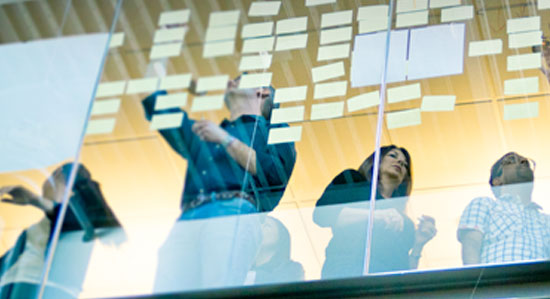 Push us. Amaze us. Inspire us.
Careers in Services and Consulting
Services and Consulting
Solutions Architect - NSX
Job ID R1903085
Date posted 04/12/2019
Job Scope:
As a Solution Architect you will use your knowledge and experience to help drive the NSBU's post-sales product implementation and integration with key customers. We are looking for a person who has the right mindset to be a part of an elite tiger team of solution architects. You must possess a unique blend of being polished with customers and technical savvy; an out of the box thinker, and the drive to engage all stakeholders. NSBU is a fast-paced environment where the successful candidate will wear many hats, and where your work will have a real impact on the direction of the NSBU product portfolio. You'll be part of a bright team that embraces open communication, empowerment, innovation, teamwork and a shared focus on customer success.

Requirements:
• Design and develop innovative solutions to customer requirements using our Network Virtualization & Security products.
• Maintain current knowledge of the entire VMware product line
• Assist in the development of standard reusable VMware consulting service offerings, including definition of tasks, deliverables and standard estimates
• Participate in the pre-sales process to understand customer business and technical objectives and product requirements, in order to develop effective solutions
• Help to document best practices in developing and deploying Virtual Networking & Security solutions, and feed them into our knowledgebase for reuse by customers and partners
• Be able to drive escalated support issues for NSBU key accounts as needed.
• Ability to Lead Customer Advisory workshops related to Use Case Development, Design Assessment and Operational Best Practices.
• Recruit and mentor other technical consulting staff
• On-site post-sales product implementation and integration with customer's CMS, monitoring, and solutions
• Maintain per-customer view of reported issues, regularly communicate with customers, sales account teams and NSBU Product Management and Engineering
• Successful track record with software & network virtualization and/or cloud infrastructure experience with customer software integration.
• Drive client and internal resources and activities to ensure deliverables within scope and time.
• Manage project schedule, billable activities and deliverables
• Document best practices and all customer-specific configurations.
• Develop/improve workflow for more efficient delivery and reduced overall time to production
• Work closely with NSBU Development to deliver high quality, personalized support to assigned client projects. Drive customer satisfaction as well as product supportability improvement
• Bring thought leadership around Product Success and self-driven to lead with minimal supervision.
• Ability to travel: 50%

Professional Qualifications/Experience:
• The ideal candidate will have:
• Domain level understanding of Cloud Infrastructure & Networking (Data Center Design, Network Architecture, Network Design, System Architecture Virtualization, Systems Management, Security, Cloud Consumption)
• 10+ years of relevant experience
• At least 5 years experience in customer-facing positions as a professional services Solution Architect or engineer, preferably with an Internet or "Big 5" consulting organization
• Experience with modern software development methodologies, with emphasis on software and hardware architecture, and infrastructure design and development
• At least 2 years experience in a technical lead role for small-or medium-size teams
• Strong practical Windows Server or Linux systems administration skills
• VMware virtualization, networking and security products, solutions, and services.
• Network Security Tool and Networking Concepts such as firewalls, IDS/IPS, Load Balancers, Security/Trust Zones, L2 Switching and L3 routing. VLANs, Unicast vs Multicast, Management Networks, routing, VPN and network design.
• Proven experience and deep knowledge of the networking technologies and vendors such as Cisco, F5, Riverbed, Force10, Vyatta/Brocade, A10 Networks, Arista, Infoblox, Palo Alto Networks
• Experience with specific network components such as ASR routers, switches, firewalls, ASA, Virtual networking components VSG, 1000V), BGP & OSPF protocol, Cisco UCS storage would be an advantage.
• CCNA, VCP or equivalent certification and/or related work experience
• CCIE , VCDX or equivalent is highly desirable.
• Familiarity with systems management concepts, processes and standards (e.g. SNMP); capacity/performance management and tuning; and storage and network management
• Understanding of modern IT production data center and Internet(ISP/ASP) hosting operations
• Programming in Perl, Python, C/C++ or Unix shell are also an advantage
• B.S./B.A./M.S. degree or equivalent technical training
• Experience in software deployment in large-scale services in complex environments
• Thrives in a small customer operation (tiger team) supporting sales in high-visibility key accounts.
• Ability to work collaboratively with product development team on problem troubleshooting and driving product improvements
• Exceptional communication (written and verbal, internal and external) and presentation skills
• Quality, out-of–the box thinker that is open-minded, creative, intelligent, and self-confident
• Highly entrepreneurial with a strong passion, urgency, energy, dedication, and an unrelenting drive to succeed and win
• Team player that works well in collaborative situations and start-up environments
• Completely "gets and believes" what we are doing at NSBU and shares our passion to do whatever it takes to make the dream happen.
Relevant Jobs
Sorry, there are currently no new opportunities near your current location. Try a new search.