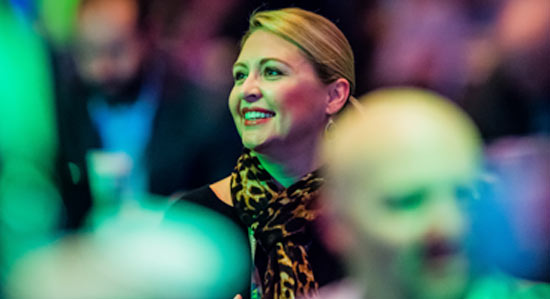 Push us. Amaze us. Inspire us.
Careers in Sales
Innovation is the essence of our brand. Our top-performing sales professionals help our customers—across all industries—revolutionize their businesses to thrive in the digital era by leveraging the power of software. We create exceptional end-user experiences and build customer trust.
Are you ready to work with some of the best and most innovative products on the market?
Senior NSX Systems Engineer
Job ID R1900077
Date posted 01/07/2019
At VMware we are growing our NSX (Network and Security) team and looking for an experienced Systems Engineering Professional to join us in Korea. The Charter of the VMware Network Virtualization & Security Business Unit (NSBU) Systems Engineering Organization is to be the dedicated Pre-Sales experts driving the sales and adoption of VMware's next generation network virtualization and security platform, VMware NSX. We work directly with NSBU Product Management & Engineering, the VMware SDDC Field Sales teams, and directly with customers to increase the footprint of VMware NSX in cloud computing environments. As a VMware Network Virtualization Systems Engineer, you will be responsible for driving the technical sales cycles to ensure customer success and achieve revenue goals derived from VMware NSX. You will be focused on selling the value of VMware Network Virtualization and Security into private, hybrid and public cloud environments.
Responsibilities:
Present VMware NSX vision and technologies, strategy, and product roadmaps to executives, technical management, operations management and technical engineers
Maintain deep technical and business knowledge of cloud computing and networking applications, industry directions, and trends
Maintain working knowledge of competitive architectures
Assist sales in preparation of proposals, statement of work, and supporting documents for prospects
Work collaboratively with sales associates, product management, technical marketing and engineering during the development, launch and continuing refinement of NSBU products
Maintain, grow, and leverage technical pre-sales relationships with key partner field organizations and VMware System Engineers
Understand and articulate the impact of Network Virtualization and Security to a customer's physical IP network, operations and future network and networking security architectures
Capture experiences in the field and share with great VMware community and product management teams
Requirements:
6+ years' experience in technology related work, including pre-sales systems engineer or customer-facing engineer working on large scale enterprise and service provider environments
Understand what it takes to be a successful pre-sales systems engineer
Startup mentality - "whatever it takes"
Core values and traits

Integrity
Independent, yet a huge desire to give back to your team
Passionate about technology and its impact on customers
Competitive by nature
Social intelligence to see the political dynamics of any customer situation
Enthusiastic and charismatic presentation skills
Hypervisor hands on and architecture experience in at least one of the following: VMware / Xen / KVM
Experience or good understanding of any of the following cloud management systems: OpenStack, CloudStack, vRealize Automation (vRA), vCloud Director (vCD)
Good understanding of datacenter networking fabric topologies and common architectures deployed - both Layer 2 and Layer 3 based
Ability to communicate with Network Architects
Translate customer requirements and quantify them to bring back to product management
Must be comfortable and have a desire for hands-on duties supporting customers during product demonstrations, training, and PoCs
Ability to run NSX Proof of Concepts onsite with customers and project manage the entire activity
Ability to deliver basic NSX training & workshop sessions as part of the pre-sales process
A Bachelor's Degree in Computer Science, Engineering related field or equivalent experience
Relevant Jobs
Sorry, there are currently no new opportunities near your current location. Try a new search.