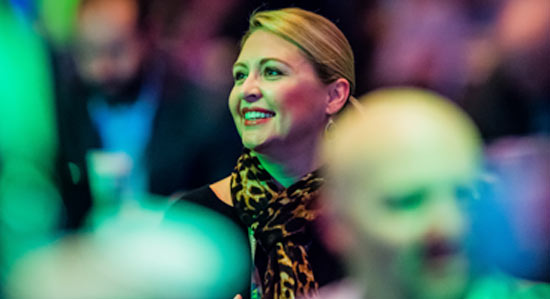 Push us. Amaze us. Inspire us.
Careers in Sales
Innovation is the essence of our brand. Our top-performing sales professionals help our customers—across all industries—revolutionize their businesses to thrive in the digital era by leveraging the power of software. We create exceptional end-user experiences and build customer trust.
Are you ready to work with some of the best and most innovative products on the market?
Senior Sales Specialist- Network and Security - NSX-Healthcare-MidAtlantic
Job ID R1902982-4
Date posted 03/14/2019
VMware's NSBU Healthcare Specialist team is expanding and looking for an experienced sales specialist for our NSX specialist sales team supporting our Healthcare customers
Business Summary:
VMware NSX is a network virtualization platform that delivers the operational model of a virtual machine for the network. Virtual networks reproduce the network model in software, allowing complex multi-tier network topologies to be created and provisioned programmatically in seconds. NSX includes a library of logical networking services – logical switches, logical routers, logical firewalls, logical load balancers, logical VPN, QoS, and distributed security. The NSX virtualization platform is helping hundreds of customers realize the full potential of a Software Defined Data Center. This is an opportunity to join an exciting and rapidly growing business within VMware.
The Sales Specialist within the Network and Security Business Unit (NSBU) is responsible for a coordinated sales approach with VMware's NSX internal and external sales team. This extended team drives toward a common goal within the Mid-Atlantic region accounts. The mission of this group is to broaden the reach of these accounts in order to ensure the VMware NSX foothold across the assigned regions. Our solution set is viewed as a 'platform' within an account. It changes the role that IT plays within that account from being considered a cost burden to a strategic deployment.
Job Role and Responsibilities:
* In this Sales Specialist role, you will be responsible for selling VMware NSX network virtualization and security solutions into Tier one and Tier two Healthcare Provider and Healthcare Payer Accounts
* You help drive account portfolio sales strategy and focus on top accounts and establish sales cadence with the corporate account team
* You will be responsible for leveraging channel partners during your sales cycle
* You move the transaction through the entire sales cycle
* You are responsible for driving virtualization adoption and identify new opportunities in Tier 1/2 accounts
* You will solidify existing customer accounts and elevate VMware to a more strategic position
* You will help identify and match the VMware NSX solution to the customer's business needs and technical requirements
* Travel: 30-50% of the time
Required Skills
* 6+ years in enterprise software sales at industry leading companies
* 4+ years of related network route/switch, network management, and/or network security-based solutions
* Consistent record of achieving business objectives in a highly challenging environment, working with fortune 1000 companies
* Selling experience working with C-level executives
* Domain experience selling in Datacenter Space (ideally expertise across-compute, network, storage, management and cloud)
* Knowledge of major cloud providers and their offerings
* Advanced knowledge of value selling methodologies, processes and tools
* Strong services acumen to drive solutions (product and services) that reduce cost, improve agility, and delivery reliability to IT partners
* Strong business analytical skills including developing business cases and Financial Models including ROI/TCO
* Ability to be in front of the customer 75% of the time and demonstrate strong communication and presentation skills
Preferred Skills:
Our team looks for candidates who embody our values of humility, compassion, collaboration above isolationism, respectfulness, honesty, and good-natured fun. Additionally, we would like:
* Strong business management, planning, execution, and sales skills
* Direct experience and knowledge for Healthcare providers and payers a plus
* Working knowledge of Salesforce.com, Excel, PowerPoint
* BA/BS degree or equivalent experience
This position is eligible for the GrowSDDCsales referral campaign
VMware is an equal opportunities employer and welcome applications from all suitably qualified persons regardless of their race, sex, disability, religion/belief, sexual orientation or age.
Relevant Jobs
Sorry, there are currently no new opportunities near your current location. Try a new search.