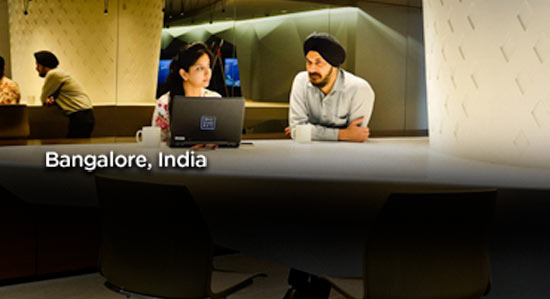 Push us. Amaze us. Inspire us.
Careers in India
When you walk through the doors of one of our state-of-the-art office sites in India, you'll find modern, comfortable, positive spaces that invite our employees to share ideas, spread creativity, innovation, and find balance in their daily lives. We are proud of our presence in the community, proud of VMware's future in India, and proud of our commitment to initiatives that celebrate diversity in the workplace and India's technology industry.
VMware India continues to play a strategic role in VMware's global growth strategy for the mobile cloud era and our operations are currently second in size only to those at VMware's Palo Alto headquarters in the United States.
Staff Engineer - CPSBU
Pune, India
Apply Now
Job ID 81442BR
About CPSBU
VMware's Cloud Strategy and the Cloud Provider Software Business Unit's goal is to enable a Multi-Cloud, Multi-Device World where seamless delivery of cloud services to end customers across a global network of heterogeneous clouds and endpoints is a reality. Cloud Service Providers (SPs) play a crucial role in this world. The Cloud Provider Software Business Unit's (CPSBU) mission is to develop technology which, along with VMware's market leading private cloud technologies, enable SPs to deliver the heterogeneous clouds and services of tomorrow.

In order to support SPs who deliver managed and self-service infrastructure and application services to their customers, the CPSBU provides software and solutions that can:
• Enable SPs to grow their top line revenue by delivering new, innovative services to market quickly and consistently across a variety of end point devices
• Help SPs deliver new services safely and confidently by providing comprehensive security and integration across VMware and 3rd party ISV and SaaS solutions
• Streamline customer adoption of SP services via workload compatibility and freedom of movement across clouds – private, public, managed or hybrid
• Deliver operational efficiencies to enable SPs to maximize their profitability through policy based automation and management of their cloud infrastructure – compute, storage and networking

We deliver these solutions to SPs through vCloud Air Network (vCAN) program, which supports a global ecosystem of thousands of our service provider partners. As the world's largest network of validated cloud services based on VMware technology, the vCAN Program enables SPs to use VMware products and solutions on a pay-as-you-go subscription basis, and provides them with innovative business, technical and marketing support, so that they can deliver next generation cloud services.

VMware's Cloud Provider Software Business Unit is seeking individuals who are excited about solving business and technical problems that will help shape how cloud services are delivered in the future.
Duties/Responsibilities
Provide technical leadership for the team that will focus on building solutions to enable movement of workloads from private data centers to cloud
Work with product managers to define product roadmaps, translate roadmap into functional specs, and designs
Responsible for architecture, design, extensibility of one or more products
Hands on coding for critical modules of the product
Participate and influence code reviews, design reviews for robust and scalable products
Must be able to work across engineering teams and architects
Create and present technical presentations to internal teams and partners

Architect/Design/Code/Test/Automate

major modules of product
Mentor junior engineers on design, good coding practices

Required Skills
Deep technical skills across several enterprise technologies, both proprietary and open-source, and a good breadth across many technologies. Knowledge spanning multiple platforms and architectures with solid understanding of algorithms, data structures, and performance optimization techniques.
Must have experience building large scale, high performance systems and server software.
Demonstrated excellence in designing and implementing multi-tiered consumer and enterprise applications, high throughput services and integration middleware
Expertise with heterogeneous, enterprise, distributed, object-oriented client/server and/or web-based systems design and implementation.
Minimum 10 years development experience. Global development experience is a plus.
A track record for designing and applying both best-of-breed and "home grown" solutions to meet business objectives on large-scale technology projects.
Evaluating impacts on integration, inter-operability, reliability, performance, scalability, flexibility and maintainability.
Excellent interpersonal skills. Ability to work effectively and collaboratively with product management, engineering counterparts, and peers.
Must take pride in the code that he/she writes

Preferred Skills:
Networking, Virtualization, Datacenter configurations and software.
Knowledge of VMWare vSphere, NSX, vCloud Director products and APIs
Understanding layer3, layer4 protocols, understanding of IPSec, SSL VPN, datacenter network topologies, stretched networks, DNAT, SNAT, firewalls

Qualification:
Technical Bachelor or Masters degree (Computer Science, Electrical Engineering)
Experience designing for scalability and performance, and

designing/integrating

large-scale systems.
Extensive programing experience in Java, C, C++, go
Experience in Unix/Linux
Computer Networking, Operating Systems, Messaging systems, Databases, API Design
Your saved jobs
You have not saved any jobs.
Recently viewed opportunities
You have not viewed any jobs.