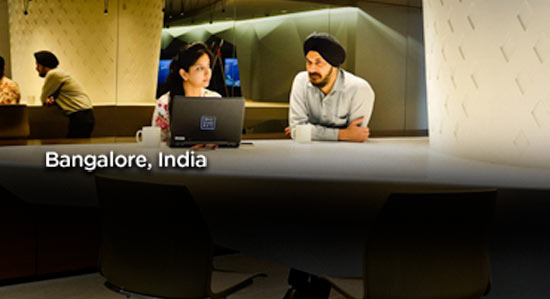 Push us. Amaze us. Inspire us.
Careers in India
When you walk through the doors of our new, state-of-the-art campus in Bangalore (opened in April 2015), you'll find a modern, comfortable, positive space that invites our employees to share ideas, spread creativity, innovation, and find balance in their daily lives. We are proud of its presence in our community, proud of the promise it means for the future of VMware in India, and proud of our commitment to initiatives that celebrate diversity in our workplace and India's technology industry.
Currently, our operations in India are second in size only to those at VMware's Palo Alto headquarters in the U.S and we are continuing to grow each year. VMware India plays a strategic role in VMware's global growth strategy for the mobile cloud era and is in line with the company's commitment to invest $500 million in India by 2017.
Staff Engineer
Pune, India
Apply Now
Apply Now with Linkedin Profile
Apply As An Employee Referral
Job ID 81378BR Duties/Responsibilities

- Provide technical leadership for the team that will focus on building solutions to enable movement of workloads from private data centers to cloud
- Work with product managers to define product roadmaps, translate roadmap into functional specs, and designs
- Responsible for architecture, design, extensibility of one or more products
- Hands on coding for critical modules of the product
- Participate and influence code reviews, design reviews for robust and scalable products
- Must be able to work across engineering teams and architects
- Create and present technical presentations to internal teams and partners
- Architect/Design/Code/Test/Automate major modules of product
- Mentor junior engineers on design, good coding practices


Required Skills

- Deep technical skills across several enterprise technologies, both proprietary and open-source, and a good breadth across many technologies. Knowledge spanning multiple platforms and architectures with solid understanding of algorithms, data structures, and performance optimization techniques.
- Must have experience building large scale, high performance systems and server software.
- Demonstrated excellence in designing and implementing multi-tiered consumer and enterprise applications, high throughput services and integration middleware
- Expertise with heterogeneous, enterprise, distributed, object-oriented client/server and/or web-based systems design and implementation.
- Minimum 10 years development experience. Global development experience is a plus.
- A track record for designing and applying both best-of-breed and "home grown" solutions to meet business objectives on large-scale technology projects.

- Evaluating impacts on integration, inter-operability, reliability, performance, scalability, flexibility and maintainability.

- Excellent interpersonal skills. Ability to work effectively and collaboratively with product management, engineering counterparts, and peers.

- Must take pride in the code that he/she writes

Preferred Skills:
- Networking, Virtualization, Datacenter configurations and software.
- Knowledge of VMWare vSphere, NSX, vCloud Director products and APIs
- Understanding layer3, layer4 protocols, understanding of IPSec, SSL VPN, datacenter network topologies, stretched networks, DNAT, SNAT, firewalls


Qualification:

- Technical Bachelor or Masters degree (Computer Science, Electrical Engineering)
- Experience designing for scalability and performance, and designing/integrating large-scale systems.
- Extensive programing experience in Java, C, C++, go
- Experience in Unix/Linux
- Computer Networking, Operating Systems, Messaging systems, Databases, API Design
Your saved jobs
You have not saved any jobs.
Recently viewed opportunities
You have not viewed any jobs.