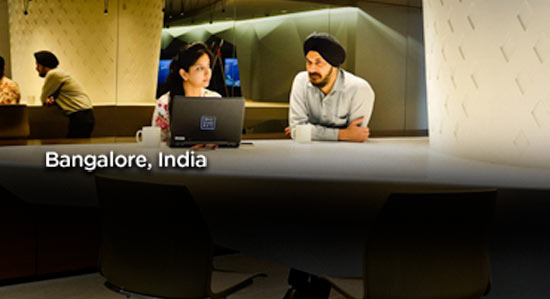 Push us. Amaze us. Inspire us.
Careers in India
When you walk through the doors of one of our state-of-the-art office sites in India, you'll find modern, comfortable, positive spaces that invite our employees to share ideas, spread creativity, innovation, and find balance in their daily lives. We are proud of our presence in the community, proud of VMware's future in India, and proud of our commitment to initiatives that celebrate diversity in the workplace and India's technology industry.
VMware India continues to play a strategic role in VMware's global growth strategy for the mobile cloud era and our operations are currently second in size only to those at VMware's Palo Alto headquarters in the United States.
Staff Engineer - AppDefense Engineering
Job ID R1812113
Date posted 12/18/2018
VMware is the pioneer of the Software Defined Data Center and is investing in the development of next generation security technologies that take advantage of the virtualization layer for improved security of both desktops and servers. VMware is looking for candidates that can contribute to these projects at all stages: research, analysis, prototyping and development for multiple groups in the Networking and Security business unit of VMware.

The Security Virtualization at VMware leverages the hypervisor privileged layer to provide multiple vantage points into memory, CPU and I/O enabling novel ways of malware detection and remediation. The NSX Networking and Security Solutions team is working to expand the existing VMware Security API and provide increased levels of context without compromising performance, while maintaining the security advantage of the higher-privilege. NSX Endpoint security covers areas such as anti-malware protection, OS kernel integrity, black-listing and white-listing approaches, anti-rootkit protection, code injection, remediation and context aware firewalling.

DESCRIPTION:
You will utilize your experience in software development to
• Research, design, implement and unit test networking and security products and solutions that leverage VMware's NSX platform.
• Code in C primarily on Windows Kernel modules. Good understanding of kernel developer on Windows is a must.
• Deliver solid code and working applications that provide the appropriate level of security, performance and reliability.
• Interact with other development teams, QA, Documentation, Release Engineering to execute on product goals in an agile manner
• Provide strong testing, debugging and documentation skills, and develop automated tests for software created by you or others in the group
• Take full ownership of technical features and technical design, identifying and resolving design issues early.
• Be self-motivated and proactively manage time and tasks

COMPETENCIES:
8 - 18 years of strong professional experience in Windows internals and kernel mode driver programming along with debugging techniques.
Understanding of the security space including aspects of desktop and server security in at least one of the following areas:

Exploitation techniques
Protection technologies and products
Vulnerabilities assessment and exploits analysis

Experience designing and implementing software systems, preferably in C/C++
Windows Kernel Programming and Windows file-system drivers, or file-system-filter drivers -- preferably in anti-virus, intrusion prevention, or security space are a plus.
In depth knowledge of Operating Systems
Hard-working, results oriented, high energy, self-motivated and creative individual who can become a part of a new and exciting team
Excellent interpersonal and communication skills
BS in Computer Science or equivalent required; MS preferred
Relevant Jobs
Sorry, there are currently no new opportunities near your current location. Try a new search.