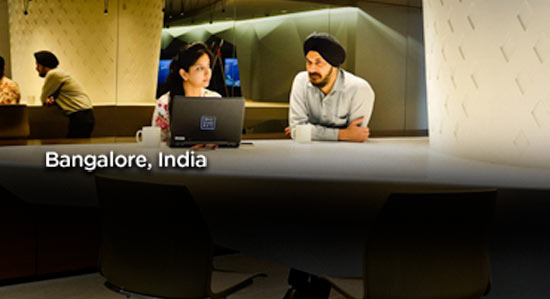 Push us. Amaze us. Inspire us.
Careers in India
When you walk through the doors of one of our state-of-the-art office sites in India, you'll find modern, comfortable, positive spaces that invite our employees to share ideas, spread creativity, innovation, and find balance in their daily lives. We are proud of our presence in the community, proud of VMware's future in India, and proud of our commitment to initiatives that celebrate diversity in the workplace and India's technology industry.
VMware India continues to play a strategic role in VMware's global growth strategy for the mobile cloud era and our operations are currently second in size only to those at VMware's Palo Alto headquarters in the United States.
Sr Member of Technical Staff - NSX Scalability Team
Pune, India
Apply Now
Job ID R187053
VMware is looking for software QE engineers who are interested in joining our Software Defined Datacenter team. This person will be extensively involved in developing/designing/implementing test strategy, test-plans, test-cases for the industry defining NSX product line. This person will also be involved in developing automated test tools and test harnesses for our network virtualisation software.
Responsibilities:
• You will spend 50% of your time interacting with the product and writing test-plans and test-cases and 50% of your time designing and developing automation code/framework in Python.
• Writing Test-plans, test-cases, automating the test cases using existing frameworks.
• Enhancing existing (industry­ first) technologies of hypervisor simulators and developing the next generation simulators.
• Work closely with R&D to review functional specs and test plans, develop effective integration/system tests to validate correct operation of the software.
• Troubleshoot and resolve customer issues.
• Out of box thinker, should be able to be creative in coming up with cool scenarios when testing a product.
• Knowledge of software testing techniques.
Requirements:
• 5-10 years of experience in testing roles is ideal.
• Strong Networking knowledge across L2-L7, with about 5+ years of experience working in this area.
• Knowledge of data-center/cloud networking is desirable.
• Worked on Performance measurement and traffic generator tools is a plus.
• Strong programming/design skills preferably in python.
• Distributed systems and Virtualization experience.
• Experience developing and/or testing in a software environment.
• Linux development/diagnostics/troubleshooting
• Excellent analytical skill and critical thinking.
• Networking knowledge would be a plus.
Education:
A Computer Science undergraduate and/or master's degree is required.
Your saved jobs
You have not saved any jobs.
Recently viewed opportunities
You have not viewed any jobs.