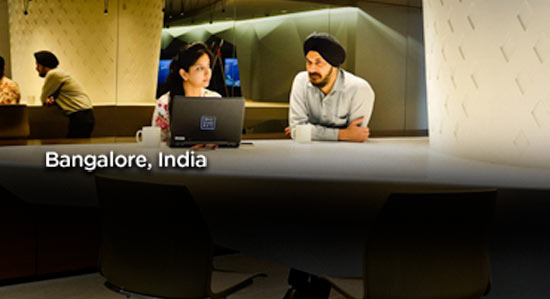 Push us. Amaze us. Inspire us.
Careers in India
When you walk through the doors of one of our state-of-the-art office sites in India, you'll find modern, comfortable, positive spaces that invite our employees to share ideas, spread creativity, innovation, and find balance in their daily lives. We are proud of our presence in the community, proud of VMware's future in India, and proud of our commitment to initiatives that celebrate diversity in the workplace and India's technology industry.
VMware India continues to play a strategic role in VMware's global growth strategy for the mobile cloud era and our operations are currently second in size only to those at VMware's Palo Alto headquarters in the United States.
Senior Manager Quality Engineer - AppDefense
Job ID R1905217
Date posted 04/15/2019
You've read the headlines – data breaches are rampant and it's not because organizations aren't spending enough money on IT security. In fact, we are spending more than ever while breaches persist and grow in impact. Traditional IT security needs an overhaul that focuses on effective design and usability – especially in rapidly changing public and private cloud environments.

This is where you come in.The VMware Security Products Group (SPG) knows that making security easy to use means that it is more likely to be used, correctly. And this means better security in the long run. VMware SPG is a new and exciting team within the Networking and Security Business Unit (NSBU - that ships the team that NSX today), focused on building new security solutions for the software-defined data center. 
VMware AppDefense is revolutionizing security for next generation data centers. Security Virtualization at VMware leverages the hypervisor privileged layer to provide multiple vantage points into memory, CPU and I/O enabling novel ways of malware detection and remediation. AppDefense covers areas such as anti-malware protection, OS kernel integrity, black-listing and white-listing approaches, anti-rootkit protection, code injection and remediation
Do you want to be part of the team that will build the next generation security solution for the software defined data center? Then why wait, reach out to us to be part of this exciting journey
We are looking for a QE Manager on the team.
Responsibilities:
Set product direction in close collaboration with development and product management teams.

Drive a project across multiple cross-functional teams.

Set a high bar for quality and performance and work with all stakeholders to maintain that.

Analyze functional requirements for the product; understand customer use case scenarios
Participate in bug triage activities; manage bugs, drive the activities for the bug to get a closure

Drive the long term direction of the product for higher performance and scale.

Strong ability to influence others and build consensus using good written and verbal communication skills and customer facing skills

Ensure team is aligned to a common goal.

Communicate with all stakeholders and team members and provide updates.

Perform other duties and responsibilities as requested or required.

Hands on manager who can get her/his hands dirty when need be.

Requirements:
A Computer Science or related degree

Expected skills & relevant background:
Candidate is expected to have 12+ years of experience in data center networking and security domain
Understanding of the security space including aspects of desktop and server security in at least one of the following areas

Ideal candidate will be already in technical/team lead/manager role and guiding his/her current quality teams.

.

           a. Exploitation techniques
           b. Protection technologies and products
           c. Vulnerabilities assessment and exploits analysis
Experience of automating the tests to verify kernel modules or guest agent software on windows and windows device drivers. Passion for automation and quality engineering; Solid understanding of QE methodologies and Software Engineering Ability to learn about software products by reading manuals, installing and managing various test automation and execution software used in lifecycle of Quality Engineering.

Excellent communication skills and ability to technically manage growing team

Desired skills
Strong industry experience in Security QE.

Python or any automation experience will be desirable.

Virtualization experience in VMware ESX, KVM, Hyper-V etc. will also be a plus.
Equal Employment Opportunity Statement
VMware is an Equal Opportunity Employer committed to providing employees with a work environment free of discrimination and harassment. All employment decisions are based on business needs, job requirements and individual qualifications, without regard to race, color, religion or belief, national, social or ethnic origin, age, physical, mental or sensory disability, sexual orientation, gender identity and/or expression, marital, civil union or domestic partnership status, past or present military service, HIV status, family medical history or genetic information, family or parental status including pregnancy, or any other status protected by the laws or regulations in the locations where we operate.  VMware will not tolerate discrimination or harassment based on any of these characteristics.
Relevant Jobs
Sorry, there are currently no new opportunities near your current location. Try a new search.