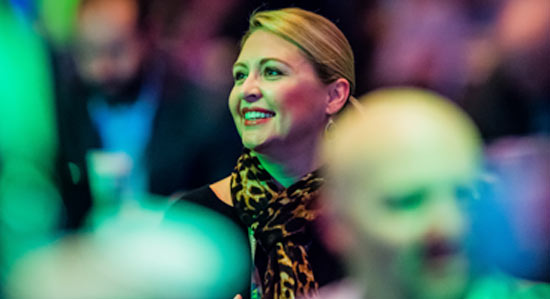 Push us. Amaze us. Inspire us.
Careers in Sales
Innovation is the essence of our brand. Our top-performing sales professionals help our customers—across all industries—revolutionize their businesses to thrive in the digital era by leveraging the power of software. We create exceptional end-user experiences and build customer trust.
Are you ready to work with some of the best and most innovative products on the market?
SLED Client Executive
Job ID R1905209
Date posted 04/10/2019
Client Executive, State/Local and Education (SLED) – Arizona
The SLED team within VMware is a high-energy, passionate team of salespeople with a desire to succeed and drive the digital transformation within SLED sector. Although you are an individual contributor within the business, you will be part of a team with a strong identity, and a reputation for a high standard of work and achievement. You will have the opportunity to craft and execute on your business plan through your own efforts and through the management of your matrix sales team. 
Job Summary: 
We are looking for proven and experienced, but dynamic and creative Client Executive for the Arizona SLED Market.  This includes Local Government, Education and Tribal Gaming accounts.  SLED customers have changed dramatically in the past 3 years in terms of digital strategy and technology adoption, and as such, you will be skilled in the translation between digital business goals for an Agency and the technology solutions selection to deliver these goals.
We want someone who will be able to align, influence and deliver on an Agency's goals through the delivery of the entire VMware portfolio including hybrid and public cloud services, end user computing, software defined datacenter technologies, and open data/standard solutions. 
We are looking for a sales individual who has experience with this customer community at senior level, can priorities and is adept at building solid repeatable business propositions, particularly in a digital and cloud focused environment. 
You will have experience in getting results through your own sales engagements and through harnessing the power of the channel. Deep understanding of the changing environment within the SLED sector and how the drive for digital services, cloud first strategies and cost savings can be used to build positive relationships and to deliver significant sales success. A consistent record of successful and smart selling in this meaningful and changing business environment is crucial.
Whatwillyoubedoing?
•Meet and exceed quarterly sales targets and build a rolling 12+ month pipeline so that you can Build a strong and balanced business across a defined list of accounts in the region
•We want someone who can develop and lead customer relationships that range from CIO and CEO and include CTO with a personal network at senior and influential level. You will develop and run sector relationships with a small number of key partners to provide scale and coverage across the entire account list
•Develop an account plan for each department, including an executive contact strategy
•Drive and lead large opportunities to completion and manage partners to help deliver opportunities
Whatdowewant?
•A High-Performance Salesperson. We want significant and attested sales success in the sector over 6-year period with experience of exceeding assigned goals and targets
•Someone who grows their business and expands into new areas. Development of pipeline from lead generation to close through own initiatives and engagements with partners
•Someone with leadership capabilities and management potential. We want to see experience of running a virtual team to harness skills and drive a coherent account plan
•Knowledge of how to sell to Government customers, and how to influence the influencers
•Demonstrable innovation and creativity.
•Proven problem-solving skills.
•Executive presence and credibility.
•High level of interpersonal, communication and presentation skills.
•High energy and passion for the sector itself and the team's success.
•Stable and consistent work history
Responsibilities: 
•Own and lead the engagement with the CIO/CDIO, CTO and CISO for each of the accounts
•Develop and grow personal relationships and influence with departmental leaders
•Grow VMware's wallet share in each department's digital service portfolio
•Selling the complete VMware solution portfolio including products and services
•Learn and understand the assigned accounts' extended business model and craft offerings and solutions to meet their goals
•Become as intimate as possible with assigned accounts and bridge the gap to executives while increasing VMware consideration
•Solidify existing customer accounts and elevate VMware to a more strategic position within key accounts
•Manage complex enterprise sales campaigns while running a diverse set of partners within the same accounts
•Match the VMware solution to the customer's business needs, challenges, and technical requirements
•Forecasting and account/opportunity detail in SalesForce.com
We are an equal opportunities employer and welcome applications from all suitably qualified persons regardless of their race, sex, disability, religion/belief, sexual orientation or age
This position is eligible for theAMERSalesDoubleDownenhanced ERP Campaign
Relevant Jobs
Sorry, there are currently no new opportunities near your current location. Try a new search.