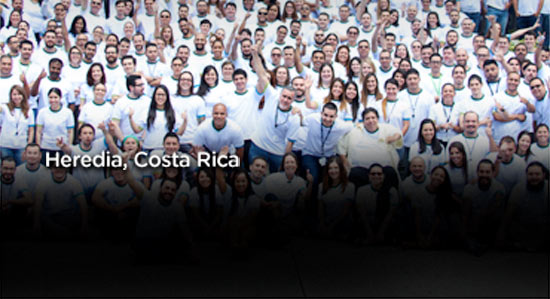 Push us. Amaze us. Inspire us.
Careers in Costa Rica
Our EPIC2 journey in Costa Rica began in October 2012, and our employees continue to share their passion and talents every day. Our beautiful office is located in Heredia, and it serves as the home for our amazing VMware family. Here, we provide services in areas such as Marketing, IT, Finance, HR, Sales, Engineering, Technical Support and Legal.
What makes VMware in Costa Rica truly unique is our people, values, culture and environment. We are passionate innovators, seeking new ways to positively transform the world. We actively participate with the community and come up with new ideas to deliver solutions that satisfy the needs of our customers. It's important to us that we live every day being ambassadors of our values and handling every interaction with integrity. Join us in our mission to create a better tomorrow for everyone.
eCommerce Digital Designer
Pavas, Costa Rica
Austin, Texas
Apply Now
Job ID R172014
eCommerce Digital Designer
Job Overview
The VMware eCommerce Digital Designer is responsible for developing innovative and cutting edge digital assets including web pages, web banners, tiles, icons, emails and all other forms of digital demand generation assets for digital execution, automation and measurement.

This is a role, reporting to the VMware eCommerce team, the individual will be responsible for building a design strategy and digital assets. The individual will work closely with Global stakeholders to build the digital needs of multiple business units across our eCommerce business globally. You will be working across multiple product lines and global business units in both an execution and cooperative role. 

This role interacts with VMware eCommerce, Sales Ops, marketing and globalization teams. This role directly supports and helps drive VMware revenue and is key to helping the eCommerce team achieve it's goals.

Responsibilities 
• Develop the digital design vision, building innovative digital assets to drive revenue and support our eCommerce strategy.
• Create digital assets such as web banners, emails, display ads, icon's, web pages, and marketing content 
• Design and execute digital campaigns that drive measurable revenue and customer satisfaction. 
• Drive and coordinate integration of digital campaign strategy across our eCommerce stores and our .Com properties.  
• Support the eCommerce team with innovative digital approaches.
• Stay abreast of emerging digital technologies, media opportunities, approaches and strategies.
• Work with marketing operations to coordinate and execute digital campaigns.
• Help to devise approaches that increase efficiency and productivity across teams
• Act as the catalyst for transformation, promoting cross functional focus on customer experience.
• Collaborate with and advise other functions to define the nature of, and desired outcomes from, digital experience for primary audience categories.
• Measurement of this role will include revenue, web traffic, conversion and customer engagement.
• Participate as a key member of our design team or work with an outside design agency, providing creative briefs and approving digital assets


Education and Experience
• Fluent in English, Spanish nice to have
• 5+ years' experience in digital marketing and /or campaign execution with a proven ability to lead and execute digital campaign programs.
• Expert in Adobe Creative Cloud (Photoshop, Illustrator, Dreamweaver)
• Familiarity with current (HTML, CSS, scripting) and emerging technologies, such as mobile / responsive design.
• Deep knowledge of metrics-driven campaigns and programs
• Demonstrated knowledge of key digital channels including web, social, email, search and communities and how the channels can work together to optimize and accelerate buyer journeys. In depth experience with marketing automation platforms (Eloqua), CRM (Salesforce), social software and platforms, web integration, content management systems and web analytic tools.
• Direct experience in core web marketing, SEO, SEM, social content strategies and execution, digital demand, Omni channel campaign execution and digital metrics.

Why work for our Division:
The world is becoming more and more digital and VMware's cCommerce division is a key route to market for our global customers. As part of the team, you will work to build, evangelize and deliver world-class virtualization solutions, products, and services to our customers.
Advertised Location:
Costa Rica
Your saved jobs
You have not saved any jobs.
Recently viewed opportunities
You have not viewed any jobs.