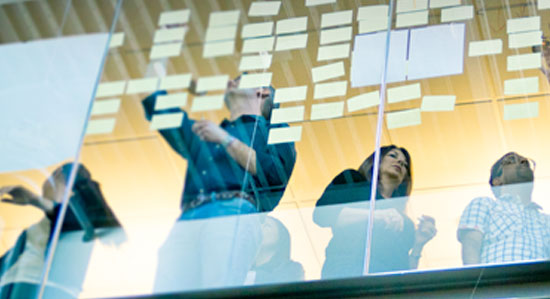 Push us. Amaze us. Inspire us.
Vice President of Global People Development
Palo Alto, California
Apply Now
Job ID R187321
Continuous learning fuels innovation. VMware's Vice President of Global People Development is responsible for creating a best in class model for accelerating talent, inclusive of management and leadership development, succession planning, performance management, training & development, new employee experience, and internal mobility. S/he will not only develop talent, but also drive strategies that create a high-performing, sustainable organization that meets the current and future strategic and operational needs of VMware. This leader will partner across Human Resources and with the Business Leaders to ensure the successful execution of the talent development strategy, platforms, and programs. The successful candidate will be a thought leader and cutting-edge innovator themselves, accustomed to working in a fast-paced and growing company and unencumbered with legacy mindsets. Success in this role will be largely measured against the impact and return on investment we see from our investment in people – our most important asset. This position will ideally be based at the company headquarters in Palo Alto, CA.
Primary responsibilities of this role include:
Leadership and Management Development:
Develop and successfully deploy state of the art solutions and programs designed to continually enhance the knowledge and capability of leaders at all levels of the organization.
Incorporate VMware's Leadership Code throughout our talent systems and solutions, embedding it within all management and leadership touch points.
As a thought leader, consult with HR Business Partners, Business Leaders and other key stakeholders to assess the talent, team and organizational development needs of each business.
Provide coaching and support resources to leaders that align to their development needs.
Succession Planning:
Develop tools and processes to evaluate the current talent bench at all levels within the organization, with personal focus on the Board, Executive team and pipeline for executive roles.
Through tight alignment with the Talent Acquisition team, HR Business Partners and Business Leaders, build a comprehensive talent roadmap which 1) identifies key potential talent successors, and 2) highlights gap areas, both short and long term.
Apply rigor to assessing the internal talent against the current and future needs of the business.

Ensure the appropriate development plans are in place to

address gaps, areas of development and coaching to enable the success of the employees at time of transition.
Work in conjunction with the Executive Recruiting team to identify potential external successors.
Performance Management:
Promote and increase employee productivity, alignment and accountability across VMware by designing, developing and implementing tools and measurable programs through which employee achievements can be tracked against individual and company goals and objectives.
Align goal setting, ongoing feedback and performance tracking with rewards, integrating them as a system versus delivering them as point products.
Training and Development:
Assess current development programs within VMware.Refine existing and develop new solutions with a focus on continual employee development.
Evaluate when to build a custom solution because they differentiate VMware in the market, versus when to buy solutions because they are table stakes.
Build a comprehensive plan for increasing internal mobility solutions at all levels, with curated options for top talent.
Ensure that VMware's signature employee experience programs evolve and remain relevant to the needs of the business, accelerating time to productivity while increasing engagement.
Qualifications
BS required in related field
Graduate degree in Organization Development, Organizational Behavior, or Business preferred
10+ years of relevant experience in global talent development or organizational development and 5+ years leading a global team
Experience working in a fast paced, growth-oriented technology company preferred
Extensive working knowledge of talent development theories, practices and emerging technology solutions and platforms
Must have worked in global, multi-cultural environments
Instructional Design knowledge and skills
Experience developing, managing, and deploying talent development solutions, and managing vendors, (from identification, negotiation, to delivery)
Demonstrated success at integrating talent solutions across various functional disciplines in partnership with other HR functional leaders
Able to understand business strategy and translate into a compelling talent development strategy
Expertise in partnering with HR Business Partner leaders to effectively influence Sr. Business Leaders
Experience in implementing large-scale organizational change initiatives
Outstanding strategic orientation & agility
Competencies
Results Oriented: The successful candidate must have a track record of consistently delivering excellent results, even in the face of a changing environment. Regarded as a strong performer, manager and leader. Comfortable moving between strategy development and tactical execution.
Innovator/Big Thinker: No idea is too big.Innovators have the innate ability to see around corners and develop disruptive strategies to drive results.They are not afraid to take chances and reconsider what's worked in the past.
Operational Excellence: This is all about taking the big ideas or strategies, and successfully executing on them. It includes translating them into measurable success indicators and ensuring alignment across all levels of the enterprise.
Hire, Develop and Engage the Best Talent: The successful candidate has a keen eye for talent.S/he recognizes the value of bringing in exceptional people, consistently hiring those who are stronger and more experienced than themselves with a goal of improving the organization.S/he is passionate about coaching and mentoring, enabling others' success ahead of their own.
Communication Skills: Exceptional listening, oral, written and presentation skills.
Collaboration Skills: Strong teaming skills and expertise to bring together diverse views and experience.Ability to team and influence across the enterprise, as learning and development is housed in many functions.
Analytical Skills: The ideal candidate possesses deep analytical skills.S/he is able to identify patterns, process information quickly and make decisions in a timely manner. Demonstrated quantitative skills and a solid understanding of statistical analysis are a plus.
Flexible/Adaptable: S/he brings a tolerance for ambiguity, learns quickly and can adapt to changes in time frames, people, situations with ease. The ability to remain calm and resilient under pressure is critical. Multitasking is a must.
Your saved jobs
You have not saved any jobs.
Recently viewed opportunities
You have not viewed any jobs.