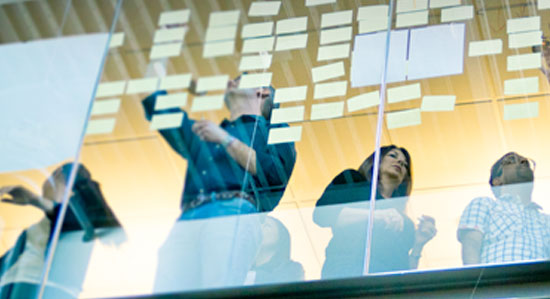 Push us. Amaze us. Inspire us.
Careers in Marketing
Are you a marketing whiz? Dare to communicate around the world as you put strategy into action through integrated marketing plans in digital, print, email, webinars, trade shows and more.
Sr Product Marketing Manager - Cloud Management
Palo Alto, California
Apply Now
Job ID R1812053
Business Summary: Cloud Management, vRealize Operations and Operations as a Service
We believe in and expect ourselves to drive progress for ourselves, our teams, our company, our customers, and our communities. As a global leader in cloud infrastructure and business mobility, we help customers accelerate their digital transformation by making cloud complexities invisible to their innovation teams. We are transforming the way enterprises run and manage their cloud infrastructure. Amidst the rapid growth of VMware's Cloud Management Platform (CMP) offering, vRealize Suite, has a market leading position.
Job Role and Responsibility:
VMware's vRealize product marketing team is seeking a talented product marketer who will help drive the continued fast-growing of our cloud management portfolio. VMware's Cloud Management portfolio delivers a comprehensive cloud management platform across private, hybrid and public clouds. We enable customers to ensure performance of their applications and run anything from traditional to containerized (cloud native) workloads. This role is specifically for our operations management product line. As the VMware portfolio evolves, we are looking to market both on-premises and SaaS-based offerings. In this role you will work with a tightly integrated team and contribute directly to its hyper-growth story
As a product marketer, you will drive overall positioning and messaging, marketing content development and sales enablement. You will be responsible crafting and delivering go-to-market plans, communicating our value proposition across solution use cases. You will be a great fit for this role if you have product marketing experience with relevant enterprise software, working closely with sales, marketing, and management functions to deliver products to market; sales and support enablement; and writing of blogs, white papers, and presentations.
You are a self-starter, creative, diligent, energetic, and passionate. You're ready to work with an experienced, fun team in a dynamic environment to continue to grow a new business within VMware. Specifically you will,
Develop a deep understanding of the Operations Management market for virtual and cloud environments. Identify customer goals, challenges, buying behaviors and sales motions and define the corresponding go-to-market strategies.
Launch new products and releases, be the key central 'launch owner' coordinating resources across the company
Work in a great environment to directly influence marketing efforts that lead to sales pipeline expansion
Create outbound marketing materials including presentations, data sheets, web content, social media, sales tools, webinars and training materials
Collaborate with corporate marketing, product management, sales, SDR, and sales engineering teams on projects to help drive demand, awareness, and pipeline
Create and deliver sales enablement content
Support go-to-market planning and execution
Help support industry events, and conferences
Support analyst briefings, press briefing, and working with tech evangelists
Required Skills:
MBA and BA/BS in Computer Science (or equivalents)
5 plus years of experience in technology product marketing or product management in the enterprise software market segment - ideally with monitoring, analytics, or management products
Proven track record of growing new products into successful businesses, especially for enterprise products
Technical background in the datacenter and applications software space, especially understanding of virtualization and cloud management
Aptitude to quickly come up to speed on new technology concepts
Excellent written and verbal communications skills. Ability to translate technology features into business benefits. Previous experience interacting with and presenting to C-level executives.
Proven analytical skills and strategic thinking. Demonstrated ability to develop creative / non-traditional solutions.
Strong leader, self-starter and proven team player in a high achievement-oriented environment.
Ability to travel up to 20% of time to support events, conferences, or customer engagements
A confident presenter who is comfortable presenting to various size audiences both technical and executive
A go-getter who enjoys working in a fast-paced, creative, collaborative, and innovative hi-growth environment
Your saved jobs
You have not saved any jobs.
Recently viewed opportunities
You have not viewed any jobs.