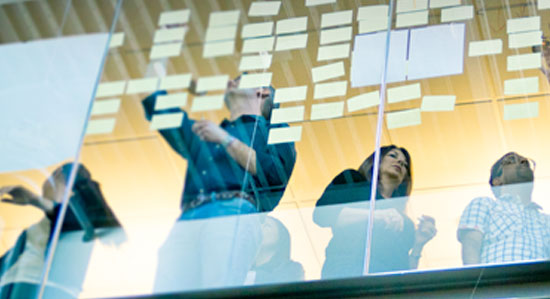 Push us. Amaze us. Inspire us.
Careers in Marketing
Are you a marketing whiz? Dare to communicate around the world as you put strategy into action through integrated marketing plans in digital, print, email, webinars, trade shows and more.
Sr. Manager, Global Services Communications
Palo Alto, California
Apply Now
Job ID R170982
The Sr. Manager of Global Services (GS) Communications will set and guide the communication strategy for all internal Global Services communication activities. This person will partner with the GS organization to develop and lead execution of a comprehensive communication plan that aligns, engages and motivates our 3000 GS employees and, also, ensures that the broader organization understands the value, vision and contributions that the GS organization drives for VMware and our customers. In addition, this person will support the SVP of Global Services with his on-going executive communication plan. He/she will engage with key stakeholders to design, develop, measure and adapt, as appropriate, communication vehicles and assets targeted to our Global Services employees and to our broader employee audience around services, education, customer success, professional services, support and customer advocacy messages. The role will also provide support for key focus areas within Global Services including our new Customer Success organization and executive communications. This is an exciting, career-building opportunity for a communications professional with exceptional communication skills, vision and creativity, a collaborative leadership style, and someone who enjoys the energy and excitement of supporting a world-class Global Services organization.
Responsibilities:
Develop, implement and evaluate an end-to-end global services communication plan and calendar with well-defined milestones and business impact objectives.
Support SVP of Global Services in his executive and organizational communications.
Manage a consistent, professional cadence of internal communications and a 360-degree feedback collection process.
Lead Global Services internal web and social media strategy to ensure employees have easy access to the content, tools and messages they need to be successfully articulate the value of services messaging and drive VMware's growth and market leadership objectives.
Drive continuous innovation in how we communicate to GS employees overall and develop a regular, multi-faceted process for collecting and using feedback on what is working/not working in our communications approach.
Collaborate effectively as part of a high-performing team to share ideas, get feedback on hypotheses and help all members of the team be successful.
Support key focus areas and projects within GS including our Customer Success organization and our innovation programs.
Help establish a team culture that is personally and professionally rewarding, fun and stimulating.
Competencies:
7-10 years of communications experience
3-5 years of leadership experience
Exceptional oral and written communication skills
Strong executive interface skills and experience working in an executive communications role
Highly collaborative individual who is passionate about teamwork, joint problem solving and engaging with targeted stakeholders
Creative and innovative thinker with the ability to build a business case around new ideas, build consensus or support, and execute with precision
Enjoys working in a fast-paced, quickly changing environment and can maintain a cool head in stressful situations
Previous experience in high tech industry, particularly services or sales-oriented communications
Detail- and deadline-oriented and strong ability to multi-task
Your saved jobs
You have not saved any jobs.
Recently viewed opportunities
You have not viewed any jobs.