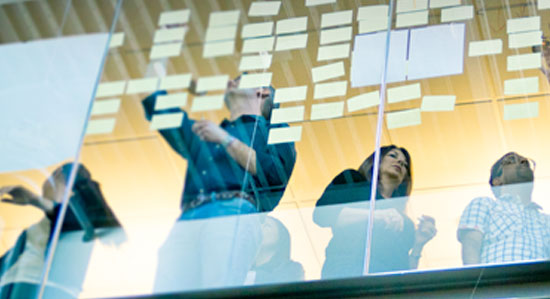 Push us. Amaze us. Inspire us.
Careers in Finance
Join our team of motivated professionals in a collaborative, fast-paced environment. You'll take your critical thinking skills to the next level as you use analytical tools, build connections, and contribute to the growth of our company.
Sr. Manager, Corporate FP&A - Bookings & Revenue
Job ID R1903841
Date posted 03/21/2019
Business Summary:
VMware Finance is a global organization that's dedicated to the short- and long-term growth and success of VMware – and to using analytical tools and collaboration to build connections internally and externally. It's a fast-paced environment, with lots to learn. We're looking for people with strong critical thinking skills, who want to work collaboratively, serve our customers and make good choices. Uncompromising ethics and integrity are hallmarks of our organization.
We're a diverse group, covering the areas of corporate finance, FP&A, pricing, mergers and acquisition integration, revenue, investor relations, treasury, license compliance, tax, internal audit and the many corporate accounting functions. Come, join our team of motivated professionals, and grow with VMware.
Job Role and Responsibilities:
Do you want to help craft decisions that impact a $8+ billion-dollar technology business? How about working to drive the future at one of the best-known infrastructure technology companies? Do you love a dynamic, high-impact, data-driven team that works closely with the company CFO? If so, the VMware Corporate FP&A team may be the perfect place for you!
Our team is seeking a talented senior manager to own the bookings, revenue, cash flow and guidance process. This senior manager will manage three critical Corporate Finance teams as well as lead the E-staff scorecard process. This Senior Manager will lead the Corporate Bookings Team to ensure timely and accurate quarter end reporting as well as lead the Corporate Bookings planning process. In addition to bookings, this position leads the Bookings to Revenue team and Cash Flow team. This role is scoped to provide insights and recommendations on a quarterly basis related to Revenue & Cash Flow forecast as well as help drive the quarter end close process and co-lead the guidance process, which includes executive level discussions on a quarterly/monthly basis.
You will join a group of top-performers that support the Corporate FP&A for VMware. You'll gain exposure to the most senior leaders across the company. This role will partner with many finance & accounting organizations. This position will report to the Sr. Director of Corporate FP&A.
Corporate Quarterly/Annual Planning. Lead organization to develop quarterly forecast and annual plan for Bookings, Revenue & Cash Flow. This includes aggressively and deeply understanding the business unit and field strategies for a given quarter/year as well as understanding key Revenue & Cash Flow accounting principles. Lead Bookings & Revenue Corporate Annual Planning process, which includes aligning with BU/Sales teams as well as Integrated Planning teams.
E-staff Scorecard. Lead quarterly reporting of E-staff Scorecard. Drive quarterly results process as well as key insights on actual vs. plan. Includes partnership with BU/Sales/HR and GS on a quarterly basis as well as leading all meetings with VP, Corporate Finance on key focus areas each quarter.
Quarter End Financial Close. Led Quarter Close for Revenue, Bookings & Cash Flow. Ensure bookings team is tracking bookings forecast from D-6 through D+1, ensure accurate and timely Corporate reporting of D+1/D+4 Actuals, and ensure allocation process run smoothly. Lead Day +1 Board Memo process to communicate quarterly results to Board of Directors.
Guidance Process. Lead Revenue/Cash Flow Guidance Process, including key driver of Guidance materials preparation. Work with Executives (Finance, IR, etc.) as needed to answer key questions on Bookings, Revenue & Cash Flow as well as drive content development for all CFO Guidance meetings.
Required Skills:
10-12 years of experience in financial planning, business analysis and strategy in tech industry covering cloud services and on-premises software
Revenue/Cash Flow Accounting Background
Strong social and collaboration skills; ability to work with a diverse team
Self-starter and highly enthusiastic in building great relationships with business divisions and functional organizations
Strong project management, planning, and organization skills, including ability to handle several projects simultaneously
Ability to take charge of complex projects with minimal direction
High energy and motivation; Unquestionable integrity
Proven strategic thinking skills
Excellent verbal and written communication skills
Strong financial modeling, spreadsheet, and database skills
Ability to do to analyses "on-the-spot" with senior management
Proficiency in computer-based analysis and complex financial modeling
Preferred Skills:
B.A. or B.S. in Business, Finance, or Accounting; a MBA, or CPA is preferred
Experience with Oracle Financials and Hyperion Planning or other planning tools is a plus
Relevant Jobs
Sorry, there are currently no new opportunities near your current location. Try a new search.