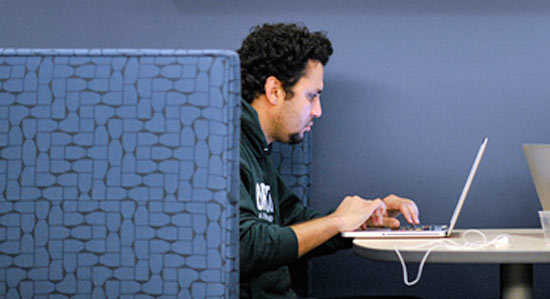 Push Us. Amaze Us. Inspire Us.
Careers in Engineering
We are intellectual mavericks, pioneers, game-changers, and doers of the extraordinary, on a mission to create cloud, mobility, security, and virtualization solutions that will reach millions of users around the world. At VMware, our people are empowered to succeed and are valued for their innovative contributions as we revolutionize the IT industry.
Are you ready to join us?
Sr. Director, Engineering - VMC
Job ID R182682
Date posted 03/27/2018
Job Description
VMware Cloud on AWS is an on-demand service that enables you to run applications across vSphere based cloud environments with access to a broad range of AWS services. Powered by VMware Cloud Foundation, this service integrates vSphere, vSAN and NSX along with VMware vCenter management, and is optimized to run on dedicated, elastic, bare-metal AWS infrastructure. With this service, IT teams can manage their cloud-based resources with familiar VMware tools. For more information: https://cloud.vmware.com/vmc-aws
We are looking for a leader who has built and led geographically distributed software development teams and has been successful doing so. This role requires a leader who likes to roll up their sleeves and get into the details as much as coaching and mentoring a team of passionate software engineers. The Sr. Director of Software should be able to establish and communicate the business objectives/vision and be able to align the team around this vision in their day to day work. We are looking for someone who is a veteran Software Leader with demonstrated experience in defining and implementing practical and effective strategy, policies, processes, and tools across global systems and can bring their experiences to bear. A deep understanding of cloud services, distributed systems, infrastructure, SaaS and platform software is required.
Your Responsibilities
·Lead software development teams to develop, document and maintain cutting edge software applications and systems.
·Manage hiring, career plans, training as well as performance reviews. Create plans to address growth of the team, product, and infrastructure, and to evolve systems/processes/environments that no longer work at current scale
·Provide leadership, management and technical vision to their entire engineering team of about 70+ Engineers.
·Develop and implement software engineering plans appropriately.
·Manage software engineering schedules, budget and resource allocation.
·Assist software development teams to attain optimal team performance through removing technical and procedural obstacles.
·Empower engineers to make the biggest impact possible for the company while reaching their professional development goals.
·Consistently deliver projects on-time with quality. Motivate all team members to deliver high quality projects within time and budget.
·Create a sense of accountability across the software organization and foster a culture that owns the misses and uses them to drive future process improvements.
·Create, measure, and report out key metrics for the performance of the software team
·Leverage resources to ensure software goals are met and establish best practices.
·Set the team up for the future by bringing in progressive software development concepts to the organization that focus on efficiency but sacrifice nothing on quality.
·Understand business objectives and build alignment and buy-in cross functionally.
·Champion continuous improvement efforts and defect reduction initiatives.
Core Skills
·Significant engineering management experience in Cloud services and SaaS environments
·Strong understanding of system concepts in at least one of the following areas: Kernel, Networking, Storage or Virtualization
·Have proven experience providing team oversight during the full software development life cycle, from conception, design, implementation and testing to documentation, delivery and maintenance.
·Must be familiar with microservices architectural concepts
·Has served as a point of escalation for issues within a global software team.
·A highly driven leader that is known to deliver in high growth and highly dynamic environments.
·Managed and provided career development for a software team.
·Demonstrated experience working with enterprise-level systems at a program and project level.
·Knows how to mitigate risk and escalate to technology leadership as appropriate.
·Experience leading the strategy, planning and design/architecture of software developments solutions, and the refinement of existing frameworks, processes, and tools.
·Demonstrated ability to manage a globally distributed organization through defined key objective indicators and specified goals that align to the company's direction and objectives.
·Knows how to develop proposals for projects to improve reliability, product quality and developmental cycle time and support continuous improvements to ensure that customer needs/requirements are adequately translated into product requirements.
·Ability to work collaboratively with hardware and software development engineering teams to ensure the right level of proactive focus is occurring to design for manufacturability, testing and reliability.
·Comprehensive knowledge base in his or her technical field and continually augments the team's experiences and skills with the latest training, technologies, and techniques.
·Leads, drives and implements proactive actions and events to identify and implement opportunities for quality and consistent improvement in products and processes
Your Profile
·BS/MS Degree in Engineering - Computer Science or equivalent.
·15+ years of Software Engineering management experience; minimum 5 years as a Director.
·Experience with Enterprise and SaaS products
·5+ years' experience working and influencing in a cross functional team.
·Prior experience of leading and managing a team of 50+ global Software engineers with track record of successfully validating and delivering high quality products.
·Extensive knowledge of common, industry leading software development methodologies and awareness of when and where to rely on them.
·Technically able to understand complex systems and know how to build teams to deliver them
·Impeccable communication skills, adept at communicating to all levels of the organization.
·Able to work at a fast pace and encourage others to as well
·Ability to manage managers in the software team, with a track record of successfully assembling effective teams and test solutions.
·Ability to adapt quickly to changes and maintain high team morale and efficiency.
·Strong attention to detail and quality, and ability to direct the whole team to adapt best practices.
·Ability to measure team and individual's performance through standardized key performance indicators, and ability to push the quality bar higher.
·Knowledgeable of the cutting-edge software development techniques and trends, implementing the technologies and ensuring higher quality products on projects.
This position is eligible for the DiversifyCPBU referral campaign
Relevant Jobs
Sorry, there are currently no new opportunities near your current location. Try a new search.