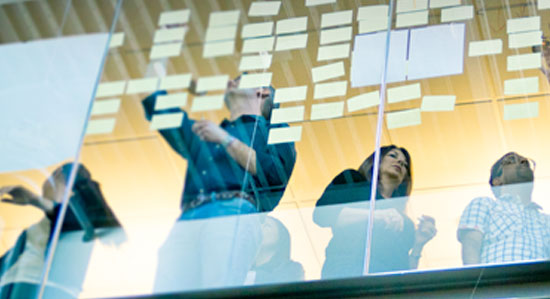 Push us. Amaze us. Inspire us.
Careers in Marketing
Are you a marketing whiz? Dare to communicate around the world as you put strategy into action through integrated marketing plans in digital, print, email, webinars, trade shows and more.
Senior Technical Product Manager – Cloud Native Apps
Palo Alto, California
Apply Now
Job ID R1901266
Business Summary: Cloud Native Apps
VMware is looking for a Technical Product Manager to join CNABU product team. VMware customers are increasingly deploying containers as the foundation of their application modernization efforts. The Containers on vSphere team delivers best-in-class enterprise container solutions on vSphere – supporting container frameworks such as Docker, Kubernetes and Pivotal Cloud Foundry.
This CNABU team is a fast-paced, startup-like environment where you will have the opportunity to make meaningful contributions to the product roadmap while developing skills in cutting-edge technologies. You'll be part of a team that has a culture of open communication, empowerment, innovation, teamwork and customer success. We are looking for someone with a strong technical background to help define and evangelize the Containers on vSphere products and solutions.
Job Role and Responsibilities:
As a Technical Product Manager

, you

will research and test competitors and partners products with the objective of providing input to the product management team during the creation and review of product and solutions requirement documents (PRD & SRD).
You will work closely with the engineering team providing input on and formal review of product functional specifications prior to development, provide feedback on early engineering releases and feature implementations.
You will partner with customers and account teams to facilitate successful customer proof of concept deployments.
You will present technical presentations to customers, partners and the field, and also gather feedback to influence product and solution offerings.
You will also work cross-functionally between the engineering and marketing teams to create technical content for VMware products and solutions targeted to customers, sales engineers and partners.
You will work closely with sales to identify and build the most appropriate sales enablement tools, such as technical presentations, demo labs, competitive labs, solutions briefs and tutorials.
You will be responsible for developing technical best practices including architectural designs, test plans, and integration guides for products, solutions and reference architectures.
You will be the technical lead at conferences and customer/partner webinars.
You will also work closely with VMware technology partners in regards to product integration, best practices and solutions.
You will be expected to establish yourself as the Subject Matter Expert in CoV products and solutions.
Required Skills:
5+ years of experience as a systems engineer, technical product marketing, technical marketing or experience working in a customer environment as an architect or senior practitioner.
BS in Computer Science or related technical field. MS a plus.
Experience working with and understanding the needs of enterprise IT executives, CIOs, system administrators and cloud infrastructure providers.
Experience in working with VMware products and container application frameworks.
Understanding of IaaS, PaaS and cloud technologies. Specific experience with IaaS (AWS, GCP, VMware), PaaS (Heroku, Cloud Foundry), container frameworks (Kubernetes, Docker) and VMware products like vSphere, NSX and VSAN preferred.
Good technical skills and comfortable in front of internal solutions architects, customers and partners.
Hands-on development experience with distributed application concepts and sysadmin/devops tools.
Understanding of agile software development methodologies and tools.
Self-motivated and an ability to multi-task.
Proven ability and willingness to learn new technologies.
Preferred Skills:
Excellent written and verbal communication skills.
Ability to build detailed, technical collateral from scratch.
Excellent presentation skills.
Track record of developing & delivering formal and informal training material and technical presentations aimed at educating customers, partners or sales teams. 
Startup experience desired. Self-starter with the ability to work across all functions of the company. Ability to get things done; must be resourceful, proactive and aggressive.
Highly entrepreneurial with a strong passion, urgency, energy, dedication, and an unrelenting drive to succeed and win.
Extremely well organized, detail-oriented and possessing a high level of integrity.
Willingness to travel approximately 20% of time.
This position is eligible for the JoinCNA referral campaign.
Your saved jobs
You have not saved any jobs.
Recently viewed opportunities
You have not viewed any jobs.