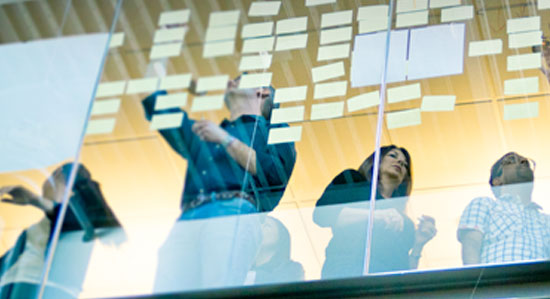 Push us. Amaze us. Inspire us.
Careers in Business Strategy and Operations
Business Strategy and Operations
Senior Program Manager
Job ID R1904192
Date posted 04/04/2019
Business Summary: CloudManagementBusiness – vRealize Network Insight
You've seen the disruption in the IT industry motivated by the cloud, devops and containers. You realize the challenge and importance of bringing clear transparency, insightful analytics and powerful automation to our users in simple, elegant and delightful ways. We are a practical, results-driven, user-focused team of software engineers, data scientists, web designers and product managers and marketers dedicated to developing a state-of-the-art SaaS solution that will change the way our users view and manage their cloud infrastructure. Together we're transforming the way enterprises run and oversee their cloud infrastructure. Amidst the rapid growth of VMware's NSX and Cloud Management business, you'll take part in rapidly growing vRealize Network Insight market leading position, further establishing VMware as a leader in networking and security segment. You will be working on the rapidly transforming network and security operations space, shaping the future of management for virtual networks, on premises and SaaS.
As a Senior Program Manager with the team, you will manage, coordinate and facilitate the execution of product priorities and engineering programs including cross BU product streams across VMware. Your work will help ensure the vRealize Network Insight product line move to an agile, SaaS delivery is successful while maintaining our comprehensive on premises platform.
Job Role and Responsibilities: 
Develop and execute product plans for on-premises and SaaS offering alongside Product Management, Product Marketing and Engineering teams
Drive multiple complex, cross-functional, cross-BU technical projects, operational reviews and interlock meetings
Spearhead outbound field/customer facing programs for promoting SaaS offering, working internally with the customer success team 
Manage program stakeholders, keeping the team aligned and focused.
Required Qualifications:
Experience leading and driving product processes, improving efficiency and on-time project completion.
Experience leading multiple projects simultaneously, recognizing and mitigating risks while proactively setting in place contingency plans
Experience working alongside software product and development teams, ensuring their delivery of milestones and checkpoints coincide
Proven leadership of programs, projects and people therein with effective communication and collaboration across immediate and extended stakeholders
Go-getter with a passion for delivery and execution
Preferred Qualifications:
Domain experience in software virtualization, distributed systems software, SaaS applications, cloud, networking or security
Well organized, detail-oriented
Advanced degree, certification or equivalent experience
Experience with productivity and collaboration tools such as Jira, Confluence and MS Office
Relevant Jobs
Sorry, there are currently no new opportunities near your current location. Try a new search.