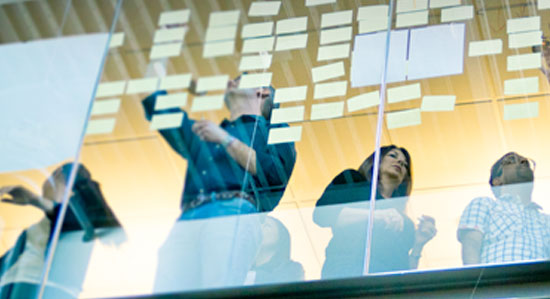 Push us. Amaze us. Inspire us.
Careers in Marketing
Are you a marketing whiz? Dare to communicate around the world as you put strategy into action through integrated marketing plans in digital, print, email, webinars, trade shows and more.
Senior Product Line Manager - VMware SD-WAN by VeloCloud
Job ID R1902224
Date posted 02/20/2019
Team/business unit summary
VMware SD-WAN by VeloCloud is the only complete solution with all the key elements of a Cloud‐Delivered WAN. VeloCloud dramatically simplifies the WAN by delivering virtualized services from the cloud to branch offices and mobile users everywhere. VeloCloud services deliver enterprise grade performance, visibility and control over both Internet and private networks, combining the economy of the Internet with the flexibility of the cloud. More information is available at http://www.velocloud.com
VMware acquired VeloCloud, the market leader in cloud-delivered SD-WAN. By acquiring VeloCloud, VMware will build on the success of the industry's leading network virtualization platform – VMware NSX – and expand the company's networking portfolio to address end-to-end automation, application continuity, branch transformation and security from the data center to cloud edge.
VMware SD-WAN by Velocloud and You
Learn Fast, Trust each other, Have Fun. That embodies the culture of VMware SD-WAN by VeloCloud.
Do you love to make new things, design and develop cool stuff that will be used by legions of people ? Do you want to learn about new groundbreaking networking and cloud technologies in a hands-on, fun and exhilarating environment ? If you want the thrill of your life, want to change the world and work with and learn from a team of rock star engineers, then come join us. We pay as much attention to building a culture of fast learning in a fun and trustworthy environment as we do to building our products.
Job roles and responsibilities
Drive product requirements based on detailed understanding of customer requirements as well as competitive alternatives.
Document detailed descriptions of use cases, IT administrator workflows and deployment scenarios.
Delivering detailed mockups of GUIs as input for development
Ability to also perform market development with early adopters, evangelizing the product to potential customers.
Experience with Agile development process a plus.
Also provide product marketing deliverables for go-to-market such as data sheets and white papers.
Participate in defining and executing strategic technology partnerships, anticipating to be primarily with other cloud services and applications vendors.
Work with product management, engineering peers to deliver solutions and identifying new opportunities to improve VMware SD-WAN by VeloCloud products and culture. 
Our products and teams are growing fast, and most of your work will be driving new features using some of the most current frameworks and libraries, working with Network protocols, Linux C/C++, RESTful APIs, and web-based frontends. The exact area of the product that you work on will depend on your skills and interests.
Required Skills
Fluent with networking solutions for enterprise WAN.
Experience with Virtualization and Networking (Routers, Firewall, WAN)
Handle end to end workflows including management plane (monitoring & configuration)
Focus on ease of use targeting mid-to large enterprise customers.
You should have at least 7 years industry experience, and at least 2 years of product management experience. A background in IT or SaaS operations is a plus. Prior experience in engineering, technical marketing or product marketing is useful as well.
2+ years experience building and managing fast, agile teams.
Preferred Skills
Experience with third party Cloud Services (AWS, Rackspace, etc).
Networking certifications (CCNP, CCIE etc), MBA, and Engineering degree are pluses.
Ability to drive external partners and use them to provide extend our solutions or build custom solutions
Relevant Jobs
Sorry, there are currently no new opportunities near your current location. Try a new search.