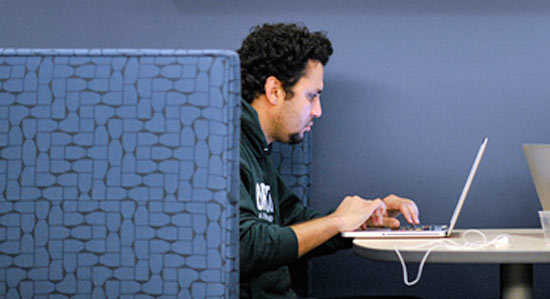 Push Us. Amaze Us. Inspire Us.
Careers in Engineering
We are intellectual mavericks, pioneers, game-changers, and doers of the extraordinary, on a mission to create cloud, mobility, security, and virtualization solutions that will reach millions of users around the world. At VMware, our people are empowered to succeed and are valued for their innovative contributions as we revolutionize the IT industry.
Are you ready to join us?
Accessibility Design Lead
Job ID R1810467
Date posted 10/15/2018
As a product designer on the accessibility team, you'll be focused on working closely with product designers, engineering, and product managers on finding the accessibility gaps in existing product designs or design deliverables. You will also be focused on education, evangelism, and building a community of designers and product managers passionate about universal / inclusive design and accessible products. A passion for accessible user experience is a must, as is an ability to clearly communicate accessibility standards, best practices, and the reason for their importance.
The team
As a company, we deeply care about building products that work for all our customers. Our commitment to accessibility is deep in our roots and matches our values. To strengthen this commitment and streamline our efforts and impact, we're building a dedicated and independent accessibility team within the design platform team working closely with our design ops and design system teams as well as engineering and product management teams across the company.
What you'll be doing:
Work with the Head of Accessibility to establish an accessibility team within VMware working closely with our design system, design ops, and the rest of the product design team.
Build a central source of truth for education, training, and certification around accessibility for designers, engineers, and product managers.
Collaborate closely with product designers to better understand the types of experiences we're designing. Your goal should be not to add accessibility in at the end, but to make sure accessibility is at the foundation of what we do. We should build better, more accessible products, not just comply with WCAG .
Craft focus groups and individual interviews concentrated on the needs of our customers with disabilities.
Educate, advise, and document best practices.
Work closely with product designers, as well as the wider team, to create a VMware accessibility movement. Your focus will be on creating "accessibility champions" across the company who understand the role accessibility plays in building better products and can incorporate your recommendations into their own products.
The skills:
You're an experienced collaborator capable of working with designers, product managers, and technologists
You are an accessibility SME and your knowledge extends beyond basic 508 and colour contrast compliance to the creation of delightful and accessible experiences for all users.  IAAP CPACC or AT certifications (JAWS, NVDA, CSUN), Inclusive/Universal design courses or attendance at accessibility conferences preferred
You're an experienced designer with a track record of building excellent user experiences. You have the passion for accessibility and a deep understanding of the user experience and design process.
You have the ability to tell simple user stories illustrating accessible solutions and the reasons behind why they are essential, valuing empathy over sympathy.
Excellent oral and written communication, presentation, and analytical skills.
Agile, adaptable, and capable of shaping the scope and focus or your project to larger business needs.
Good aesthetic sense and attention to details.
Design at VMware:
We're a dedicated team that moves fast, upholds design quality, values consistency and simplicity, and focuses on customers and their needs. We work together and value "we" over "me". We believe in inclusion both within our team and in thebaine build products and make that clear in the way we hire, design, and execute. We value growth and encourage, not just respect, our differences. We're the organization to "get it done" together. We're not afraid to make new mistakes, learn from them, and grow together as a team and an organization.
We love what we do and build products that are used by hundreds of thousands of productive individuals and organizations around the world.
This position is eligible for the DiversifyCPBU referral campaign
Relevant Jobs
Sorry, there are currently no new opportunities near your current location. Try a new search.