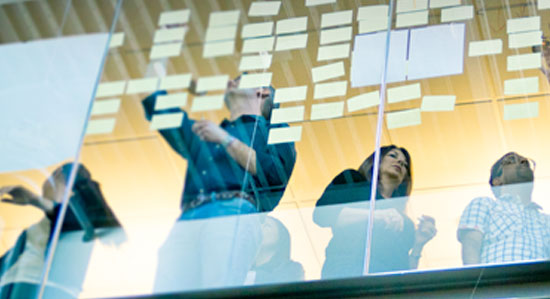 Push us. Amaze us. Inspire us.
Careers in Finance
Join our team of motivated professionals in a collaborative, fast-paced environment. You'll take your critical thinking skills to the next level as you use analytical tools, build connections, and contribute to the growth of our company.
Senior Manager, Deal Assurance
Palo Alto, California
Apply Now
Job ID R1810534
Business Summary
You will partner with various groups both as part of the broader revenue team and also other partners including the Deal Management Team to properly interpret and apply revenue recognition guidance in order to mitigate business and financial risks and ensure the accounting for sales transactions are accurately recorded and reported in a timely manner. We are part of a wider Revenue Team comprising of over 100 people.

Job Role and Responsibilities:
We are seeking a highly motivated Senior Revenue Manager for a position reporting to the Director of Revenue. Your specific responsibilities will include providing technical revenue guidance and support to the DAT (Deal Assurance Team) and DMT (Deal Management Team), monthly & quarterly reporting reviews, SOX Compliance, revenue forecasting, review of orders over a specific threshold to ensure compliance under the Revenue Standard ASC606, and team representation in meetings/discussions with Leadership and External Auditors.

Core Responsibilities:
Use of strong technical revenue recognition (ASC 606) skillset to assist in negotiation and review of orders.
You will serve as site point-person for revenue recognition technical guidance in meetings with the Technical Accounting group, Senior Management, and External Auditors.
Provide Revenue guidance and support to Deal Management Teams (DMT) and the Professional Services Organization (PSO) to avoid potential revenue recognition issues and ensure compliance with internal revenue policies
Serve as an advocate for the DAT team for specific projects and accompanying team meetings.
You will provide support to the Deal Assurance Team in the provision of bi-weekly and weekly requests to the Revenue Forecasting team as required
Support the DAT in the provision of accurate information to Forecasting and Sales Finance for Quarterly and Year-end forecasting process
Review of monthly / quarterly schedules for internal and external reporting requirements
Ensure compliance with Revenue SOX Controls
Execute ad hoc analysis and reporting as needed
Identify and implement process improvements including process automation where possible

As a successful manager, areas of priority will be:
Establishing courses of action for self and others to ensure that work is completed expertly.
Delegating Responsibility
Allocating decision-making authority and/or task responsibility to appropriate others to improve the organization's and individuals' effectiveness.
Coaching - Providing timely mentorship and feedback to help others strengthen specific knowledge/skill areas needed to accomplish a task or solve a problem.
Leading Teams
Using appropriate methods and interpersonal styles to develop, motivate, and guide the team to attain successful outcomes and business objectives.
Active Learning - Demonstrating real passion for new information, knowledge, and experiences; regularly seeking and capitalizing on learning opportunities; quickly assimilating and applying new information.
Decision-making - Identifying and understanding issues, problems, and opportunities; comparing data from different sources to draw conclusions; using effective approaches for choosing a course of action or developing appropriate solutions; taking action that is consistent with available facts, constraints, and probable consequences.
Developing Others - Planning and supporting the development of individuals' skills and abilities so that they can fulfil current or future job/role responsibilities more effectively.

Required Skills:
Bachelor's Degree in Accounting or Finance, CPA and Big 4 Accounting Experience is a Plus
5-7 years professional experience, including at least 5 years of experience in one of the following: revenue recognition, public accounting, or CPA
Experience and knowledge in working with commercial sales teams in a deal desk or revenue capacity
Ability to work effectively with a wide variety of people; strong social skills, strong communication skills, both written and oral
Ability to read, analyze, and interpret general revenue documents and contracts.
Ability to recognize problems, gather data, draw valid conclusions, and effectively present information to peers and senior management
Knowledge of ASC 606 and other accounting rules relating to software and services revenue recognition

Preferred Skills:
Excellent interpersonal and time management skills with the ability to effectively prioritize tasks and work within deadlines
Experience directly managing people, including hiring, developing, motivating, and directing people as they work
Proven PC skills with excellent Excel skills, Preferred: SAP system experience

VMware will not sponsor a visa for this role.
Your saved jobs
You have not saved any jobs.
Recently viewed opportunities
You have not viewed any jobs.