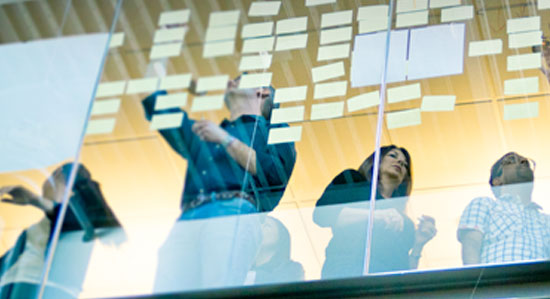 Push us. Amaze us. Inspire us.
Careers in Marketing
Are you a marketing whiz? Dare to communicate around the world as you put strategy into action through integrated marketing plans in digital, print, email, webinars, trade shows and more.
Product Marketing Manager
Palo Alto, California
Apply Now
Job ID R1812781
VMware is a global leader in cloud infrastructure and business mobility. The mission of the VMware End User Computing (EUC) Business is to create consumer simple, enterprise secure technology that enhances the skills and lifestyles of the most valuable resource within every organization – their people. We enable individuals to pick the digital tools that empower them to do their best work so they can accomplish their ambitions and enjoy their lives. We do this by creating software that enables enterprises to deliver streamlined, simple experiences for their employees so they can use the digital tools of their choice while providing the connectivity, security and management that enterprises require to operate at scale. Join our fast-paced team that is driving VMware's success in End User Computing and the Digital Workspace.
Our team is looking for a Product Marketing Manager (PMM) to focus on channel marketing and go-to-market strategy for all partner types that sell solutions from our EUC portfolio. As a PMM, you will be a member of the team responsible for defining, positioning (internally and externally) and driving the messaging, strategy and execution of the go-to-market plan for our digital workspace platform, Workspace ONE and all other products in the portfolio.
You will be actively engaged in owning activities related to the enablement of our sales teams and partners and ensuring our messaging and priorities are consistent across all marketing programs and routes to market. Your role will require an understanding of the current digital workspace market including security across endpoints, users, apps and networks, as well as desktop and app virtualization. You'll work closely with EUC product management, sales specialists, alliances, channel and our ecosystem of partners supporting Workspace ONE develop thought leadership and engagement.
You can expect to perform tasks such as these:
Deliver compelling content to drive go­-to-­market and awareness efforts for Workspace ONE and the entire EUC portfolio including but not limited to partner portal updates, social media marketing, event coordination and support, defining agendas for partner meetings, etc.
Assess and understand partner landscape to define future ecosystem synergies for our EUC Business Unit
Understand VMware's overall portfolio and lead or participate in cross-functional marketing activities and programs
Maintain an understanding of the competitive landscape to properly position and differentiate VMware's portfolio
Engage with partners, customers, regional marketing and sales leaders to gather intelligence and feedback to develop relevant and compelling marketing strategies and messages
Participate in launches, sales support, customer executive briefings, PR/AR, naming and pricing/packaging, while working closely with others in product marketing and product management
Requirements
Have a great attitude – with the willingness to learn new skills, take initiative and collaborate across teams
Aptitude to quickly come up to speed on new technology concepts. Passion to evangelize disruptive new technologies.
Experience with maintaining marketing or business development budgets, gathering data from multiple sources and consolidating into a storytelling dashboard, and ROI reporting.
Be a great communicator and content creator - verbally and in writing. Be able to translate geeky-widget-speak into business benefits that resonate with partners, customers, and internal sales teams.
Willingness to act with a customer service mindset and work with necessary groups to solve internal or external blockers.
Possess strong analytical and strategic thinking skills.
Ability to multi-task, adapt to changing priorities rapidly and work under pressure
Be a team player who is willing to share new ideas, think outside-the-box, take on new challenges, and take ownership of projects.
2-4 years of related experience in technology and/or channel marketing or business development required
This position is eligible for the JoinEUC referral campaign.
Your saved jobs
You have not saved any jobs.
Recently viewed opportunities
You have not viewed any jobs.