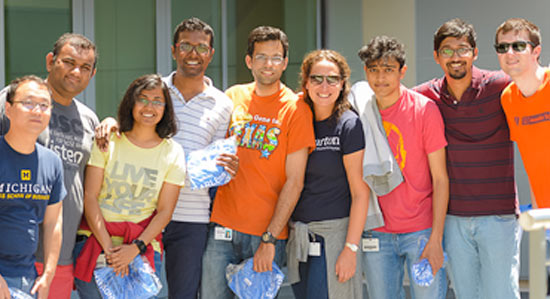 Push us. Amaze us. Inspire us.
University Opportunities
At VMware, you will have the opportunity to challenge yourself, build relationships with the best and brightest in the industry, and prove that together we have the power to do something remarkable.
New Grad - Product Development - VeloCloud R&D Engineer
Palo Alto, California
Apply Now
Job ID R188473
Business Summary:
VMware is a global leader in cloud infrastructure and business mobility. VMware accelerates customers' digital transformation journey by enabling enterprises to master a software-defined approach to business and IT. With VMware solutions, organizations are creating exceptional experiences by mobilizing everything, responding faster to opportunities with modern data and apps hosted across hybrid clouds, and safeguarding customer trust with a defense-in-depth approach to cybersecurity.
At the core of what we do are our people who deeply value execution, passion, integrity, customers, and community. Do you dare to do the stuff you've always dreamed about? Dare to explore at http://careers.vmware.com.
VMware offers cutting-edge cloud infrastructure and security services to companies of all shapes and sizes. Our world is all about technology, and that world is growing because the imagination, ingenuity and talent of our teams knows no bounds. We believe that creativity sparks innovation and inspires our employees to think of VMware differently and change the world around them.
Job Role:
Do you see yourself at VMware working on a team that will propel you into the next steps of your career in systems and cloud services? Then come join the VeloCloud team and be a part of a team that will help build out the next stage career journey.
VeloCloud is the only complete solution with all the key elements of a Cloud‐Delivered WAN. VeloCloud dramatically simplifies the WAN by delivering virtualized services from the cloud to branch offices and mobile users everywhere. VeloCloud services deliver enterprise grade performance, visibility and control over both Internet and private networks, combining the economy of the Internet with the flexibility of the cloud. More information is available at http://www.velocloud.com
VMware acquired VeloCloud, the market leader in cloud-delivered SD-WAN. By acquiring VeloCloud, VMware will build on the success of the industry's leading network virtualization platform – VMware NSX – and expand the company's networking portfolio to address end-to-end automation, application continuity, branch transformation and security from the data center to cloud edge.
Responsibilities:
Understanding the key requirements of the management/control plane features of the Velocloud product, architecting a solution and delivering a working prototype and the final product
Build enterprise data center products which you will use to deploy scalable solutions which may be deployed across multiple cloud service providers
Work with partners, proposing solutions and hands-on coding.
Required Skills :
Interest and experience in full stack development in multiple programming languages such as Javascript (NodeJS), Python, Go, and Java
Ability to investigate and integrate 3rd party software and extend them to provide custom solutions
Strong analytical and problem-solving skills
Excellent presentation and communications skills combined with the ability to work in a team environment.
Preferred skills
Familiarity with Kubernetes and Docker
Experience building highly available, scalable cloud applications, including server and database layers.
Experience developing data storage and data access strategies for high volume online transactional systems as well as for offline data analytics
Knowledge of the latest technologies used in building system software and applications in the cloud. Intimate familiarity with node.js, MySQL, RESTful APIs is highly desired.
Expertise with third party Cloud Services and APIs (AWS, Rackspace, etc).
Ability to investigate and integrate 3rd party software and extend them to provide custom solutions
Strong analytical and problem-solving skills
Excellent presentation and communications skills combined with the ability to work in a team environment.
Your saved jobs
You have not saved any jobs.
Recently viewed opportunities
You have not viewed any jobs.