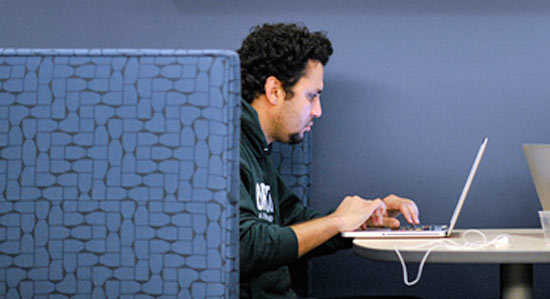 Push Us. Amaze Us. Inspire Us.
Careers in Engineering
We are intellectual mavericks, pioneers, game-changers, and doers of the extraordinary, on a mission to create cloud, mobility, security, and virtualization solutions that will reach millions of users around the world. At VMware, our people are empowered to succeed and are valued for their innovative contributions as we revolutionize the IT industry.
Are you ready to join us?
Marketing Systems Developer
Job ID R180480
Date posted 02/22/2018
Job Description
VMware Inc mission is to give people the power to build community and bring the world closer together. Our global teams are constantly iterating, solving problems, and working together to empower people around the world to build community and connect in meaningful ways. Marketing has grown and evolved over time. We are at a critical time in our team's development; growing quickly and investing heavily. With this rapid expansion, we need the team to scale efficiently and focus on more strategic and operational efforts. To do this, we need to build/implement centralized tools to help manage the global marketing business. We are seeking a Marketing Technologist who can help assess the business needs, as well as identify and optimize use of new/existing technology solutions to address those needs. This individual would help with overall implementation and also own various system roadmaps for continual refinement.
We are seeking a candidate who is passionate about systems, process improvement and change management. This role is highly versatile and uses varying skillsets of System Management, Data Management, UX (User Experience), and Program Management. Lead by aligning various system roadmaps with the broader MarTech vision and strategy. This is a full-time position based at our headquarters in Palo Alto.
Act as the product owner for assigned Marketing systems within the broader MarTech portfolio including building out the strategic roadmaps for the systems as well as leading the implementation and eventual management of the final solution(s)
Work with business partners to gather and document feedback and user requirements about their assigned systems
Build, prioritize and maintain the product backlog
Understand system infrastructure and be able to align system capabilities with user requirements
Work with System Vendors, VMware Inc's engineering teams or Consultants, as needed, to design the system so that it optimally utilizes our Marketing technology stack and complies with VMware Security protocols
Build and scale training on best practices for assigned systems to ensure users understand (1) the purpose of each system, and (2) when and how to use them effectively
Actively maintain data and security integrity of assigned systems including fixing system bugs, identifying security risks, configuring updates and managing the technical debt in the systems
Communicate proactively with internal stakeholders throughout a project's lifecycle to help ensure adopting, building and conducting system trainings as needed
Present technical details to a non-technical audience and present strategic vision and roadmap to executive level stakeholders
Minimum Qualifications
BA/BS degree

, Masters Degree is a plus

Business acumen, ability to translate business needs into a set of workable, specific requirements
Must have combination of good communication skills and technical skills
Must be able to use consultative approach and persuasive communication with stakeholders
4+ years work experience in leading end-to-end analytics projects
Track record as a technical program/product manager with organization and people experience, including setting priorities and problem-solving
Experience implementing and/or managing systems (e.g. CRM, Social Listening, Customer Behavior, Marketing Analytics, and/or Content Management Systems) and integrating the systems with each other, or other technologies, via APIs
Experience executing analytic projects ranging from small to large either individually or as part of a project team
Experience working with web analytics
Analytical and problem-solving experience
Experience in technical language for a non-technical audience
Preferred Qualifications
Significant experience in marketing operations, strategic IT planning and process improvement, along with the ability to contribute at both strategic and tactical levels
Experience with analytical programming languages such as Python/R and SQL, and data visualization tools like Tableau
Familiarity with coding languages such as HTML, Java, CSS, etc.
Significant experience as a project manager with excellent organization and people skills with the ability to set priorities, problem-solve, multi-task and work well in a dynamic, rapidly changing start-up environment
Experience working with product or technical organizations
Experience as a flexible, cross-functional leader comfortable with a fast-paced, often ambiguous, start-up environment
Relevant Jobs
Sorry, there are currently no new opportunities near your current location. Try a new search.