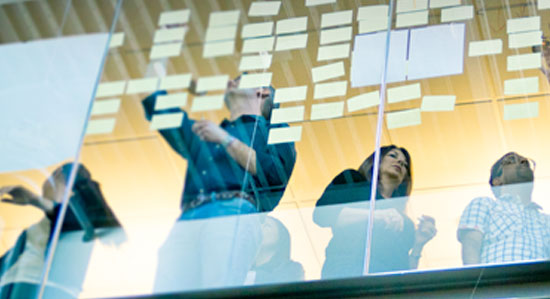 Push us. Amaze us. Inspire us.
Careers in Marketing
Are you a marketing whiz? Dare to communicate around the world as you put strategy into action through integrated marketing plans in digital, print, email, webinars, trade shows and more.
Group Manager - Product Management
Palo Alto, California
Apply Now
Job ID R1901809
You've seen the disruption in the IT industry driven by the cloud, devops and containers, and believe that it represents a huge opportunity for the right approach.  You realize the challenge and importance of bringing clear visibility, insightful analytics and powerful automation to our users in simple, elegant and delightful ways.
We are a practical, results-driven, user-focused team of software engineers, data scientists, web designers and product managers dedicated to developing a state-of-the-art SaaS solution that will change the way our users view and control their cloud infrastructure.
Job Role and Responsibility:
You will join a focused team with a mature approach to building and delivering product. We believe that how we work and the culture we embody is the key to our effectiveness and satisfaction.  We think about this a lot.  You will help us continue to refine and improve our approach.
Your role with us will have a significant impact on our business. You will be expected to guide and lead cross-functional teams to deliver value for our customers, help author and communicate our strategy, and own key decisions including what projects we fund with our time and energy.
Your role will include working directly with an engineering team in all facets of day-to-day software development. You will work with a variety of stakeholders, business leaders, and customers to evaluate product opportunities for business. You will develop and articulate a medium and long-term product strategy.
You will own the strategy for both new and existing products. You will be responsible for defining what success means for your products and for guiding the team to make investment and divestment decisions based for your products based on business outcomes.
Requirements
We're looking for a proven product manager leader who is comfortable defining and leading a new SaaS solution.  This includes a thorough understanding and comfort with the world of microservice-based infrastructures and devops tools.  We imagine the ideal candidate would be equally comfortable assessing the strengths and weaknesses of a new container scheduler, as they would the impact on our customers of new pricing metrics.
·      A track record of building and going to market with successful products (btw, misses are expected too!)
·      Technical depth that lets you understand and earn the respect of world-class engineers
·      Experience working with sales professionals to develop a deep understanding of customer needs
·      Exceptional skill at clear, concise, and compelling communication
·      Strong analytical background to seek data driven rigor in decision-making
·      Experience in managing a product management team 
Requirements
·      BA/BS in Computer Science, Computer Engineering or equivalent experience
·      4+ years of product management experience; relevant experience will definitely be considered
·      Previous experience in SaaS application development and public clouds, such as AWS and Azure
·      Previous Knowledge in Kubernetes infrastructure 
·      Bonus points for experience in DevOps processes and tools - continuous integration, continuous delivery, testing, configuration management, monitoring.
Your saved jobs
You have not saved any jobs.
Recently viewed opportunities
You have not viewed any jobs.