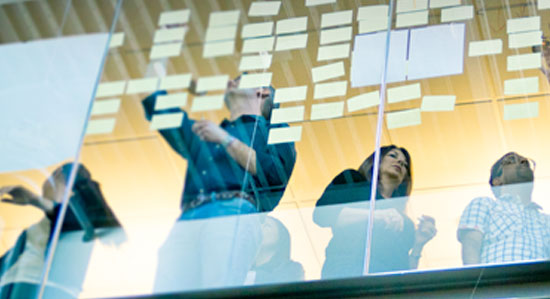 Push us. Amaze us. Inspire us.
Careers in Marketing
Are you a marketing whiz? Dare to communicate around the world as you put strategy into action through integrated marketing plans in digital, print, email, webinars, trade shows and more.
Global Financial Services Industry Marketing Lead
Palo Alto, California
Apply Now
Job ID R1813161
We're looking for a talented and passionate financial services industry marketing leader to join our organization. You will be responsible for leading and handling the planning, development and execution of the company's global industry solutions marketing strategy for the financial services sector. You will drive the global messaging, go to market strategy, and content creation to successfully market our solutions to enterprise customers in the financial services industry. We're looking for a strong team player who will work closely with functional teams including GEO Marketing, Sales, Solution Marketing and Alliances to execute the plan. Subject matter expertise in Financial Services is required; global experience is ideal.
Responsibilities include:
Development of global go to market strategy for the financial services market
Build the global industry messaging for diverse target audiences (executive, line of business and practitioner) connecting VMware financial services use cases/solutions to industry business challenges
Develop compelling marketing collateral including customer decks, web content, videos, infographics and eBooks
Drive and develop thought leadership including PR/AR, blogs and speaking engagements to reach new audiences and that positions the company as an inspiring leader and trusted advisor
Identify and develop target use cases that match the VMware portfolio of products to industry specific challenges, trends and investments
Engage with sales to learn how they win deals and what are the key use cases; engage with key customers to talk about how VMware solutions helps achieves their business goals
Work with GEO marketing to develop regionally optimized programs that align with global messaging and priorities
Support key industry shows and events including the creation of industry demos, messaging and speakership
Support industry specific solution partners with combined go to market activities and messaging
Experience and Education:
A minimum of 8-10 years of experience with a major company in the industry, enterprise software and/or a major SI focusing on the Financial Services Industry
Previous product/solution marketing experience
Strong writing/story-telling and public speaking skills; ability to understand and convey hot industry trends at the intersection of business and technology, and how it ties back to VMware solutions
Deep Knowledge of Financial Services market including business challenges, workflows and solutions
Excellent messaging and content development, writing, editing and journalistic skills
Reciprocal and confident, effortlessly able to identify, engage and develop relationships with influencers and leaders with a point of view both internal and external
Collaborate with key partners including content marketing, field marketing, sales leadership, solutions marketing, global campaigns, sales enablement and alliance partner teams to build and maintain a conclusive, engaging voice
The ability to engage sales executives and customer executives in discussions about business goals and how VMware can help meet those goals
Strong visionary drive, focused helping our team beat the competition
Position based in Palo Alto, CA
BA/BS required. MBA is a plus
Are you:
Fun to work with and enjoy helping others succeed
Passionate leader and dynamic
Hands-on experience with innovative technology
Dynamic presenter with the ability to translate technical thoughts to everyday language
Your saved jobs
You have not saved any jobs.
Recently viewed opportunities
You have not viewed any jobs.