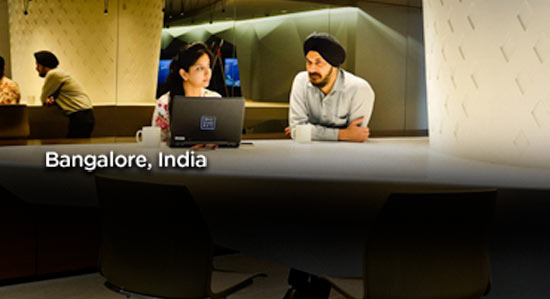 Push us. Amaze us. Inspire us.
Careers in India
When you walk through the doors of one of our state-of-the-art office sites in India, you'll find modern, comfortable, positive spaces that invite our employees to share ideas, spread creativity, innovation, and find balance in their daily lives. We are proud of our presence in the community, proud of VMware's future in India, and proud of our commitment to initiatives that celebrate diversity in the workplace and India's technology industry.
VMware India continues to play a strategic role in VMware's global growth strategy for the mobile cloud era and our operations are currently second in size only to those at VMware's Palo Alto headquarters in the United States.
Consultant
New Delhi, India
Apply Now
Job ID R173418-2
About Us
VMware is the leader in virtualization and cloud infrastructure solutions that enable our more than 500,000 enterprise and mid-market customers to thrive in the Cloud Era by simplifying, automating and transforming the way they build, deliver and consume IT. We enable people and organizations by radically simplifying IT through software virtualization with a focus on three core missions: End-User Computing (EUC), Hybrid Cloud and Software-Defined Data Center (SDDC). Join our community – instigators of innovation and transformers of technology – as we envision and create what's next in IT. Get connected to an engine of opportunity fueled by the transformative products and solutions we bring to market, the passion and trust we inspire in our customers, and our collaborative drive to imagine, define and deliver the future of IT. With 13,000+ employees and 50+ locations worldwide, we are passionately driven to make an impact while contributing back to the community. Learn more at vmware.com/careers today.
Job Overview
This position is an integral part of the Professional Services team responsible for defining technology and services solutions for VMware's enterprise clients. This individual will work directly with customers to architect and implement VMware products and services within the customer's environment. The ideal candidate will have excellent technical credentials, a friendly consultative approach to solving complex IT challenges and the ability to help customers deliver on critical business needs.
As a VMware Consultant/Senior Consultant specializing in Network and Security, the individual will have extensive experience with enterprise networking technologies. Previous experience with VMware NSX is not necessary, however the individual must demonstrate an enthusiasm and drive for self-development and to become a highly regarded team member.
Responsibilities
Delivering Software Defined Data Centre (SDDC) engagements to VMware customers, with a focus on the use of VMware virtual networking tools (NSX)
Automate network implementation, configuration and management
Deliver high quality results on customer engagements, to drive better outcomes around VMware solutions
Engage with customers regarding all facets of IT, including facilities, network, security, systems, strategy and business applications teams, as well as service focused teams, such as capacity management, financial management and event management.
Provision of leadership in the best practice operationalisation and standardisation of VMware products & technologies.
Delivery of projects in the enterprise space, often independently and with a commitment to high-quality outcomes.
Documentation of technical best practices for the reuse in other customer engagements, and contribution to the development of standard consulting service offerings
Maintain and grow PSO's technical and product knowledge through certification or association.
Maintain a solid understanding of competition across product, technology, applications, sales and strategies.
Education and Experience
Required
CCNA certification.
Server, network, storage and virtualisation technologies
Experience with IT solutions, compute, storage, network theory, design and architecture.
Good experience with documentation
Excellent communication and presentation
Min 5 years in technology roles and/or related experience
Gathering requirements, leading workshops and driving change within the customer organisation
Understanding of modern IT data centre practices and IT business operations across the ITIL service lifecycle.
Highly Desirable
Exposure to VMware's products (VMware ESX, vCenter, SRM, vCloud Director)
A VMware VCP (or higher) would be highly regarded
Designing technical and/or process solutions
Presenting to and interfacing with management teams
Your saved jobs
You have not saved any jobs.
Recently viewed opportunities
You have not viewed any jobs.