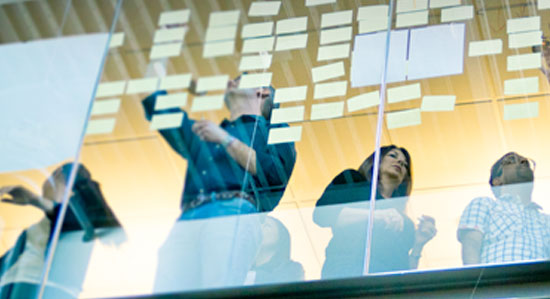 Push us. Amaze us. Inspire us.
Careers in Business Strategy and Operations
Business Strategy and Operations
Program Manager
Job ID R187198
Date posted 12/04/2018
The VMware Professional Services Program Manager - is responsible for leading high-value professional services delivery engagements to successfully achieve customer business outcomes for strategic accounts in the EMEA region, meeting or exceeding VMware Professional Services business objectives and ensuring superior levels of customer satisfaction.
The Program Manager will have a wide span of responsibility/control, will manage a portfolio of engagements and/or multi-phased projects for one or more VMware Global Accounts and is expected to be able to interact with internal and customer facing excutive level leadership in a strategic manner. The person in this role will holistically manage highly complex enterprise-level programs with multiple phases, interrelated work streams, across multiple stakeholders and delivery partners. The Program Manager is the single point of contact for the entire program of work and may have other project manager(s) reporting to him/her. The Program Manager ensures that the VMware Delivery Excellence program management methodology is used to manage all project activities, schedules, resourcing, costs, and communications.
Success Criteria:
Customer Satisfaction
Account Growth
Delivery Revenue & Billable Utilization Target Achievement
Project Portfolio Delivery Success
Achieving and Maintaining Trusted Advisor Status
Providing Thought Leadership
The Program Manager reports to the Program Management Office (PMO) Director, and works closely with the Services Business Manager (SBM), Solutions Architect (SA), Account Team, Operations, and project technical consultants.
Responsibilities:
Program Leadership
Executive-level Communication and Stakeholder management
Identification and Assistance with Business Development Opportunities
Owns Program level risks
Delivery Engagement Quality
Delivery Revenue Forecasting and Recognition
Represents VMware by participating on the steering committee
Is the escalation point for customers and PM's
Qualifications:
Enterprise-level customer-facing experience in a professional services firm (preferably software or management consulting)
Ability to work with customer senior management to set the overall strategy and objectives for a group of projects.
Successful delivery of large-scale programs with global organizations
Demonstrable ability at successfully managing multiple projects simultaneously
IT awareness and ability to manage technically complex projects.
Ability to work within a team and provide the leadership for the PS engagement
Self-motivated and able to work under pressure to deliver high-quality deliverables.
Ability to manage and shift priorities quickly and effectively when needed.
Strong oral and written communications skills
Fluent German & English Language skills
Strong analytical as well as organizational skills with an ability to manage competing client demands
BSc/BA/MSc/MBA degree or equivalent training/experience
Up to 50% travel
Relevant Jobs
Sorry, there are currently no new opportunities near your current location. Try a new search.